Belissimo is a 3-reel, 5-line classic slot machine developed by Microgaming, featuring a wild symbol. You can play the Belissimo classic slot machine at Lucky Nugget Casino and First Web Casino.
Belissimo is a Chef-themed slot machine. For those wondering, "Bellissimo" is Italian for "very beautiful". The Belissimo slot game features an Italian chef who has taken a finished pizza out of an oven. The pizza, evidently, is to his liking. Belissimo is a 5-line slot machine, which means the first line goes straight through the center with lines 2 and 3 above and below it. Line 4 goes from the top left to bottom right and line 5 goes from the bottom left to top right. Symbols on the Belissimo classic slot machine are the Chef, 7's symbol (infront of an oven) and three Bar symbols. Below is a screenshot of the Belissimo classic slot game from Microgaming: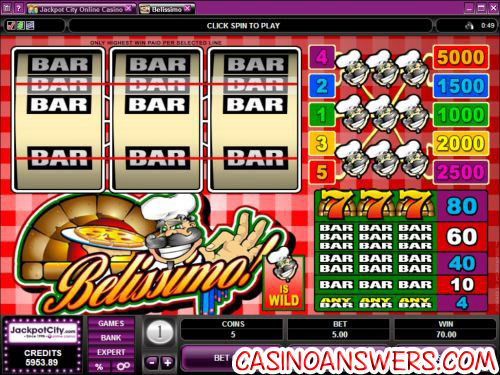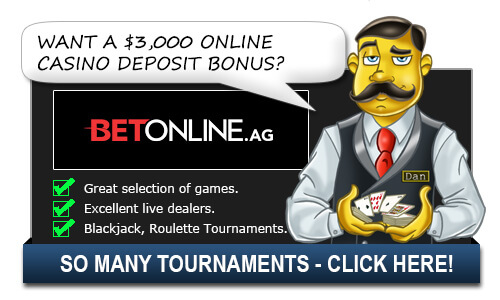 Coin values on the Belissimo slot machine are $0.25, $0.50, $1, $2 and $5. You can bet from 1-5 coins. For each coin you bet, you will activate one payline. Casino Answers recommends playing all 5 coins on Belissimo at all times, so you can be eligible for the top jackpot on the slot game. To make sure you're playing for the maximum bet, use the "Bet Max" button at all times. Belissimo is a quarter slot machine, so you can be as little as 25 cents all the way up to $25 on a spin. To play the Belissimo online slot machine, hit "Bet One" the desired number of times followed by the "Spin" button.
The Chef symbol is the highest paying symbol on the Belissimo slot game. If you hit 3 Chef symbols on the fifth payline, you will win the 5000 coin top jackpot, which is a good top jackpot for a reel slot machine. The Chef symbol is wild and will substitute for all other symbols in Belissimo. You can use the Italian Chef symbol to win lots of cash when playing Belissimo at Lucky Nugget Casino!
There are 6 winning combinations on the Belissimo classic slot machine. The full payout schedule is as follows (1/2/3/4/5 line payouts in parenthesis when applicable): any 3 Bar symbols (4), 3 Single Bar symbols (10), 3 Double Bar symbols (40), 3 Triple Bar symbols (60), 3 Seven symbols (80), 3 Chef symbols (1000/1500/2000/2500/5000).
Hit "Expert" and you will gain access to the Belissimo autoplay mode. You can either play 5 or 10 autoplay spins or you can set advanced settings. Advanced settings include number of spins (5, 10, 25, 50, 100, 250 or 500), number of seconds between spins (0.25, 0.50, 0.80 and 1.50), stop once all spins are complete, stop when jackpot is won, stop if a win exceeds or equals ($25, $50, $100, $250, $500, $1000 or $2500), stop on any win or stop if credits increase/decrease by ($25, $50, $100, $250, $500, $1000 or $2500). You can stop the autoplay mode on Belissimo at any time.
Belissimo is a fairly typical Microgaming 5-line slot machine. There is nothing that stands out about it, but there's nothing wrong with it either. It's the exact same slot machine as Captain Cash, Golden Dragon, Jackpot Express, Martian Money, Roman Riches or Vegas Fortune. You can play any of these 3-reel, 5-line slot machines when you sign up and deposit at Lucky Nugget Casino!
Additional Belissimo Slot Questions:
Are USA players able to play the Belissimo classic slot for real money?
Unfortunately, American players are not allowed to play at Microgaming online casinos for real money at this time. For a USA-friendly online casino with lots of great slots to play, please check out DaVinci's Gold Casino.
Do I need to download any software to play the Belissimo slot game?
There is a free Flash game of the Belissimo slot game that you can find on page 21 of Lucky Nugget Flash Casino and First Web Flash Casino. You can play for free or real money. If you experience difficulties with the Flash software, try downloading and installing the latest version of Adobe Flash Player.
Related Questions:
Alternative Ways To Ask/Incoming Search Traffic:
The answer to the question Belissimo Classic Slot Guide & Review is also applicable for the following questions:
Bellisimo Classic Slot Guide & Review,