Elektra is a 5-reel, 25-payline Marvel Jackpot Slot. It is based on the Elektra Marvel Comics series. It has wild substitutes, scatter wins, a bonus game and three Marvel progressive jackpots. You can play the Elektra video slot at all Cryptologic casinos, including Casino Joy and VIP Casino.
There are two Elektra slot machines (this one and the Elektra movie video slot from Playtech), however she also appears in both the Daredevil Marvel Comics video slot from Cryptologic and the Daredevil movie video slot from Playtech.
This Elektra video slot has a much different look from the Playtech movie version. Instead of focusing on Elektra's weapons, this game has more of an Oriental motif. While the symbols include throwing stars and a sai, there's also a Chinese dragon, blood money, Bullseye, Daredevil and Elektra sharing a romantic moment and others.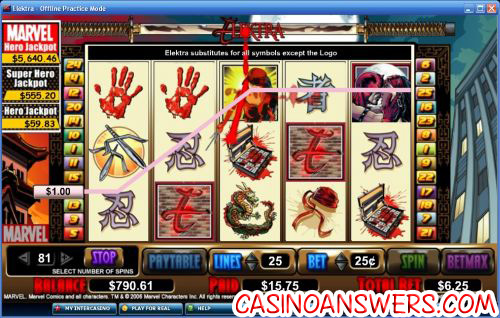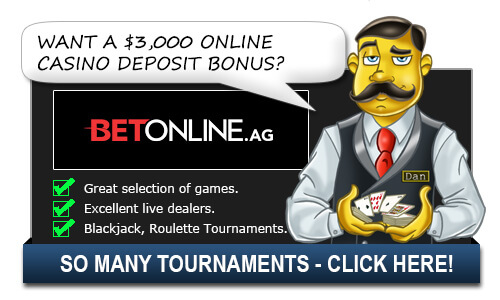 The Elektra slot machine makes for a great penny slot, allowing for bets of $0.01, $0.02, $0.03, $0.04, $0.05, $0.10, $0.15, $0.20, $0.25, $0.50, $0.75, $1, $2, $3, $4 or $5. At the maximum bet and playing all 25 lines, you can bet $125 per spin, making Elektra also ideal for the high rollers out there. The highest payout on Elektra is 5000X if you hit 5 Elektra wild substitute symbols. The Elektra symbol will substitute for all symbols except the scattered logo.
The scattered logo is the "E" on a blood-spattered brick wall. If three or more of these scattered logos appear on a spin, you will trigger the Shoot the Ninjas bonus game. In the game, a team of ninjas will be running across an alley on the screen from side to side. There will be ones just infront of you (the easiest to hit) and ones far in the distance. You must throw your ninja stars and hit the ninjas. If you're able to do this, you can win up to 250X your triggering bet. You have either 5 hits or 5 misses (up to 9 tries). This is one of the more challenging bonus games of all of the Marvel Jackpot Slots, but is worth it if you're able to do well. Here's a screenshot of the Shoot the Ninjas feature to give you an idea of what it looks like: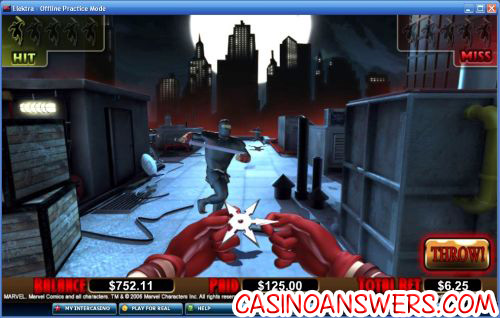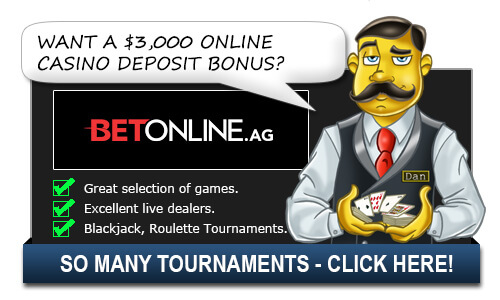 Elektra is linked to a three-tier Marvel Progressive Jackpot. These jackpots don't require any matching symbols to trigger them, as they are won randomly. The smallest of the three if the Hero Jackpot. It starts at $50, is usually hit at a little over $100, but can get as high as $450. The middle jackpot is the Super Hero Jackpot. Super Hero has a starting value of $500, the average hit is $1000, but it can get near the $4000 range before it is hit. Finally, the biggest of the three is the Marvel Hero Jackpot. The minimum Marvel Hero Jackpot is $5000. It usually will double this before it is hit, and has been seen at over $25,000. Your chances of winning these progressive jackpots will increase along with your wager. Make sure you bet as much as you can if you want to win one of these jackpots!
The Elektra video slot gives you a lot of different chances to win, with an interesting look, an innovative bonus game and a large variety of betting options. If you're looking to play a video slot branded with one of your favourite comic book characters or if you're just looking for a fun 25-line video slot to play, this Elektra slot machine could be what you're looking for. Head over to Casino Joy for a 100% up to 150 Euros signup bonus and give Elektra a try!
Additional Elektra Video SLot Questions:
Are there any US-friendly casinos where I can find the Elektra video slot?
At the moment, none of the Cryptologic casinos that offer the Elektra slot machine are accepting USA players. For a US-friendly alternative, you can find some great slots over at VIP Slots Casino.
Related Questions:
Alternative Ways to Ask/Incoming Search Traffic:
The answer to the question Elektra Marvel Slot Info, Review, Q&A, Flash Game, Rules is also applicable for the following questions:
What marvel slot machines are there? Is there any marvel slots Americans can play at? Is there an Elektra slot machine? Is there an Electra slot machine game?