This is a question that gets asked thanks to the randomness of casino games. The question also comes up when talking about online poker and the answer is that online casinos (and online poker) are fair. Simply put, it's not in a company's interest to cheat players.
Their games have a natural edge built in, which means they are the winners in the long term against the majority of players, so there is no need to be unfair and cheat. Plus, imagine if the did and they were found out. They would automatically go out of business. It really isn't worth the risk.
You may have been dealt 20 in blackjack against a dealer's 8, but you will still lose that hand, statistically around 1 time in every 9 hands. The thing is, we all remember the 1 hand in 9 where that happened, but we all seem to conveniently forget the 8 times we won in a similar situation, or the time when we hit on 16 against the dealer's King and hit a 5. Gamblers are notorious for remembering losses, never the wins.
However, that isn't to say that every casino operator out there is practicing things above board. However, as long as you stick to a reputable casino, which might be one we recommend, or it might be one you know uses an industry-wide piece of software (such as Playtech, Microgaming, etc), then you will be able to play safe in the knowledge that the software you're playing on is not rigged to favor the casino any more than a live casino favors the house very slightly.
Of course, if we still can't convince you that the Random Number Generator (RNG) used by online casinos to decide outcomes, then how about a live dealer? More and more casinos are using live dealers for their games, so you can now watch a video feed of a dealer dealing blackjack, or spinning a roulette wheel. So, instead of cursing a randomly generated number for your loss, you can now thanks a live dealer half-way across the world when you win, which is a nice touch. If you want to play with live dealers, why not try out an online casino that offers it?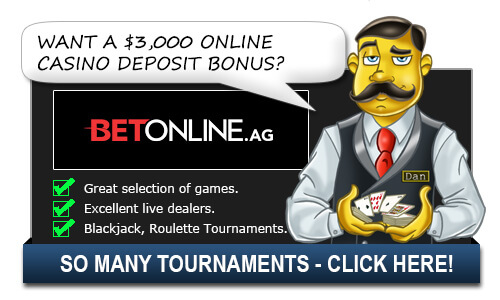 Bovada: This is an online casino that we recommend. They have great customer service and you should be able to find live dealer options as well.
But, to wrap up, honestly, online casinos are not out there to cheat you, they're not out there to con you, they're simply there for you to chance your luck at their games from the comfort of your own home instead of going to a local casino, or taking a crazy weekend trip to Vegas.
Additional Online Casino Fairness Questions:
Do Online Casinos Cheat?
Online casinos have cheated in the past. What you usually won't find however is software that is actually rogue or cheats – it's more casinos that try and get out of paying, delaying withdrawals in the hope that you cancel it and lose money etc. Thankfully with watchdog groups like Casino Meister around, this is not all that common. Also stick with the casinos that we listed on our website – we make sure to create personal relationships with the owners of these casinos, and feel that we can trust them. You can click here to see our list of online casinos that we trust: Online Casino Reviews.
Top Casinos for Americans

Related Questions:
Alternative Ways to Ask/Incoming Search Traffic:
The answer to the question Are Online Casinos Fair is also applicable for the following questions:
Do online casinos cheat? Are online casinos corrupt? Are live casinos fairer than online casinos? Are online casinos rigged? How do I know online casinos are fair?
Top Casinos for Americans