Gunslinger's Gold is an instant win scratch card developed by Rival Gaming. It is a very animated scratch card game with a wide range of bets available to players. You can play the Gunslinger's Gold scratch card at This is Vegas Casino and Vegas Days Casino.
Gunslinger's Gold is a wild west-themed scratch card. It is in the form of a 2×3 grid, meaning you have six panels to uncover. The background of the game is animated, with a cowboy chewing on some straw and his horse with his head sticking out of the fence, blinking at you. Here's what a scratched card looks like on Gunslinger's Gold: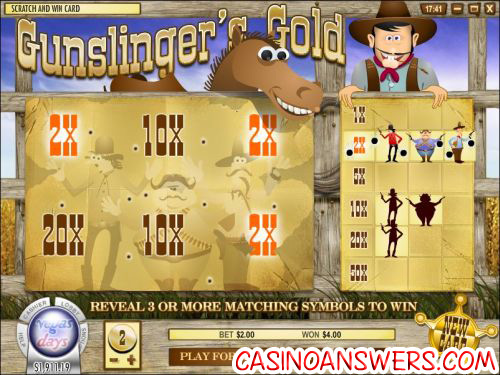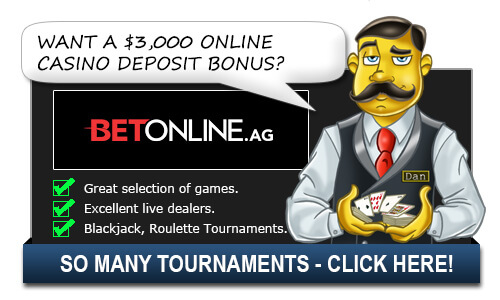 Before you start scratching away on the Gunslinger's Gold scratch card game, you should choose your bet amount first. You can find the coin towards the bottom-left of the screen, next to the casino menu buttons. Gunslinger's Gold gives you many different bets to choose from – $0.01, $0.05, $0.10, $0.25, $0.50, $1, $2, $5, $10, $25 and $100. Casino Answers recommends you stick with $1 or $2 per game, but some people are a little crazy and those are usually the ones who end up winning big.
To win at Gunslinger's Gold, you must match three or more symbols. To play, click the "New Card" button (in the form of a sheriff's gold star) and you will start a fresh scratch card. Take your mouse and click on the card, moving around the card as if your cursor is the coin you are scratching with. As you scratch, you will hear a scratching sound effect. A cowbell will sound for every value you have revealed. For each value you uncover, a man will appear in a column on the paytable at the right. Having three men in a row means you win!
Rival Gaming has put forth an excellent effort in the scratch card game arena with Gunslinger's Gold. The whole presentation is exceptional for an online scratch card. For a 100% signup bonus up to $750 to play the Gunslinger's Gold scratch and win game plus $2400 in bonuses on your next four deposits after that, sign up at This is Vegas Casino!
Additional Gunslinger's Gold Questions:2h2> Where can American players play Gunslinger's Gold for real money?
Rival casinos are no longer accepting American players at their casinos. If you're based in the USA and looking to play an online scratch card, please visit Bovada.
What's the most I can win on the Gunslinger's Gold instant scratch card?
You can win $5,000 instantly if you dare bet $100 on a single game of Gunslinger's Gold. For those of us who aren't the best shot in the west and bet the default value of $2 per card, you can win up to $100 playing the Gunslinger's Gold scratch card game.
Related Questions:
Alternative Ways to Ask/Incoming Search Traffic:
The answer to the question Gunslingers Gold Scratch Card Review, Q&A, Flash Game, Rules is also applicable for the following questions:
What rival scratch cards are there? Scratch Card Casino Guide?