Caribbean Stud Poker is a very fun casino table game, which attracts both poker players and jackpot hunters alike. Caribbean Stud Poker usually has big progressive jackpots which pay out in large amounts, and these lure a lot of players in. Of course before you go chasing that jackpot, you really should know the Caribbean Stud Poker rules first.
The best way to learn, is to read this Caribbean Stud Poker Rules article that we have, and play along with our Caribbean Stud Flash Game. It's a free flash game where you play with play money chips, so there's no risk and you can make all the mistakes you want.
Caribbean Stud Poker is played with a standard fifty two card deck, and up to six different players can participate in the game at once. Here is what a Caribbean Stud table looks like: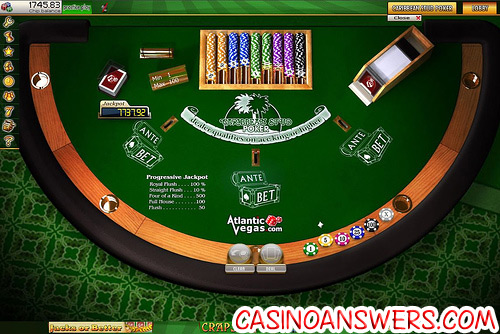 From closest to player to closest to dealer, we have the ante square, a betting circle and the progressive jackpot slot. The object of Caribbean Stud Poker is simple: beat the dealers hand.
To start, you place a wager in the ante square. The wager you place obviously depends on how much you want to bet, and the table minimum or maximum. Five cards are dealt to all players, and the dealer then deals five cards to himself. If you are playing with multiple players you will not be able to see their hands. In a live casino, the cards to you are dealt face down, and you must look at them but not show other players.
Once the dealer has dealt five cards to himself, he then turns his last card up. At this point, you have to make the decision as to whether you should play your hand, or whether you should fold. If you fold, you lose your ante wager and move onto the next hand. If you want to play however, then you have to put double your ante wager in the betting circle. It has to be exactly double.
The dealer then turns over his hand, and if you have a higher hand than the dealer, you win.
How much you win, depends on the dealers hand. First of all, here is the Caribbean Stud Poker Payout Schedule:
One Pair: Even money return.
Two Pair: 2 to 1.
Three of a Kind: 3 to 1.
Straight: 4 to 1.
Flush: 5 to 1.
Full House: 7 to 1.
Four of a Kind: 20 to 1.
Straight Flush: 50 to 1.
Royal Flush: 100 to 1.
However here's the key part: the dealers hand must qualify. The dealer must have a minimum of ace/king high. If the dealer has less than that, then you only win money based on your ante wager. If he does qualify however, and you still beat him, then you get casino winnings return on both the call bet, and the ante wager.
Also if the dealers hand doesn't qualify but it beats your hand, you still will get the ante wager back, although lose the bet wager.
Caribbean Stud Poker is a simple game, however the main attraction of it is of course the Progressive Jackpot. Usually the progressive jackpot spot will allow you to put down $1. Progressive jackpot rules vary by casino, however they are usually:
Flush: $50
Full House: $75
Four of a Kind: $100
Straight Flush: 10% of Progressive Jackpot
Royal Flush: 100% of Progressive Jackpot
Of course, the odds of getting a royal flush is once in every 649,740 hands. So technically you shouldn't be playing the jackpot until it's at least at the $150,000 mark.
If you're looking to play Caribbean Stud Poker, then one great casino with a Caribbean Stud Progressive Jackpot is of course Caribbean Gold Casino. They focus strongly on the game Caribbean Stud Poker, and have a really awesome Caribbean Stud Poker game. To play this, hit up Caribbean Gold Casino.
Another excellent alternative is Bovada. If you've heard the name "
" you might associate it with sports or poker, but they have a really awesome casino too, and along with Caribbean Stud Poker, they also offer a couple of other varieties like Caribbean Draw Poker and Caribbean Hold'Em Poker. Check out
.
Additional Caribbean Stud Rules Questions:
(None yet)
Related Questions:
Alternative Ways to Ask/Incoming Search Traffic:
The answer to the question What are the rules to Caribbean Stud Poker? is also applicable for the following questions:
Caribbean Stud Rules? What are the rules to Carribean Stud Poker? How do I play Carribbean Stud Poker?