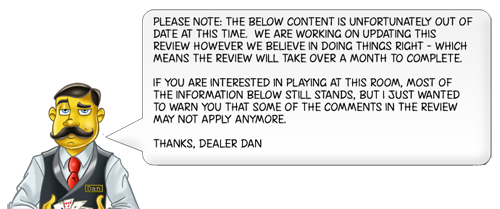 Bovada is the new name for Caribbean Sun Poker, a poker room that has been on the internet for years. Based on the Cryptologic Network, with sites including Littlewoods Poker, InterPoker and William Hill Poker, it is one of the favoured sites due to a good sign-up bonus and monthly reload, as well as over $3.5 Million in Guaranteed Tournaments every month.
SunPoker also run lots of private tournaments for anyone required, have their own SunPoker Store where you can buy lots of SunPoker-related products, and are in the process of creating a loyalty rewards program.
Promotions: $50 sign-up bonus, $100 monthly reload. Bad Beat Jackpot, $4 Million gtd every month, play Kenna James, Weekly Rakeback Payments.
Sun Poker Software: Graphically, Sun Poker has a simple interface, with a dark background that is still stylish, and doesn't take the focus away from the table. Their cards are crisp and clear, and they allow four colour decks, which make it easier to multi-table. Your experience is also very customizable, with the ability to change the sound effects, chat value, and the information displayed. Unfortunately, checking your balance or wanting to deposit or withdraw requires you to exit all poker tables. poker software rating
Sun Poker Traffic: GMT Peak Time: 5000-6000 players. EST Peak Time: 2000 players. Sun Poker also has a lot more 7 Card Stud players than the industry standard. poker traffic rating
Sun Poker Game Variety: Sun Poker offer Texas Hold'Em, Omaha, Omaha Hi-Lo, and Seven Card Stud, with limit, no limit and pot limit versions of Texas Hold'Em and Omaha, Full Ring and Six Max. They also offer heads-up Hold'Em cash games, as well as Single & Multi Table Tournaments, although these are usually Hold'Em dominated. Games can be played in Dollar, Pound or Euro, with the lowest stakes being $0.5/$1. poker game variety
Sun Poker Fish Factor: With sportsbooks like William Hill being part of the Cryptologic Network the fish factor is increased. On the other side, there are quite a few bonus-clearing rocks at the tables. Overall, it's a nice mix and an easy site to make a good profit. poker fish
Sun Poker Bonuses: Sun Poker offer a $50 sign-up bonus, clearable at 250 raked hands, and a $100 monthly reload, clearable at 500 hands. A raked hand only counts if the pot reaches $20, however you get partial points for pots that are smaller than that. This is an easy bonus to clear although table selection can play a large factor in this. Clearing it playing Seven Card Stud is a lot easier, and only takes 800 hands in total at the lowest limit. Poker bonuses promotions.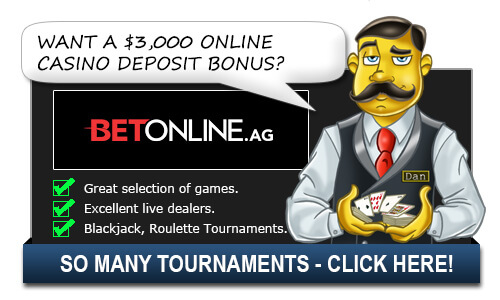 Sun Poker Freerolls: Sun Poker do not run many freeroll tournaments, however will create private tournaments at a players request.
Sun Poker VIP Club / Loyalty Rewards: Sun Poker have a My Poker Points program where you earn points the more you play, which you can currently use to enter large guaranteed tournaments. They are in the process of upgrading this feature, and this is expected to be completed by April 2006. poker rewards
Sun Poker Support: Sun Poker have both telephone and e-mail support, with telephone support available 8am-12am EST. They also have live chat support from 8am-12am EST, and are very knowledgeable, and easy to work with. poker support
Sun Poker Deposit/Withdrawal Options: E-Cash Direct: Visa, Mastercard, Debit Card, Citadel, Wire Transfer, ECP, Neteller, Firepay, Cheque / Check. Sun Poker now offer instant withdrawals.
Top Casinos for Americans

Additional Questions:
What games does Sun Poker offer?
Sun Poker offer four different variations of poker for you to play: Hold 'Em, Omaha, Seven Card Stud and Five Card in both cash and tournament form.
Does Sun Poker have a deposit bonus for new players?
Sun Poker has a 100% deposit bonus on your first deposit at Sun Poker up to $500. The bonus clears in $5 blocks. Each block can be cleared by accumulating 5,000 Sun Points.
Do Sun Poker offer monthly reload bonuses?
Sun Poker offer regular monthly reload bonuses. All players will be informed of the promotions and clearance requirements at the time.
What is the software like at Sun Poker?
The software at Sun Poker is above average. The software at Sun Poker is easy to use, while also being aesthetically pleasing. It is easy to navigate and you can find your choice of game using the filters provided in the lobby. Everything is clearly labeled, so you can't get lost in the lobby.
The graphics are of a decent quality, as are the animations and it does run smoothly. The action buttons are a decent size, which is a nice change from a lot of poker rooms, so the chance of a miss-click at an important moment is diminished.
The Sun Poker software also allows you to filter the chat to whatever you extent you want, so you can have all chat, dealer chat only or have chat ignored completely.
You can choose your avatar from various characters for when you sit at the table. Sun Poker is ideal for multi-table players, as you can also choose a mini-view of the table and a four color deck is also available, so multi-tabling is made easy.
Does Sun Poker have a loyalty store or rewards program?
Sun Poker's rewards program is based around Sun Points. Sun Points can be redeemed for cash bonuses at Sun Poker and the more points you accumulate, the higher the level you attain in the VIP Club. The higher the level, the faster you accumulate points and you also gain more rewards such as exclusive freerolls the further up the VIP Club ladder you go.
Does Sun Poker have a Refer a Friend program?
Yes, they do. Sun Poker has an excellent refer a friend program, where you earn cash for referring your friends to Sun Poker. You receive $100 and your friend receives $100, as well as the initial 100% first deposit bonus.
Does Sun Poker have a Bad Beat Jackpot or High Hand Jackpot?
At the moment, Sun Poker does not offer a Bad Beat Jackpot or a High Hand Jackpot.
What countries and nationalities can play at Sun Poker? Can Americans play at Sun Poker?
Sun Poker is a very welcoming poker room, with many nationalities playing at the tables on a daily basis. Unfortunately, Americans cannot play at Sun Poker at this moment in time.
How do I deposit money into Sun Poker?
Sun Poker offers a variety of deposit options, depending on what country you live in. Sun Poker's deposit options Bank Transfer, Click2Pay, ClickAndBuy, Credit Card, EcoCard, Entropay, InstaDebit, Moneta.ru, Moneybookers, Neteller, PaySafeCard, UKash, WebMoney, Switch/Maestro/Solo.
How do I withdraw money from Sun Poker?
You can only withdraw money from Sun Poker via Visa, MasterCard, Neteller, Citadel, PaySafeCard, EFT, Bank Wire and Check.
Is Sun Poker trustworthy? Is my money secure at Sun Poker?
Sun Poker has a rigorous testing procedure for this software. Each game undergoes rigorous testing on the real gaming server to determine whether game rules are obeyed, payouts are calculated correctly etc. Then, depending on the game, between 1-10 million bets are made to test the random number generator. If the frequency of winning combinations and general payouts are within expectations, the game is passed to the Quality Assurance team of engineers. They then ensure that the game plays to within expected quality levels. Only when all of these tests are passed is the game made available for use by Sun Poker players.
Sun Poker also operate a very secure credit processing procedure, so your money is secure with them.
Revisión de Sun Poker
¿Cuáles son los juegos ofrecidos en Sun Poker?
Sun Poker ofrece cuatro diferentes variaciones de póker para jugar: Hold 'Em, Omaha, Seven Card Stud y Five Card en efectivo y en forma del torneo.
¿Tiene Sun Poker tiene un bono de depósito para nuevos jugadores?
Sun Poker tiene un bono del 100% en tu primer depósito en Sun Poker de hasta $ 500. La bonificación se borra en $ 5 bloques. Cada bloque se puede borrar mediante la acumulación de 5.000 puntos Sun.
¿Ofrece Sun Poker bonos mensuales de recarga?
Sun Poker ofrece bonos de recarga mensuales regulares. Todos los jugadores serán informados de las promociones y los requisitos de separación.
¿Cómo es el software en Sun Poker?
El software de Sun Poker es superior al promedio. El software en Sun Poker es fácil de usar, al mismo tiempo de ser estéticamente agradable. Es fácil de navegar y usted puede encontrar su opción de juego usando los filtros en el vestíbulo. Todo está claramente marcado, por lo que no puede perderse en el vestíbulo.
Los gráficos son de una calidad decente, como lo son las animaciones y lo hace sin problemas. Los botones de acción son un tamaño decente, que es un buen cambio de un montón de salas de póker, así que la posibilidad de una miss-click en un momento importante se ve disminuida.
El software Sun Poker también le permite filtrar el chat a medida lo que quieres, puede tener todos los chat, chat sólo del dealer o ignorar por completo chat.
Usted puede elegir su avatar de varios personajes para cuando te sientas en la mesa. Sun Poker es ideal para los jugadores multi-mesa, como también puede elegir un mini-vista de la mesa y una baraja de cuatro colores también está disponible, por lo que el juego en varias mesas se hace fácil.
¿Tiene Sun Poker una tienda de lealtad o un programa de premios?
El program de premios Sun Poker se basa en los puntos Sun que pueden ser canjeados por bonos en efectivo. En Sun Poker mientras más puntos acumule, mayor será el nivel a alcanzar en el Club VIP. Cuanto más alto sea el nivel, más rápido se acumulan puntos y también ganará más premios, como freerolls exclusivos de la escalera más arriba en del Club VIP.
¿Tiene Sun Poker un programa Refiera a un Amigo?
Sí. Sun Poker tiene un excelente programa Refiere de un Amigo, en el que ganas dinero por recomendar a tus amigos a Sun Poker. Tu recibes $ 100 y tu amigo recibe $ 100, así como la inicial de 100% bono de primer depósito.
¿Tiene Sun Poker un Bad Beat Jackpot o High Hand Jackpot?
Por el momento, Sun Poker no ofrece un Bad Beat Jackpot o un High Hand Jackpot.
¿Qué países y nacionalidades pueden jugar en Sun Poker? ¿Pueden los estadounidenses jugar en Sun Poker?
Sun Poker es una sala muy acogedora, con muchas nacionalidades jugando en las mesas a diario. Desafortunadamente, los estadounidenses no pueden jugar en Sun Poker en este momento.
¿Cómo puedo depositar dinero en Sun Poker?
Sun Poker ofrece una variedad de opciones de depósito, dependiendo de qué país vivas: depósito transferencia bancaria, Click2Pay, ClickandBuy, Tarjeta de crédito, EcoCard, Entropay, InstaDebit, Moneta.ru, Moneybookers, Neteller, PaySafeCard, Ukash, WebMoney , Switch / Maestro / Solo.
¿Cómo puedo retirar dinero de Sun Poker?
Sólo puede retirar dinero de Sun Poker a través de Visa, MasterCard, Neteller, Citadel, PaySafeCard, transferencia bancaria, transferencia bancaria y cheque.
¿Es Sun Poker es digno de confianza? ¿Está mi dinero seguro en Sun Poker?
Sun Poker tiene un procedimiento de pruebas rigurosas para este software. Cada juego se somete a rigurosas pruebas en el servidor de juego real para determinar si se cumplen las reglas del juego, los pagos se calculan correctamente. Entonces, dependiendo del juego, entre 1-10 millones de apuestas se hacen para probar el generador de números aleatorios. Si la frecuencia de las combinaciones ganadoras y los pagos son en general dentro de las expectativas, el juego se pasa al equipo de ingenieros de Aseguramiento de Calidad. Ellos se aseguran que el juego cuenta con los niveles de calidad dentro de lo esperado. Sólo cuando todas estas pruebas se pasan es el juego disponible para su uso por parte de Sun Poker.
Sun Poker también operan un procedimiento muy seguro precesamiento de crédito, por lo que su dinero está seguro con ellos.
What is the Sun Poker $250,000 Double Up Tournament Race?
The Bovada Double Up Tournament race will run throughout the month of February giving you a chance to your share of $250,000. There will be weekly tournament leader boards which gives you 4 weeks to win big. The leader boards are rated based on the amount of "double up" tournaments played and the performance in those tournaments.
Some of the prizes to be won include $49,670 per week in cash prizes for all three leader boards and $9,095 per week in Monthly Million Tournament Tokens, 17 tokens per week. The total Weekly Prizes will be over $58.000 and over $14,000 in total bubble players' satellite.
What is the Sun Poker $10,000 "Double Dip" Cash Race?
Bovada is putting up $10,000 for the month in two great $5k races. The first cash race runs from the 1st of the month until 11:59PM GMT of the 2nd Sunday of the month. The second cash race runs from the 2nd Sunday at 00:01AM GMT till the end of the month at 11:59PM GMT. SunPoker overlaps the 2nd Sunday for the "Double Dip" so the points you earn on the last day of the first race, will also be your first day for the second race.
So how do you win? SunPoker has developed a special points system specifically for this race and it is based on revenue contributed to the house on a per player basis. The top 10 players at the end of each race win cash into their SunPoker account.
Sun Poker has a lot of things to offer – tournaments, VIP rewards, promos and not the least of which is games! Being on the iPoker Network means that Sun Poker gives the poker player a great selection of games to choose from.
Sun Poker Games & Limits:
Here are the poker games you can play at Sun Poker:
We personally love Sun Poker for its Omaha tables. These Omaha tables are known for being soft. Stakes go all the way from £0.01/£0.02 up to £50/£100, which is an excellent range.
Related Questions:
Alternative Ways to Ask/Incoming Search Traffic:
The answer to the question is also applicable for the following questions:
Top Casinos for Americans