One of the best things about online poker is you don't even need to play online poker to make money – you can sit back, refer your friends to online poker, and make money after they play a certain amount of raked hands.
What's even better about this is your friends will often make money too, depending on the refer a friend promotion that the poker room offers. We have listed the Top 5 Poker Boom refer a friend programs. This list contains what we feel are the best refer a friend programs, both for you AND your friend.
The best thing about these? You don't even need to deposit any money or become a real money player. Just sign up, start referring your friends to these poker rooms, and watch the money roll in!
Full Tilt Poker: Full Tilt Poker is without a doubt the best online poker room to refer your friends too. They are one of the best online poker rooms, with a variety of celebrity poker professionals including Phil Ivey and Tom Dwan, a huge signup bonus, great rewards program and so much more. Full Tilts software is also excellent, and your friends will sign up at Full Tilt Poker with ease. The refer a friend program is really sweet too, as both you and your friend will earn $115 each.
: Betfair doesn't accept Americans, so if you have any Amerifriends don't send them here. However for everyone else, the Betfair refer a friend promotion is phenomenal. You earn a minimum of $100 for every friend you refer, and your friend will earn $50. However there are also special reward bonuses where you can earn up to $4,000 and your friend can earn up to $2,000. So if you have any non-US friends, send them to Betfair!
Cake Poker: Cake Poker does accept Americans, so if you have any American friends Cake is also a great option for referring poker players. The Cake Poker refer a friend program is rather unique, in that the amount of money you and your friend earn is based on the amount of hands that they play. It's also not a one-time payment; it is a continous payment, so you have the chance at making some serious money by referring your friends and family to Cake Poker.

PKR Poker: PKR offer a very simple refer a friend program. Refer a friend, and you and your friend both make $50. The referred player must deposit a minimum of $50, and then earn 1,000 PKR points. This is fairly standard for any poker room, however PKR makes its way onto our best refer a friend program list simply because of their 3D software, which does a phenomenal job at converting people. As soon as your friends see this sick software, they'll be drooling all the way to the cashier.
Aced Poker: Aced Poker, which accepts Americans, has a rather unique refer a friend program where you have the potential to win a lot of money. You will get credited with $25 for every friend that you refer. What is even better though is that you are entered into a $2500 guaranteed refer a friend freeroll. The traffic for these tournaments is usually small and the players are bad, so with relative ease you should be able to make some significant cash and increase your refer a friend earnings.
While there are many more refer a friend programs out there, we feel these are the 5 refer a friend programs where you will have the most success at not just making money, but convincing your friends and family to sign up. The above rooms may also offer private tournaments too, which makes it even easier to get your friends to register – just challenge them to a heads up game online!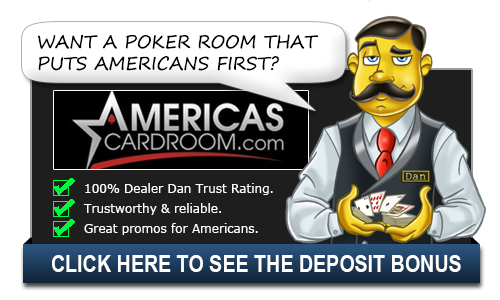 Additional Refer A Friend Program Questions:
(None Yet)
Related Questions: