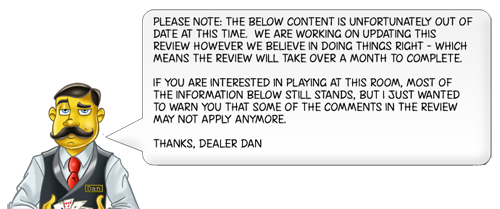 One of the longest running poker rooms, Paradise Poker was established in 1999 and have built a solid playerbase. Overtaken in traffic by a few other poker rooms, Paradise have recently ran lots of new promotional methods in an attempt to get players back, and are in the process of creating their own loyalty rewards system.
In 2005 they ran the very first $1,000,000 freeroll, and it was such a success that they are currently on their 3rd $1,000,000 freeroll, scheduled for July 2006. Paradise Poker also run lots of chances to get to major events, some big tournaments, and the highly acclaimed Paradise Masters tournament.
Promotions: 25% to $50 sign-up bonus, Paradise Masters 1, $1 million in free WSOP packages, qualifiers for 3rd $1,000,000 freeroll.
Paradise Poker Software: Paradise Poker's software hasn't seen many changes since they first began, and whether that is a good thing or bad thing is up to your own personal opinion. I personally don't mind the software, I find it a bit dark, but as someone who multi-tables, it makes the cards stand out more. You also have all the standard customization options including opting to use a four colour deck, and beside you is a little table, where you can order virtual food and drink items, a useless, but still fun little feature. The lobby is easy to navigate, and simple to use, and games are well organized. poker software rating
Paradise Poker Traffic: GMT Peak Time: 6,000. EST Peak Time: 11,000. Paradise have a solid player base, and there's always a few games available no matter what limit or what game. No matter your preference, you'll never have trouble finding a game at Paradise. poker traffic rating
Paradise Poker Game Variety: Paradise Poker have an excellent variety of games. Offering the standard Hold'Em, Omaha and 7 Card Stud with Limit, No Limit and Pot Limit Variations, with Hi/Lo offered for the other two, Paradise also excel in other areas, offering rare, and some exclusive games not available online, boasting 5 Card Stud, 5 Card Draw, and Crazy Pineapple. poker game variety
Paradise Poker Fish Factor: Although notorious for being one of the tighter sites on the internet, there are still plenty of fish around at Paradise, in the majority of their games. It's nowhere near as fishy as a site like Party Poker, however there are still enough around to make it worthwhile. poker fish
Paradise Poker Bonuses: Paradise Poker offer a 25% to $50 sign-up bonus, clearable at 100 raked hands per $10, a nice easy to clear bonus. They also offer reloads every few months, usually up to $150. poker bonuses promotions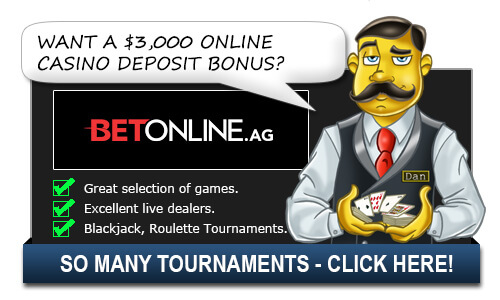 Paradise Poker Freerolls:
Is a $1,000,000 freeroll good enough for ya? Their next freeroll will take place in July 2006. Visit Paradise for all information.
Paradise Poker VIP Club / Loyalty Rewards: Paradise are in the process of creating a loyalty program, which is expected to be installed by April 2006.
Paradise Poker Support: Paradise Poker's support staff are excellent; very fast at responding, highly knowledgeable, although only e-mail support is available. poker support
Paradise Poker Deposit/Withdrawal Options: Visa, Mastercard, Neteller, Firepay, Cheque. Neteller withdrawals are processed and returned to your account within 12 hours.
DEALER DAN'S CASH IN
Dealer Dan Poker Review "If the chance to win $1 Million Dollars by just playing poker for free isn't Paradise…I don't know what is! Finally catching up with the times, Paradise Poker is a solid place to call home."
Top Casinos for Americans

Additional Questions:
None Yet
Related Questions:
Alternative Ways to Ask/Incoming Search Traffic:
The answer to the question is also applicable for the following questions:
Top Casinos for Americans