Over the last few years, online poker rooms have started adding casino games to help give you the full live casino experience. Not having much luck at the tables? AA cracked for the 3rd time and you want to blow off some steam? You can hit up some table games like Blackjack, and go head to head against the house.
Americans – unfortunately you don't have much choice. Absolute Poker is one of the only rooms that offers casino games when it comes to online poker rooms that accept Americans. However the Absolute Poker Casino has a vast selection of games. Not only do they have Blackjack, but they offer a variety of other games like Caribbean Stud Poker, 21 Burn, Roulette, Craps, a wide variety of slots and a great selection of Video Poker games. You can play for real money of fun money, and they are available at a click of a button. For more information, check out the Bovada.
Another solid selection for Americans is Bovada. While Bovada don't technically have an online casino within their software, they do offer their very own online casino and you can use the same login as your poker room account to play. The Bovada Casino is powered by Real Time Gaming software, and has literally hundreds of games to try out. They have a pretty insane selection of games – for example, over 7 different variations of Pontoon and Blackjack, and the casino is very slick and fast. You can even bet sports at Bovada too with the same account, making it your one stop shop for everything gambling related.
We'd also like to mention that if you are more interested in just an online casino, you should check out our sister site Casino Answers. This site provides thorough reviews and details of all online casinos, their own flash game section, and a very detailed breakdown on all casino game rules. Check out their awesome Online Casino Information.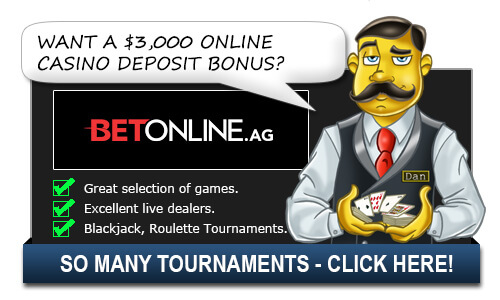 For all you non-Americans, you can still sign up at either of the above poker rooms – and really, with the selection of casino games, Absolute Poker is top notch for mixing your poker with your casino need.
One option for European players is Fortune Poker. Fortune Poker are mainly known for the amount of fish at their table – and if you're not playing there, you really should. Fortune Poker do also offer Blackjack, although that is the only casino game they offer. The software is very slick though and created from the infamous Boss Casino software. To check it out, Bovada.
Your other option is Bovada. PKR poker is the poker room infamous for its 3D realistic graphics, and fantastic poker software. The good news for you is they have the casino software to match! First of all in the software is the Deal or No Deal game, and Euorpean Roulette. However you can also visit the PKR Casino which quite frankly is just sick when it comes to the graphics. PKR Casino offers a wide variety of casino games, from Asian games to Progressive jackpots, Slots to table games like Roulette and Blackjack. PKR Casino also has over 15 video poker games, from Jacks or Better multi-line to Two Ways Royal.
Top Casinos for Americans

Additional Online Poker Casino Game Questions:
(None Yet)
Related Questions:
Top Casinos for Americans