If you log into an online poker room, you'll likely see numerous basic filters separating cash games from tournament games. Sometimes you will see additional filters separating tournaments from sit&gos.
For example, if you log into Bovada you will see separate filters for Ring Games, Tournaments and Sit and Go.
If you log into Bovada, they have tabs for Holdem, Omaha, Stud and Other Games. Thise are all cash games. They then offer a "Tourney" Tab for tournaments, and "Sit & Go" which is sit and go tournaments.
Here is the exact definitions of each type of game and the differences between each:
Cash/Ring Game: A cash game is a game where you can sit down at any time, and immediately start playing poker. You can stay as long as you want, and keep bringing money to the table – although there may be limits in how much you can bring, if you are playing no limit or pot limit poker.
For example – you join a $0.25/$0.50 no limit holdem cash game table. You can bring a minimum amount to the table(usually $20 or $25), up to a maximum of $50. If you win a few hands and go over $50 then that's great. If you lose a few hands and lose money, you can add to your balance up to a total of $50. So if you have $42 at the cash game table, you can add $8 more to the maximum of $50.
When you sit at a cash game table, you can play the next hand immediately. You can post the big blind even if you are not the big blind, or choose to wait until you are actually the big blind. You can stand up at any time, and take any money on the table with you.
There are also no "breaks" during cash games. If you need a break the game won't stop – however you can "sit out" for a period of approximately 10 hands or 10 minutes and go have a smoke, or whatever you need to do. The cash game will continue without you, but it won't affect your balance. If you are not back when the period for the break is up, then you will be automatically removed from the table and given back your balance.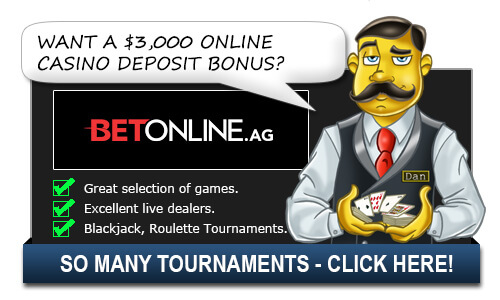 Tournaments: Tournaments are a lot different. You buy-in for a fixed amount, and then you are given a certain amount of chips for that amount. Unless it's a rebuy/add-on tournament(which we'll talk about in a second) then you cannot get any more chips.
So let's say you enter a $10+$1 tournament. $10 goes to the prize pool, $1 goes to the poker room. Once you buy-in, you will need to wait until the tournament actually starts. Every tournament has a set start time. So if you buy-in at 3pm EST and the tournament doesn't start till 4pm EST – even if there is 500 other players registered – you will need to wait until the start time. In cash games the blinds never change – in tournaments there is a set structure and the blinds rise throughout the tournament.
You also cannot leave the tournament at any time with your chips. You need to play the tournament until completion – either until you are eliminated, or until you win the tournament. So you can't win a hand, get up to 3000 chips then "cash out". You need to stay at your seat until either you are eliminated and have no more chips, or have won all of the chips in play.
All tournaments also have breaks. You can't "sit out" at any time like in a cash game. However at the end of every hour, tournaments will have a brief break period – usually 5 minutes. At this time the tournament stops and everyone is forced to take a break.
The only slight difference to this is addon or rebuy tournaments. Rebuy tournaments mean when you lose all your chips you can rebuy into the tournament again. You pay the entry fee and start with the starting amount of chips again. The rebuy period of any tournament is not infinite – it usually will only last for the first hour of a tournament. All online poker tournaments will be clearly labeled as a rebuy tournament.
Addon tournaments are tournaments where you can buy additional chips at the first break, or at the end of the first hour. It is a fixed amount – based on the above example it would be like $10 for 1000 chips. You cannot buy less or more than the set amount and you can buy an add-on only once.
Sit & Go Tournaments: Sit & Go Tournaments are basically a hybrid of cash games and tournaments. Once you buy-in, you will need to wait until the tournament has filled up. For example – if you enter a tournament which is set for 10 players – you cannot immediately start with 4 or 5 players. There is also no set start time either. You need to wait until the rest of the players have joined. Once the tournament has the full amount of players, it will start.
Sit & Go Tournaments are generally limited to a certain amount of players. This usually makes the games a lot faster. The same tournament rules apply however – you can't leave with your chips or buy more chips. The game continues until you either are out of chips, or have won every chip in play.
Top Casinos for Americans

Additional Tournament Poker vs Ring Game Questions:
What is the best for a beginner poker player to play? Tournament or Ring Games
Both are great to play. The main thing is to pick one, play within your limits and stick with it – especially when it comes to poker education. The fundamentals of poker will vary depending on whether it is a cash game or a tournament game you are playing. Moves that are correct in cash games won't be in tournaments and vice versa.
Related Questions:
Top Casinos for Americans