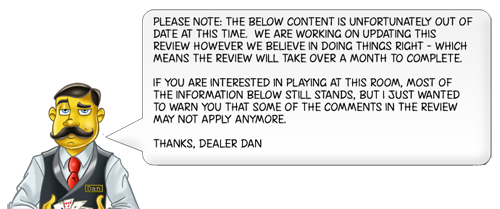 Bovada are always striving to become one of the best online poker rooms, and have an excellent bonus program, as well as an excellent customizable software. They are also the home of WSOP Bracelet Winner Mark Seif, and are always running new promotions.
Always working to enhance their software, Absolute Poker are making great strives and are an excellent site to play at…just remember to never play without a bonus, as Absolute offer bonuses and new bonus codes at least twice weekly.
Promotions: 100% to $750 sign-up bonus. Numerous reload bonuses. College Students – Win Your Tuition! Royal Flush Club. Play Mark Seif heads-up!
Absolute Poker Software: Once considered one of the worst poker rooms for software available, Absolute Poker have worked hard to change this reputation, and have achieved it with a lot of success. AbsolutePoker now doesn't take up a lot of system resources, has an easy-to-navigate lobby which refreshes quickly, a hand history replayer, and has added the ability to change the default background skin, with over 50 skins available for download. You also can turn on the option to use hotkeys and four colour deck. absolute poker software rating
Absolute Poker Traffic: GMT Peak Time: 5000 EST Peak Time: 6000. Absolute Poker always have a solid community of players, mainly at Hold'Em although quite a few Stud and Omaha players. Their tournament guarantees usually have overlay. absolute poker traffic rating.
Absolute Poker Game Variety: Absolute Poker offer Hold'Em, Stud and Omaha, with Hi/Lo variants of the former two, and No Limit & Pot Limit variations of Hold'Em. They also offer a solid variety of tournaments, with freerolls, satellites and guaranteed prize pool tournaments, although almost everything is focused on Hold'Em. absolute poker game variety
Absolute Poker Fish Factor: Absolute Poker, who have reload bonuses at least twice a week, attract a lot of weak-tight "bonus whores". While this makes the games a good bit tighter, these players are also easy to exploit, so start stealing those blinds! There's still a lot of fish, especially at non-holdem games. absolute poker fish
Absolute Poker Bonuses: Absolute Pokers bonus clear at $10 per 100 points, with 1 point per raked hand. Absolute also offer reload bonuses weekly, to the point where if you AREN'T playing with a bonus at Absolute, you're doing something wrong. Absolute is known, and quite rightly so, as the bonus king. absolute poker bonuses promotions.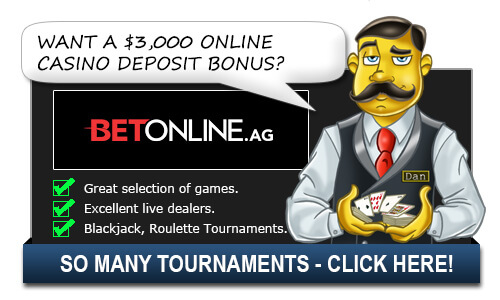 Absolute Poker Freerolls:
Absolute Poker offer 5-10 freerolls a day with a $50 prize pool, and entry to their weekly $1000 freeroll for a certain number of entrants. There is also the ability to create private tournaments on Absolute Poker, and there are lots of freerolls available there.
Absolute Poker VIP Club / Loyalty Rewards: Absolute launched a new VIP program in April 2006. They have three levels, VIP, Platinum and Elite. You require an overall amount of 5000 VIP Status Points (VSPs) to become VIP, 20,000 for Platinum, 40,000 for Elite, and you need to earn 1,000 VSPs per month to retain VIP Status, 5,000 for Platinum, 10,000 for Elite. Benefits of the VIP program are able to enter special VIP Freerolls, earn rewards points faster, VIP Parties at events like the WSOP, more bonuses, personal attention from support, exclusive VIP store, ability to create own tournament and many more perks.
Unlike Pokerstars, everything in their VIP store is available to every level. The main difference between the VIP levels is that you can earn rewards points faster, the higher level you are at. Overall, a solid VIP Program that while not groundbreaking, is yet another incentive to play more at Absolute. absolute poker loyalty rewards
Absolute Poker Support: Absolute Poker offer e-mail support, and they are usually very fast to respond. Absolute Poker also has an extensive support section on their website, where most frequently asked questions are answered. absolute poker support
Absolute Poker Deposit/Withdrawal Options: Neteller, VISA, Mastercard, Switch, Solo, Maestro, Visa Electron, Delta, ePassportE, CLICK2PAY, Firepay, Central Coin.
Top Casinos for Americans

Additional Absolute Poker Review Questions:
What games does Absolute Poker offer?
The game variety at Absolute Poker is very good with Hold'em, Omaha, Seven-Card Stud, H.O.R.S.E, H.O.S.E and Razz available. Omaha and Stud both have Hi-Lo versions as well and there are many short-handed tables. Absolute Poker offers various limits of cash games, as well as a diverse range of tournaments to play.
Does Absolute Poker have a deposit bonus for new players?
Absolute Poker players can earn up to $500 in free cash with a 150% poker bonus on their first deposit. Bonus Dollars are released in five-dollar increments. All pending Bonus Dollars expire 60 days from the date of issue and are forfeited if not released within this period.
Does Absolute Poker offer monthly reload bonuses?
Absolute Poker offers between six or seven Reload Bonuses every month. The bonus offers range from 15% to 100%. In order to receive a bonus, the minimum amount for deposit is $10.
What is the software like at Absolute Poker?
Absolute Poker suffers from very few glitches and there is never any downtime. All games run fast and reliably, and the graphics and sounds are decent.
The software has quite a few good features such as; find a player, hand history game stats and note taking. Absolute poker also has a "private tournament option", which allows players to create tournaments with their friends. There is also a mini-view allowing you to change the table size as you please and you can also cascade active tables automatically. Both these functions are great for multi-tabling.
Overall Absolute has one of the best poker platforms in the industry and the games are easy to overview.
Does Absolute Poker have a loyalty store or rewards program?
Absolute Poker' has a solid loyalty program called FAME which is open to all players. The FAME program has five levels – Diamond Elite, Platinum VIP, Gold, Silver and Bronze. Every time you play a real-money game you earn Status Points which define your FAME level. The higher your level, the more credit you earn.
At the Bronze level, there's no point minimum and FAME points are 1-1 for credit. The Silver level requires 50 points/month and multiplier is two (i.e 50 Points = 100 credits). Gold level requires 500 points and the multiplier is 3x. Platinum VIP starts at 2,500 points and Diamond Elite at 10,000 points, with multipliers of 4 and 5.
Credit can then be exchanged for cash, gadgets, gas cards and merch in the Rewards Store, unlocking exclusive credit-only cash tournaments and more. Status points are reset every month.
Does Absolute Poker have a Refer a Friend program?
Yes, Absoluate Poker does have A Refer A Friend program, which allows you to earn up to $75 for every player you refer and each player you refer will receive a $50 bonus.
Does Absolute Poker have a Bad Beat Jackpot or High Hand Jackpot?
Absolute Poker offers the fastest growing Bad Beat Jackpots on the net. Absolute Poker has Bad Beat Jackpot tables, where a small portion of the pot is removed each hand and added to the Bad Beat Jackpot. How it works is 25% rolls over to the next Bad Beat Jackpot 10% goes to the house. Of the remaining 65%: 50% goes to the Bad Beat victim, 25% goes to the winner of the hand and $1000 goes to every other player at the Bad Beat table. The rest is divided among everyone playing the same game type and stakes when the Bad Beat takes place, provided they meet the requirements of qualification.
What countries and nationalities can play at Absolute Poker? Can Americans play at Absolute Poker?
Absolute Poker allows everyone to play, whether you're from Europe, Canada or America. It is an extremely accommodating poker room.
How do I deposit money into Absolute Poker?
Absolute Poker accepts Visa, MasterCard, FPS, Click2Pay, ClickandBuy, PaysafeCard, Western Union, ukash, MoneyBookers, U.K. Debit Cards, Neteller, Bank Wire, Bank Draft, echecks and Cashier's Checks.
How do I withdraw money from Absolute Poker?
You can withdraw funds from Absolute Poker with NETeller, FirePay and check.
Is Absolute Poker trustworthy? Is my money secure at Absolute Poker?
Absolute Poker is a secure, safe site, where your money will be. Absolute Poker prides themselves on the security of their service and have many measures in place to ensure your details are secure and your money is safe.
Revisión de Absolute Poker
¿Qué juegos ofrece Absolute Poker?
La variedad de juegos en Absolute Poker es muy bueno, teniendo disponibles Hold'em, Omaha, Seven-Card Stud, H.O.R.S.E, H.O.S.E y Razz. Omaha y Stud tienen versiones Hi-Lo y hay muchas mesas short-handed. Absolute Poker ofrece varios límites de juegos con dinero (cash games), asi como un diverso rango de torneos para jugar.
¿Tiene Absolute Poker un bono de depósito para jugadores nuevos?
Los jugadores en Absolute Poker pueden ganar hasta $500 en efectivo con un bono de póker de 150% en su primer depósito. Se ofrecen bonos en dólares en incrementos de cinco-dólares. Todos los bonos pendientes expiran a 60 días de la fecha de emisión y se pierden si no se liberan dentro de este periodo.
¿Ofrece Absolute Poker bonos de recarga mensual?
Absolute Poker ofrece entre seis y siete bonos de recarga cada mes. El bono ofrece un rango desde 15% hasta 100%. Para recibir un bono, la cantidad mínima de depósito es $10.
¿Cómo es el software en Absolute Poker?
Absolute Poker tiene muy pocos problemas técnicos y nunca sufre caídas del sistema. Todos los juegos corren rápidos y confiables, con gráficos y sonidos decentes.
El software tiene características buenas tales como: encuentra un jugador, estadísticas de historia de juegos y permite hacer anotaciones. Absolute póker tiene también una "opción de torneo privado", que permite a los jugadores crear torneos con sus amigos. Hay también una opción mini-vista que te permite cambiar el tamaño de la mesa como desees y también puede activar mesas en cascada automáticamente. Ambas funciones son fantásticas para juegos multi-mesas.
En general Absolute Poker tiene uno de las mejores plataformas en la industria y los juegos son fáciles de revisar.
¿Tiene Absolute Poker un programa de premios para clientes leales?
Absolute Poker tiene un programa para el cliente fiel llamado FAME el cual está abierto para todos los jugadores. El programa FAME tiene cinco niveles – Diamond Elite, Platinum VIP, Gold, Silver y Bronze. Cada vez que tú juegas con dinero real ganas Status Points, el cual define tu nivel de FAME. Mientras más alto sea tu nivel, tú ganas más créditos.
En el nivel Bronze, no hay puntos mínimos y los puntos FAME son 1-1 por crédito. El nivel Silver requiere 50 puntos/mes y el multiplicador es dos (i.e. 50 puntos = 100 créditos). El nivel Gold requiere 500 puntos y el multiplicador es 3x. Platinum VIP empieza en 2,500 puntos y el Diamond Elite en 10,000 puntos, con multiplicadores de 4 y 5 respectivamente.
Se puede intercambiar crédito por dinero en efectivo, aparatos, tarjetas de gasolina y mercaderías en el Rewards Store, abriendo opciones exclusivas de torneos con crédito en efectivo y más. Cada mes se reinician los puntos de categoría.
¿Tiene Absolute Poker un programa Refer a Friend?
Si, Absolute Poker tiene un programa refiere un amigo, el cual te permite ganar hasta $75 por cada jugador que tú refieras y cada jugador que refieras recibirá un bono de $50.
¿Tiene Absolute Poker un Jackpot Bad Beat o Jackpot High Hand?
Absolute Poker ofrece el centro Jackpot Bad Beat de crecimiento más rápido en la web. Absolute Poker tiene mesas Bad Beat Jackpot, donde una porción pequeña de la apuesta es removida en cada mano y agregado al Bad Bed Jackpot. 25% se juega en el siguiente Bad Beat Jackpoot y 10 queda en la casa. Del restante 65%: 50% va a la victima Bad Beat, 25% va al ganador y $1000 va a cada jugador de la mesa Bad Beat. El resto es dividido entre cada uno de los que está jugando el mismo tipo de juego y apuesta cuando el Bad Beat empieza, asumiendo que estos jugadores cumplen con los requerimientos de calificación.
¿Qué países y nacionalidades pueden jugar en Absolute Poker? ¿Pueden los estadounidenses jugar en Absolute Poker?
Absolute póker permite a cualquiera jugar, ya sea que este en Europa, Canadá o los Estados Unidos. Es un cuarto de juego extremadamente flexible para acomodar jugadores.
¿Cómo deposito dinero en Absolute Poker?
Absolute Poker acepta Visa, MasterCard, FPS, Click2Pay, ClickandBuy, PaysafeCard, Western Union, ukash, MoneyBookers, U.K. Debit Cards, Neteller, Giro Bancario, Bank Draft, Cheques Electrónicos y Cheques de Cajero.
¿Cómo puedo retirar dinero de Absolute Poker?
Tú puedes retirar fondos de Absolute Poker con NETeller, FirePay y cheques.
¿Es Absolute Poker confiable? ¿Está mi dinero seguro en Absolute Poker?
Absolute Poker es un sitio donde tu dinero estará seguro. Absolute Poker se enorgullece de la seguridad de su servicio y ha tomado muchas medidas para asegurar que tu información personal está segura y tu dinero está a salvo.
Related Questions:
Top Casinos for Americans