Tower Casino Support & Security Review:
The support Tower Gaming offer is excellent. First of all, they offer a huge knowledgebase that will answer the majority of questions or issues that you have. Not sure how to deposit to the casino? Need help cashing out? Problems installing the software? Not sure how to deposit with an e-wallet? Whatever your question is, the Tower Casino support knowledgebase should hopefully have the answer for you.
If they don't have the answer, then you can contact support via e-mail or live chat. Both support options are extremely responsive, and were helpful when we approached them with issues that we were having.
All players have the ability to become VIP players at Tower Casino. When this happens, you get your very own VIP manager and support, who will be there to assist you with any problems, and will also offer you a variety of exclusive promotions.
As if that wasn't enough, Tower Gaming also offers a casino school, so you can learn about their games before playing.
Review Score: 5/5
Tower Casino Bonus Review:
At a time where good casino signup bonuses are hard to come by, Tower Casino offer a fantastic deposit bonus for all new players. This bonus is a 100% to $100 casino signup bonus, which is added automatically to your account. The wagering requirement for the initial deposit bonus is 20x, and in this day and age is great for bonus whores.
While the deposit bonus may seem on the low amount, Tower Casino also offers a variety of high roller bonuses for the VIP players, so if you like to play for big stakes then don't worry – you will get rewarded with some great casino bonuses.
Review Score: 5/5
Tower Casino Software Review:
Tower Casino uses Net Entertainment software, and is one of the only online casinos to offer such excellent operating system compatability. They offer a downloadable client for both Windows users and Macintosh users. So whether you're on your Windows XP machine or your Apple MacBook Pro, you'll be able to download Tower Casino and play from the comfort of your own desktop.
Tower Casino also offers online casino games in their browser based flash environment – some of the games may also utilize Java. This means that the software is compatible for all casino users, even Linux. Their software is very easy to navigate, and their browser based software especially is very slick and visually appealing.
Review Score: 5/5
Tower Casino Games Review:
The weakest point of Tower Casino is without a doubt their game selection – however this is more an issue with other casinos offering a better game selection, than Tower Casino having a bad game selection. Tower Casino has a great selection of games, including over 12 Progressive Jackpot casino games. Tower offer both 5 Reel and 3 Reel Slots, and a bunch of unique arcade games and scratch cards – the Golden Derby arcade game is without a doubt our favourite casino game.
Tower Casino also offers all the basic Video Poker and Table games, although that's where they could add a good bit of variety, as they currently only have 3 video poker games – although all 3 offer the ability to play up to 25 hands at once. Still, with all the basic table games like Blackjack, Roulette, Let It Ride and Caribbean Stud, all available from low stakes to high stakes, Towers game selection is still very solid.
Review Score: 3/5
Tower Casino Promotions Review:
Tower Casino offer a variety of promotions for the player, and are always running specials. The player accounts we have at Tower Gaming get e-mails every few days with yet another unique and awesome promotion. Tower don't just concentrate on promotions for their casino either – if you're interested in online poker and sports betting they always have some amazing promotions for those too.
Their comp points system they use for their casino is rather basic, in that all you can do with the comp points you earn is trade them for cash, however their rates are great, and once you become a VIP you open up a world of new and unique rewards.
Review Score: 4/5
Overall Tower Casino Score: 4.4/5







RoseAngel wrote on Oct 19 2010 @ 18:57pm

Dealer Dan wrote on Aug 15 2010 @ 12:00pm



What happened to the freeroll tournaments at Tower Casino?
Every Saturday, Tower Casino used to run slots freeroll tournaments, where you could earn money for free. Unfortunately at this time they have disbanded the freeroll tournaments and all other casino tournaments. They have stated that when they run casino tournaments they will send out an e-mail to all registered users with information about them.
How do I get the Tower Gaming Casino bonus?
To get the initial deposit or signup bonus, simply make a deposit. The bonus is then added to your account automatically and within seconds.
Does Tower Casino have a refer a friend program?
At this time Tower Casino does not offer a refer a friend bonus.
What Nationalities can play at Tower Gaming Casino?
The following nationalities can play at Tower Casino, but can not claim the signup/deposit bonus: Denmark.
Unfortunately, the following countries are excluded from playing for real money at Tower Casino:
Afghanistan
Burma/Myanmar
Canada
China
Costa Rica
Democratic Republic of Congo
Federic Republic of Yugoslavia & Serbia
Iran
Iraq
Israel
Ivory Coast
Lebanon
North Korea
Rwanda
Sierra Leone
Somalia
Sudan
Syria
Turkey
United States of America
Zimbabwe
Please return to our Online Casino Reviews section if the country you are from is listed above. If you are not sure where to play, you can also send us an e-mail at site@casinoanswers.com with your details and we will help you pick out the best online casino for you.



Tower Gaming Casino gives players a decent selection of games to play. We have written up brief overviews of some of their games, some of which we have full slot reviews available for.
Dead Or Alive Video Slot: Dead or Alive is a 5-reel, 9-line Net Ent video slot found at Tower Gaming Casino. It has a wild west theme to it. The main feature is a free spins feature where you can win 12 free spins at a 2X multiplier (meaning all of your winnings during the free spins feature will be doubled). The top jackpot win on the Dead or Alive slot game is 1500 coins, but you can also get a scatter win of up to 2500X your total bet. For more information, please read our Dead Or Alive Video Slot Review.
Gold Rush Classic Slot: The Net Ent Gold Rush slot game is a classic slot machine made up of three reels and one single payline. All bets on the Gold Rush online slot are $0.20, with the ability to play 1-3 coins (so $0.60 max per spin). Gold Rush features a progressive jackpot which can be won by playing the maximum bet and hitting 3 Gold symbols on the payline. The top fixed jackpot is 3000 coins, which you can win by hitting 3 Gold symbols anywhere on the reels. For more information, you can read our Gold Rush Classic Slot Review.
Bonus Keno: Bonus Keno is the lone online keno game offered at Tower Gaming Casino. You'll get a free round of keno if you can hit 5 Bonus Joker symbols in a game of Bonus Keno. Bonus Keno also has a progressive jackpot, which can be won if you form a "J" pattern on the keno board.
Tower Gaming Casino Games List
Below is a list of all casino games Tower Casino offers:



Tower Casino is only available in the currency of US Dollar. This is due to network restrictions.
Tower Gaming Casino offers the following methods and e-wallets for depositing or withdrawing:
Click&Buy
Click2Pay
Credit Card
Paysafecard
Mastercard
Moneybookers
Neteller
UKash
Visa



Tower Casino currently offers 14 Progressive Jackpots. What is great about the progressive jackpots at Tower is they are spread throughout their casino games – not limited to slots like some casinos. The Progressive Jackpots offered at Tower Casino are:
Slots Progressive Jackpots:
Arabian Nights
Geisha Wonders
Fishy Fortune
Gold Rush
Icy Wonders
Mega Joker
Super Lucky Frog
Tiki Wonders
Card/Table Game Progressive Jackpots:
Caribbean Stud Poker
Caribbean Stud Poker Pro
Keno Progressive Jackpots:
Scratch Cards Progressive Jackpots:
Triple Wins Scratch Cards
Arcade & Speciality Game Progressive Jackpots
Casino Bingo
Golden Derby(Our favourite game!)



In the past, Tower Gaming Casino has offered a variety of tournaments. These included freeroll tournaments like the Radical Reels Slots Freeroll tournament, as well as Video Poker tournaments. All these tournaments were held on a weekly basis.
Unfortunately at this time, Tower Casino is not offering any casino tournaments. We will update this as soon as they are.



The initial deposit bonus from Tower Casino is a 100% to $100 deposit bonus. You deposit one hundred dollars, and you will receive a 100 dollar match bonus immediately in your account, giving you $200 to spend. You will then have 30 days to clear the bonus, which means clearing the wagering requirements. This is a 20x bonus, so you have to wager exactly $2,000 at which point you can withdraw all your casino winnings. After the 30 days have expires, the casino bonus is removed from your account.
Tower Casino also offers frequent reload bonuses. Along with special VIP Casino bonuses, Tower Casino also offers monthly 50% to $50 bonuses for all players with small wagering requirements too.



Welcome to my next installment of my Casino Blog. This week we will be playing at Tower Gaming Casino.
Tower Gaming Casino uses the Net Entertainment Software, and offers a 100% to $100 signup bonus. Tower Gaming Casino is a very professional looking website, that also offers online poker and sports betting.
Let's get signed up and get that bonus!
One big feature of Tower Gaming Casino I notice right off that bat, is that along with a PC client they have a Mac OSX client too. Most online casinos don't have specific clients for online users – just browser based versions – so that's a nice bonus for you Mac guys.
The process of installing was very easy. Upon visiting the site, a popup appears allowing you to download either software that you want, and I was able to download and install it immediately. Their website looks like this: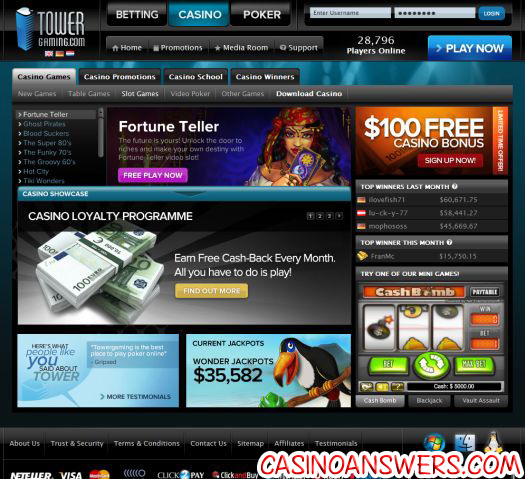 As you can see – a very slick design. One thing to note about Tower Gaming Casino is that they use the Net Entertainment Software, and at this time are the only online casino that has a downloadable client for Net Entertainment. We will be trying out both the download software and the browser based casino software.
Upon installing and running the Tower Gaming Casino software, I get prompted to log in or create an account. Creating an account was a nice simple one step process, then you just have to get an e-mail sent to you and boom, you activate your account.
Next you have to fill in your name and address – what I like about the process is there is live help just waiting there in case you have any problems: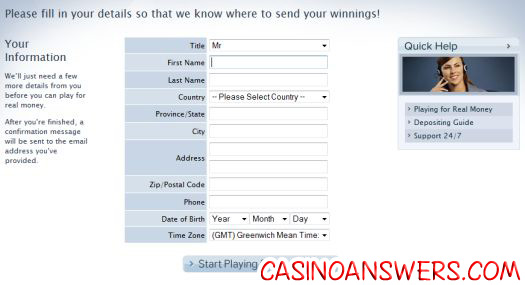 The signup process goes very smooth, and Tower Gaming Casino have a wide variety of deposit options. I deposit my $100, and my $100 bonus is instantly put into my account, nice and smooth.
That's it for today. I can't wait for this blog – I've never tried out Net Entertainment Software, but I hear it is really good. So be sure to check back on the weekend as we start blogging at Tower Gaming Casino: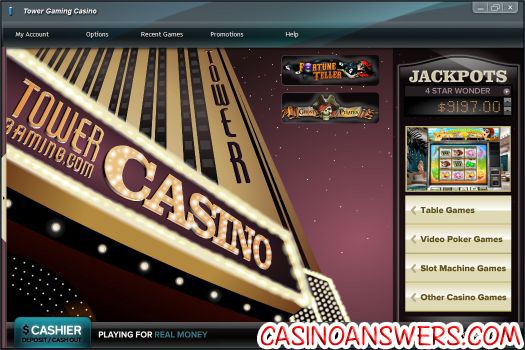 Welcome to the first day of my Tower Gaming Casino blog. As I mentioned, I'm really looking forward to playing at Tower Gaming Casino. They use the Net Entertainment Software which I've never used before – so it will be good to have a fresh look and appeal at it.
Right now we will be using the downloadable client. Lets get started at Tower Gaming Casino.
So here is how the lobby looks: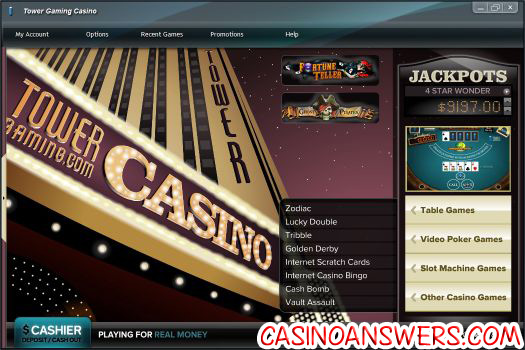 I've hovered over the "Other Casino Games" option so that you can see how you get to choose the games. It's a very laid out and clean lobby. The first game we are going to try is the Fortune Teller Slot. This is how it looks: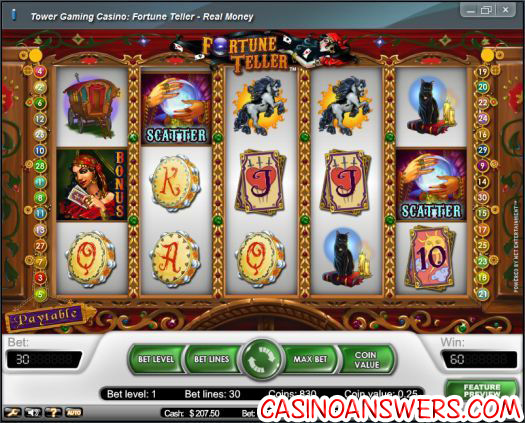 And as you can see, I already got off to a good start on my first spin. I was just playing around, and clicked the spin button and I won $15.00 off a $7.50 bet. Not bad. As you can see the layout on it is absolutely beautiful, very slick slot.
I decide to bet the maximum – that's bet level 4 as in 4 credits, bet lines 30 as in 30 lines. So that's 120 credits total – with only $200, it's best not to risk too much so I will do the minimum bet of $0.01. So at 120 credits, thats $1.20 a spin.
This is the best slots strategy BTW – always bet the max when possible. That's where the best payments are.
Let's get lucky: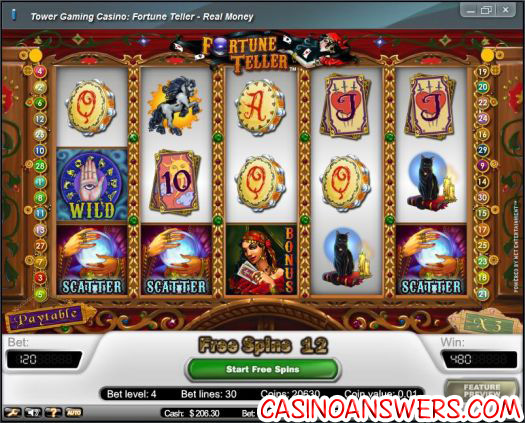 And I get lucky right off the bet, starting off with free spins and a $4.80 return. Sweet. My first free spin wins the bonus game: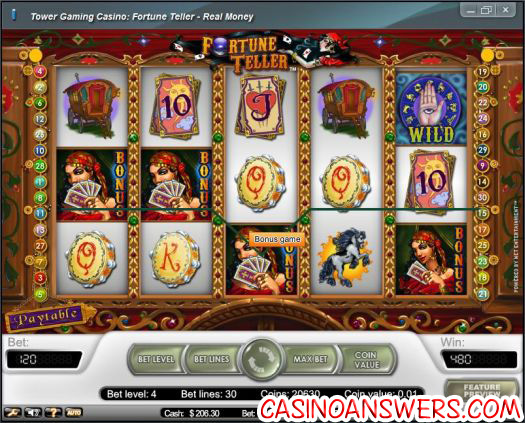 And oh wow, oh wow, oh wow. The bonus game I don't do too well in winning just 40 credits, but I absolutely kill on the free spins. Check this out: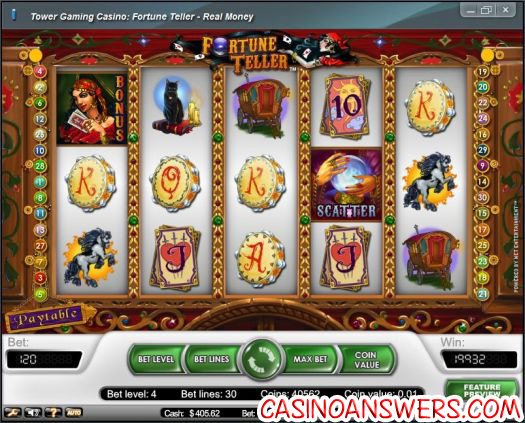 Off ONE SPIN I just won 19,932 credits! I've doubled the starting bankroll to $405.62 right off the bat. An absolutely amazing start in this Tower Casino blog. Sweet!
Wow. Biggest casino win yet credit wise. 19,932. Oh if only I had bet more. Come try YOUR luck at Tower Casino. Click here.
Alright, after that amazing win I am not pushing my luck at the Fortune Teller slot for now. We'll try out Video Poker. Tower Casino offers Joker Wild, Deuces Wild and Jacks or Better Video Poker. You then have the option of 1 hand, 5 hand, 10 hand and 25 hands.
After that crazy win I am not ready for any more craziness – so we'll do some simple 1 hand Jacks or Better Video Poker.
I have to say – this is beautiful software – here's how it looks: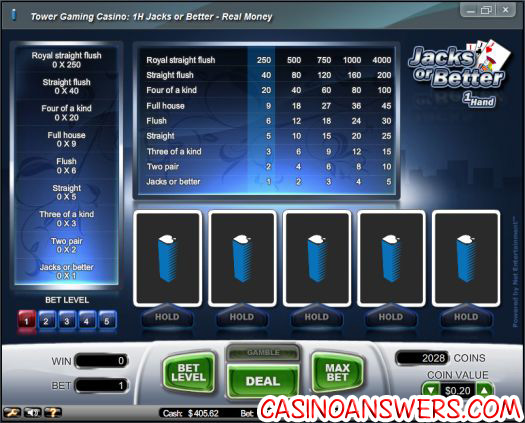 Very slick. We'll of course bet 5, the maximum bet available, and do $0.50 per game, so that's $2.50 a bet at Jacks or Better Video Poker.
Great start as we pick up a pair of aces: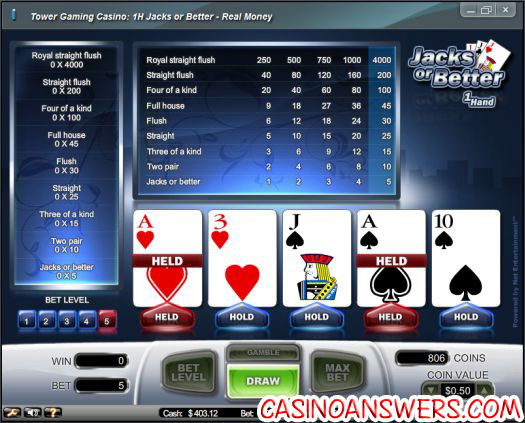 Which doesn't improve. We win $2.50, however we can also gamble – and holy crap the gamble game at Tower Casino is sweet. Every other game has the "higher or lower" deal – check this out: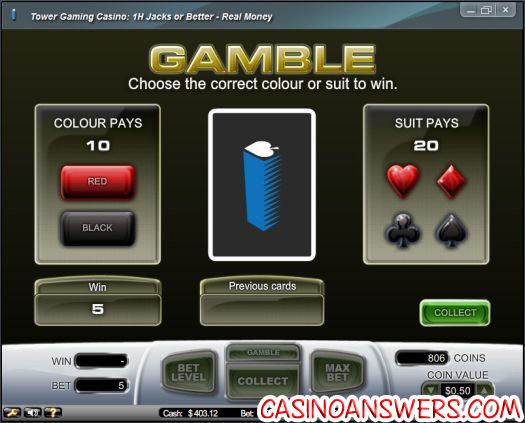 You get to bet on what colour OR what suit you think will come up. Alas I bet on red and the :5c: came up but that's still really sweet. Want to try it for yourself? Play for free at Tower Casino.
We pick up two pair shortly after: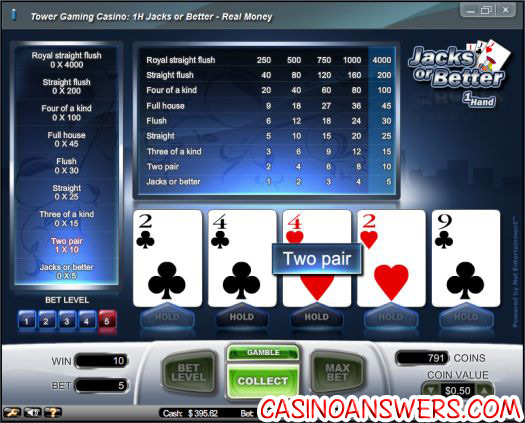 Then a few hands in, pick up the flush on our first go: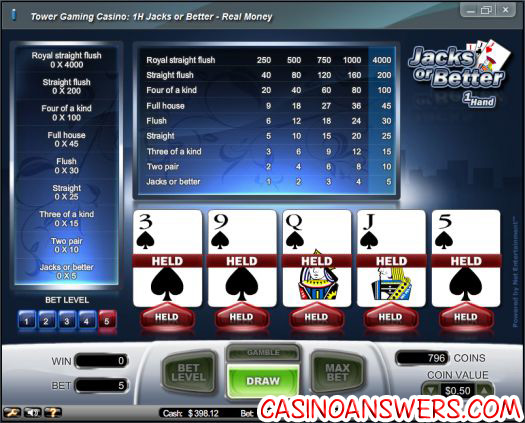 I am LIKING Tower Gaming Casino!
Alas the luck ends and I leave the video poker game with $383.12. I'm going to stop for the day in a second, because after that huge win on slots I feel untouchable – and that's always a bad thing when it comes to online casinos.
We'll finish it off with the Golden Derby game where you basically bet on the horse racing. Here is the lobby area where you can bet: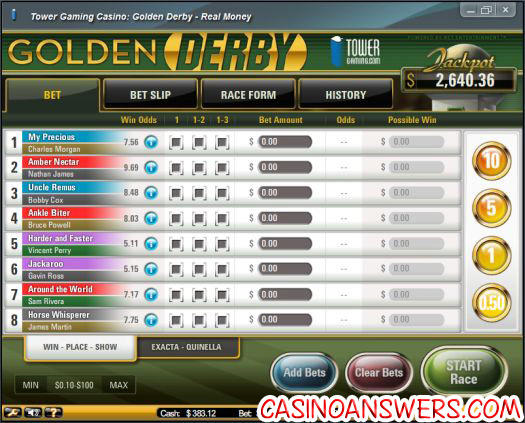 This thing is really cool. You can bet on 9 horses, and it lists their win odds. You can bet on them winning, placing and showing, betting exacta and quinella, multiple bets – the whole works. I will take the horse entitled Harder and Faster – the way I like my women – at 5.11 to 1, to win.
I bet $10 – also you can go to race form and history and see so much information about the horses. Here is an example: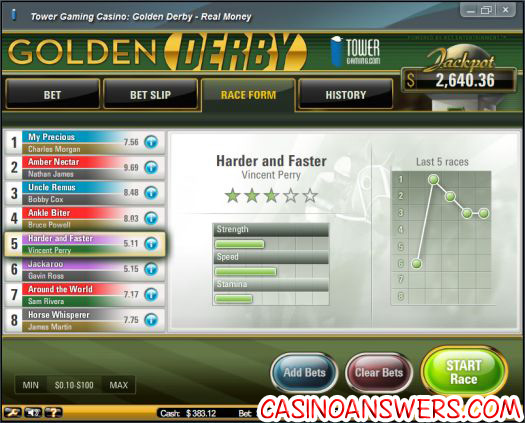 I start the race – and oh wow, this is REALLY cool. If you're a fan of Digiturf, you should stop playing that and get over to Tower Casino right now to play this. It's absolutely beautiful. Runs very smooth, great graphics, has actual commentary. I'll do a Youtube Video of this in the future. Here are screenshots: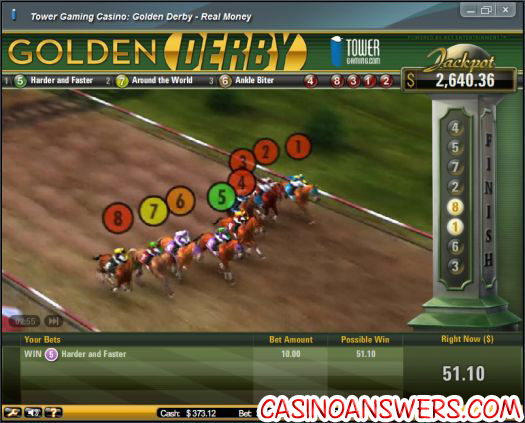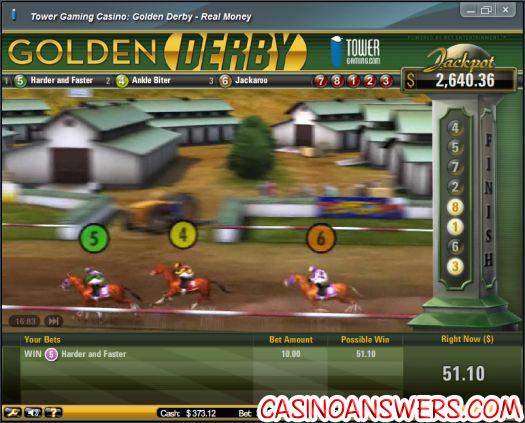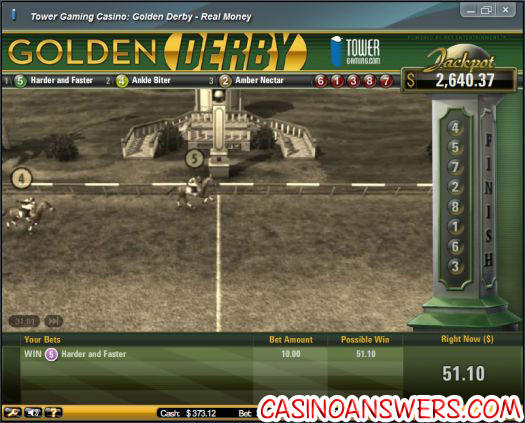 And as you can see – I am the winner!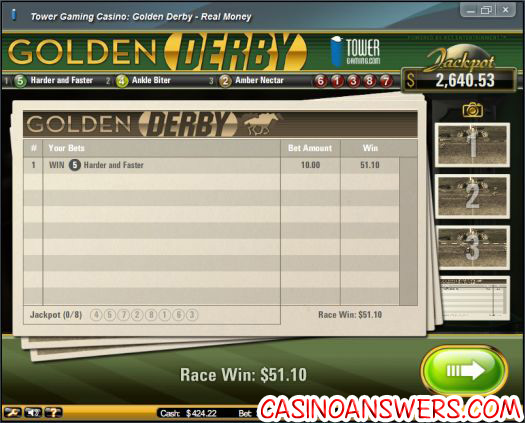 We'll stop this blog at $424.22. Back tomorrow. I am LOVING the Net Entertainment Software. Thank you Tower Casino!
Welcome to day 2 of the Tower Gaming Casino Blog. We had an excellent start to the casino blog in day one, as we more then doubled our initial balance of $100, ending the day with $424.22.
Let's head into Day 2 of our journey at Tower Gaming Casino…
First of all, to check the wagering requirements we just have to log into the website and it is updated in real time. It's right under my account, and lets you know the bonus you have activated and the amount left to wager. I've got $5981.30 left of a $6000 wagering requirement.
One thing I also like is Tower Gaming runs a variety of freeroll casino tournaments. They have the Radical Reels slot tournament, the Wild Card Video Poker Tournament and even the Casino Hold Em tournament. You can sign up for free to play these tournaments by clicking here.
We're going to try the Mega Joker slot machine today. This is a classic 5-line slot machine, which reminds me of of the good old days in a pub. Here's the image of it: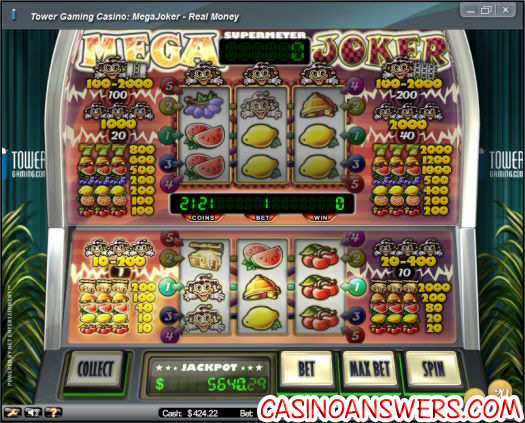 We will of course be playing the maximum bet(which will be $2 per spin) as that is the best slots strategy. Two spins in and we pick up a decent win: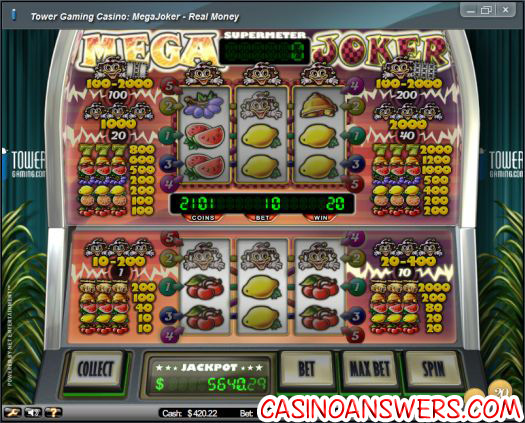 This slot is really cool. It features a variety of different modes including basic mode, supermeter mode and of course has a progressive jackpot.
We pick up quite a few more wins like this one: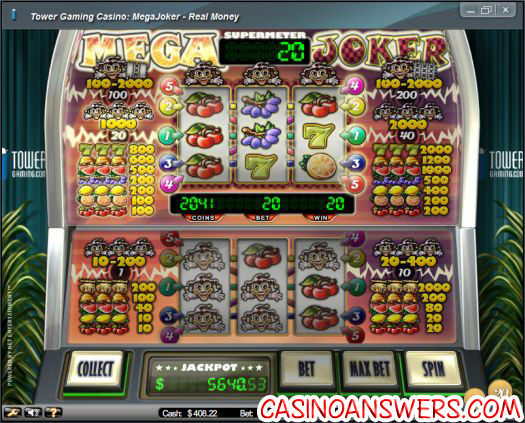 Then a nice 60 credit win here: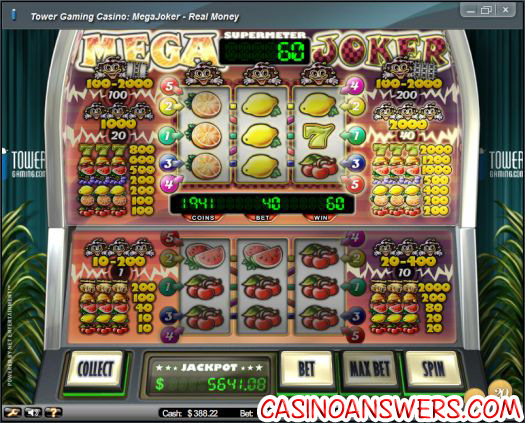 Alas we don't win anything in supermeter mode. FYi supermeter mode is unlocked after you win on a spin, and it's the top area which is where you can win the big money. Really cool concept – don't think I have ever played a slot like that before – it's a really nice bonus game.
A few spins later we get a nice 100 credit win thanks to the Supermeter: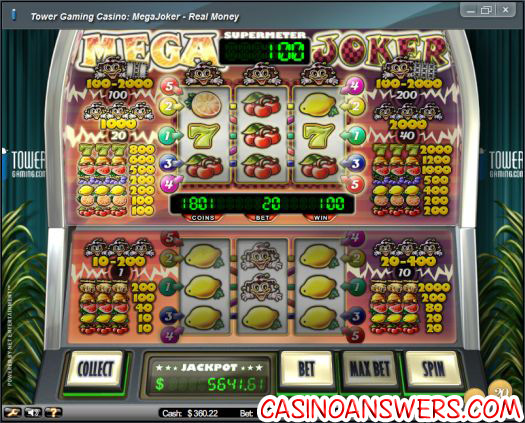 Unfortunately we don't pick up any more wins, so with $350.22 left we'll try somewhere else.
I decide to try out Baccarat Pro – I've never actually played Baccarat before, but with the aid of this Baccarat Rules website, I'm willing to give it a try!
Tower Casinos Baccarat game is entitled Baccarat Pro. It's really slick software, this is how it looks:
You click on the chip amount you want to bet, then bet it wherever you choose. It's really fast and smooth. I start off with a $5 bet, bet on the Player and win right off the bat: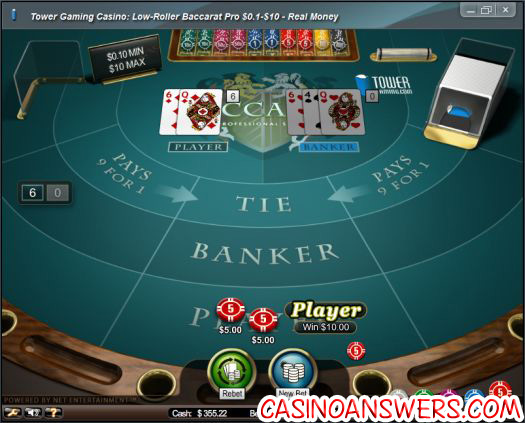 Great start, and what I really like about the software is (1) it allows you to rebet with ease, and (2) it keeps track of the previous hands played, and the exact scores.
We get a nice big win when I double my bet to $10 and hit a 9: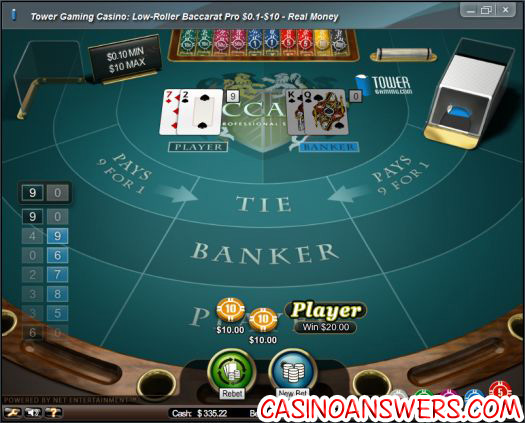 I should also mention they have three different versions of Baccarat. You can play low roller, medium roller or high roller. The high stakes Baccarat game is where you can bet a minimum of $10, and a maximum of $1000. Yikes, that's a hell of a lot.
I'll be honest – not a big fan of Baccarat. I play it for a bit but it doesn't really hook me – I much prefer games like Blackjack or Video Poker where I actually feel like I am in control of my destiny. However if you are a Baccarat player the software is really slick and fast – click here to check it out.
I decide to finish off the day with some Deuces Wild 25 Hand Video Poker. That's right – I said 25 hand. This is how it looks: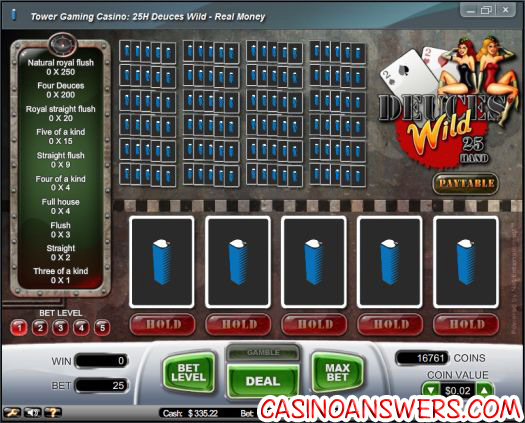 The great thing is – they have very low minimum stakes – $0.02 coin value – so even though you are playing 25 hands, you can be playing as low as $0.50 per hand! Actually I just checked and you can even set a coin value of one cent – that's sick, meaning you can play $0.25 per round of 25 hands of Video Poker. Very impressive, and great that they accommodate the penny video poker players like that.
You also have a bet level of up to 5 – and that's where you want to be betting obviously, because then you can get the best odds, and it decreases the house edge.
I decide to bet $0.05 per hand, which is $6.25 per round of betting. Sounds good to me. Natural Royal Flush please dealer! (4000 payout):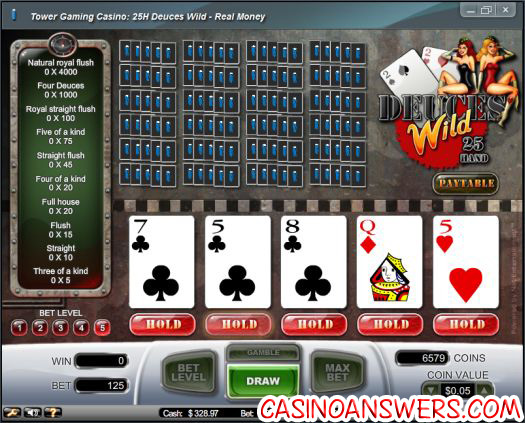 I never know what is optimal in these situations. Do I hold onto the :7c:, :5c: and :8c: aiming for a straight flush? With a payout of 45 that doesn't seem right. I choose to draw, and pick up some three of a kinds, four of a kinds and a full house. I win 50, alas I bet 125 so that was a loser.
The next hand is a winner though as I pick up a joker and a pair of threes which gives me a win of almost double my bet: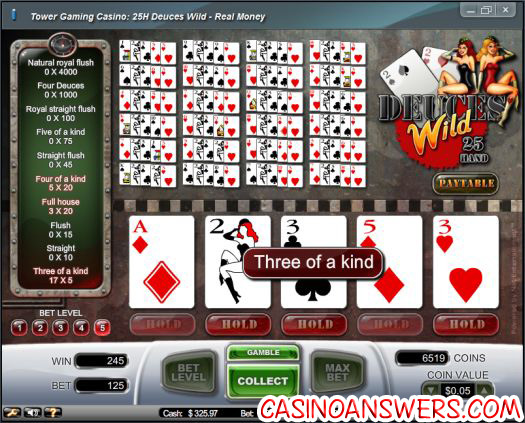 I then decide to up my bet to $12.50 a hand, and pick up a great one as I get two jokers, and manage to hit a Royal Straight Flush:
Then a few hands later I pick up a natural flush, which gets me 25×15 payout for 375 credits.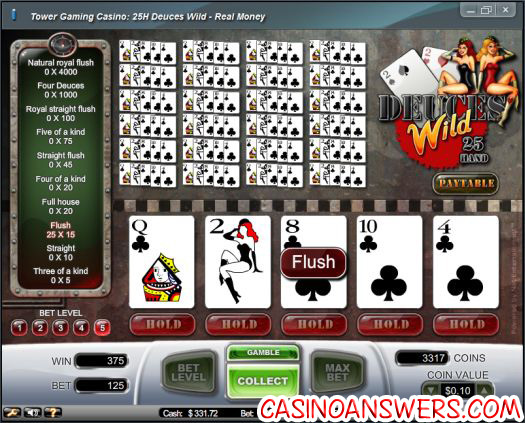 I pick up a huge win a few hands later, as I get two jokers, the ten of clubs and the queen of clubs. I also got the king of diamonds for a straight, but I changed that and managed to get myself two royal straight flushes: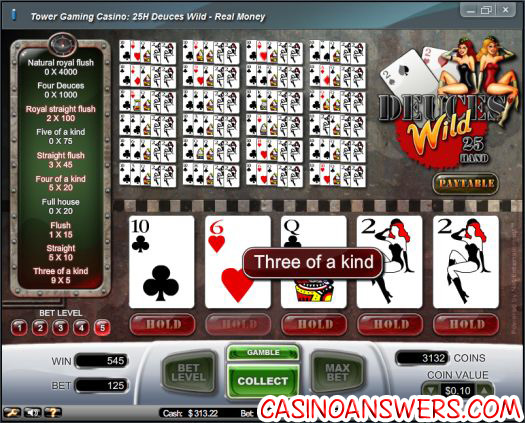 Well that was a lot of fun, and a good way to go out. I'll be back later in the week with the 3rd blog.
Don't forget those freeroll casino tournaments – click here to play at Tower Casino.
I have a confession to make – last night I decided to log onto Tower Casino just to play one of their free slots tournaments. Well I played(and lost) but I ended up getting hooked on some of their slot machines – and unfortunately didn't do so well. My last blog ended with a balance of $350.15, however we're starting this blog with $273.72. Oops.
As I've mentioned before – this is the first time I've played any online casino that utilizes the Net Entertainment software – and it certainly won't be the last. Some of the slot machines they have are phenomenal and I find myself getting easily hooked on them. If you want to play them for yourself I highly recommend the Fortune Teller slot machine. Check it out at Tower Casino.
Now in day one of my blog I played the awesome game Golden Derby. Basically this is a horse racing game, where you bet on a horse then watch the race play out. The description and pictures I provided really didn't do it justice, so I wanted to record a Youtube video showing it.
Here it is:
Great race, and a fun game to play. I could seriously blow all my money on that. If you want to try it out for free, visit Tower Casino.
We're going to try out the Pirates Gold slot machine today. This is a pretty crazy slot machine where you can bet up to 9 lines – but more importantly you can bet a maximum of 10 credits on each line, which is really crazy. A really good high roller slot machine, or one for the action junkies.
We'll be betting $0.10 per credit, so $9 total per spin – and we'll only be playing a few spins unless we get really lucky straight off the bat. Here is how the slot machine looks:
As you can see, a really nice, attractive looking slot machine. There is also two bonus games available. The first bonus game is unlocked when you get three or more pirate coins on a betline. You apparently use a cannon to shoot and sink an enemy ship which sounds fun as hell.
The other bonus game you have to use a parrot that will use a golden key to open a treasure chest. The treasure chest contain 100, 200, 500 or 1000 times your bet.
That would be sweet.
Our first spin sees a win of 50 credits: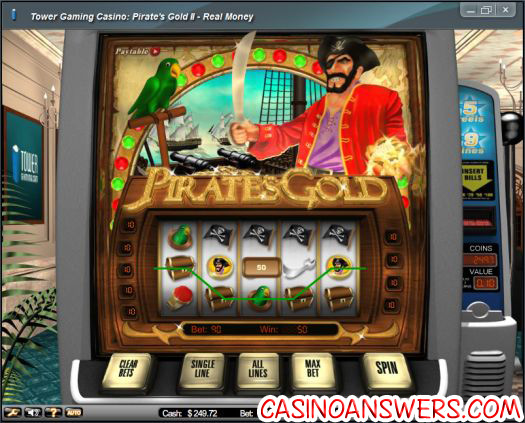 And our second spin sees us unlock the bonus game, hell yeah: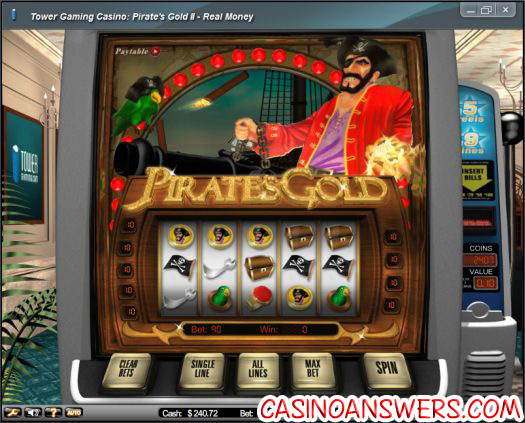 Here is how it looks: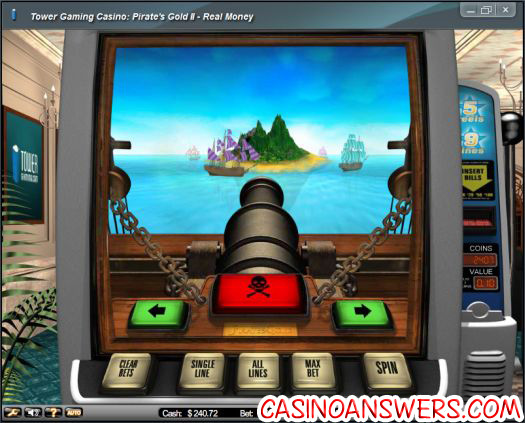 And I sink that enemy ship: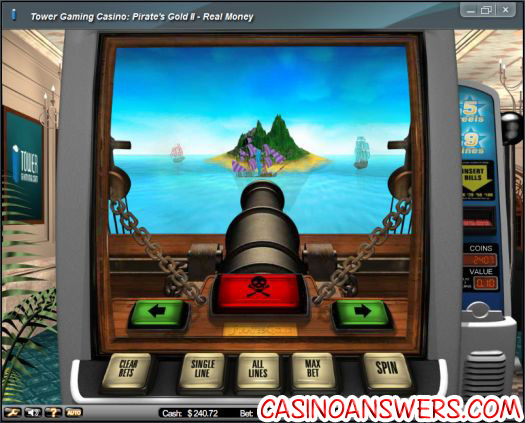 And I get a nice return of 500 credits, which is a $50 win. Sweet deal. Here are the paylines BTW for those curious: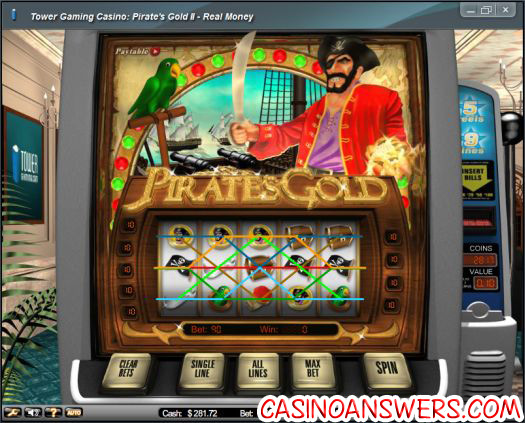 And our very next spin wins us another bonus game, alas we only get a 100 return on that one: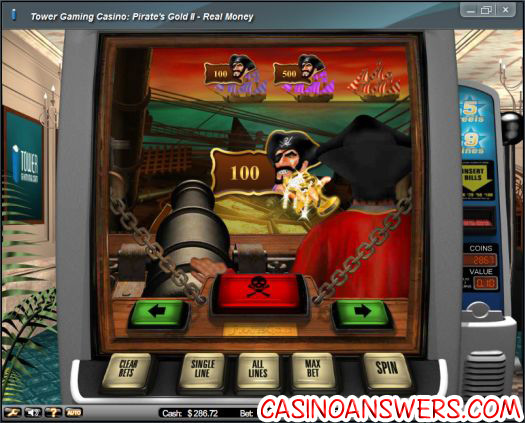 We get another bonus game on the very next spin, which sees a win of 200 credits. Geez – so many bonus games. Maybe this slot machine is broken!
Our next few spins we win a little but but mostly use, then we hit a great 240 credit win thanks mainly to the 3 cannon icons: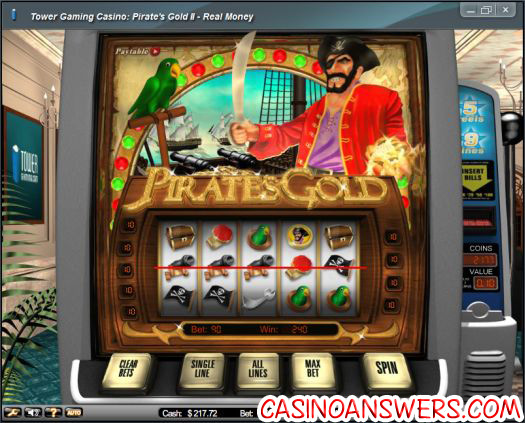 Unfortunately we don't get the same sort of luck as we did at the beginning, and at $162.72 I reluctantly close the slot machine to play something else. That was fun as hell though.
We'll finish off this blog with some good old fashioned Blackjack. Hopefully you know the Blackjack rules by now. Tower Casino offers Blackjack Professional or Blackjack Pro – which allowed the Double Jack sidebet. Basically you can place a side bet and get some sick payouts – for example if the first card is a jack then you get 10x the bet, a pair of jacks are 25x bet, and if you get two :js: then you get 100x. Sweet deal.
We'll hit up the low roller tables and bet the maximum $5. Here's how it looks: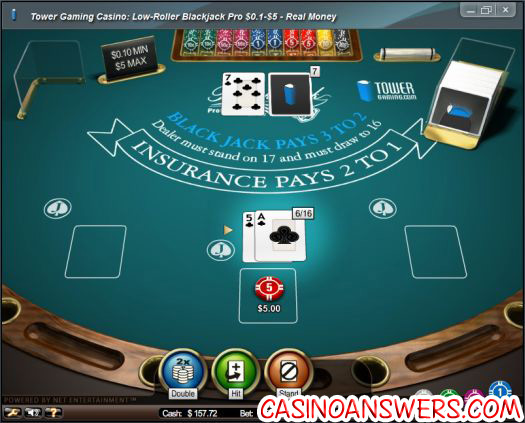 Really nice appealing software as you can see. Unfortunately I hit on that hand, and pick up a 6 followed by a queen to go bust with 22. Oops.
The next hand is also a loss, but then we win: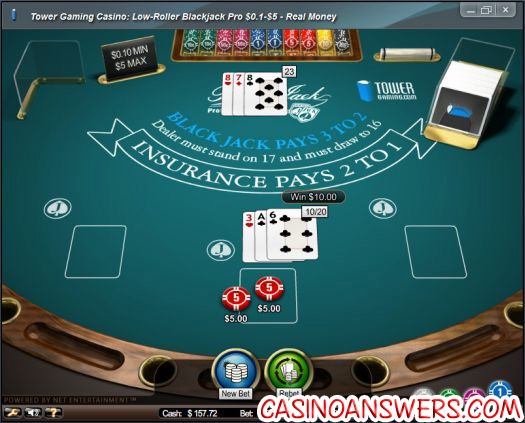 Also one great thing about this game is you can play multiple hands of Blackjack at once. This game allows you to play three different games of Blackjack as you can see here: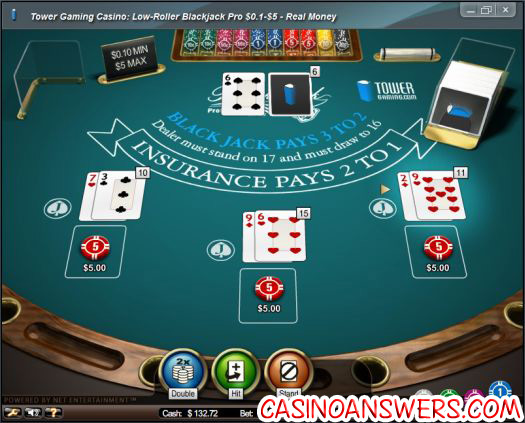 And I like to go out on a high note, so I think this is a great note to go out on:
As I double up on two hands and win all three, for winnings of $50. Hell yeah.
I'll be back on Monday with day 4 of the casino blog, as we check out Towers browser based software and compare it to the downloadable software. And most likely play more of that freakin Golden Derby Horse Racing game. Addictive as hell.
>>Visit Tower Casino Today – Click Here<<
Alright, I took a little bit of a mini-sabbatical there to focus on my casino site Casino Answers, but I'm happy to say that we are now back, and ready to roll.
Got a few reviews to put up, a few things to fix around the website, but first and foremost: let's go back to Tower Casino, and finish off our Tower Casino Blog.
So, the last time we played was day 3. Our balance is currently $167.72. We've only been using the download software, however the guys from Tower read the blog, and wanted to let me know that if I like the download software(which I do) then I'll absolutely LOVE the browser-based flash software. Sounds good to me, lets try it out.
Okay right off the bat, I am impressed by this. Here's what it looks like: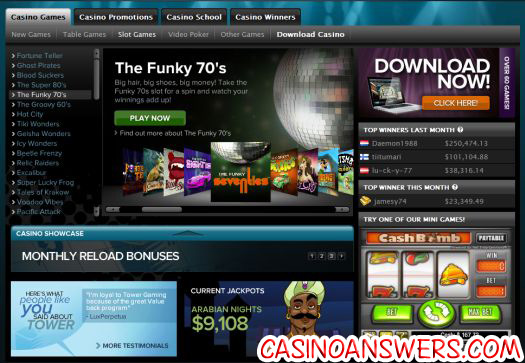 Now on any other website with browser based software, I've found the browser software to be secondary, and download software to be primary. However it seems to be the other way round when it comes to Tower. The lobby and design is really slick, and it's actually integrated into the website. Every other casino generally loads up their own flash platform in a new window. This is really cool, and you choose a game to play, then boom, you're playing it.
First things first, we'll hit up their multi-hand blackjack game. This is a game where you can play up to three Blackjack hands at once. If you want to try it out for yourself, here's a Multi-Hand Blackjack Flash Game that you can play.
Okay, so we'll do $5 bets on every hand. Heres the first hand: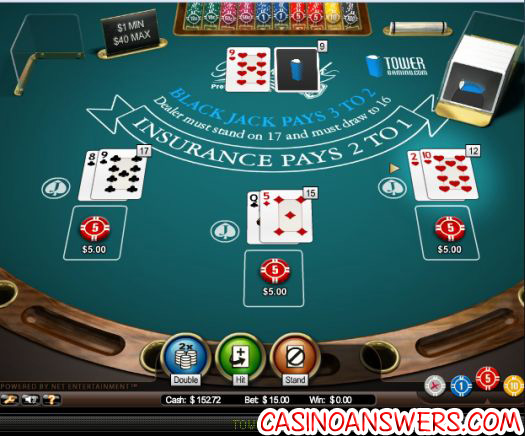 Unfortunately we go bust on two hands, and the dealer turns over the :as: so we lost the 17 hand.
We take a beating on the next hand too: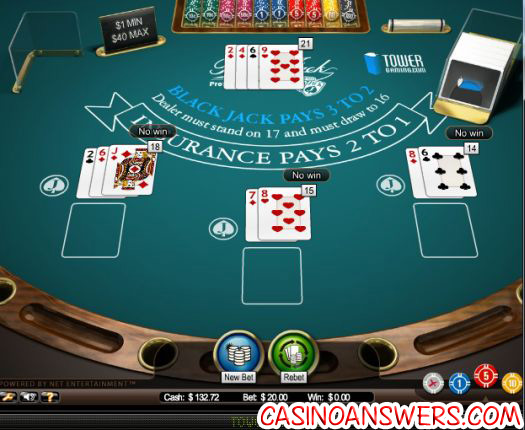 However win it back when the dealer goes bust after turning over 14: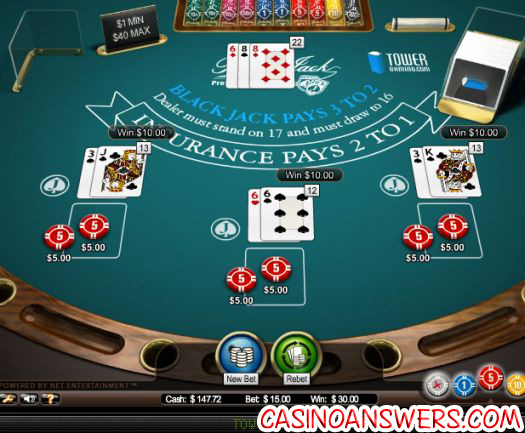 Then with a couple of doubles, we're up to $172: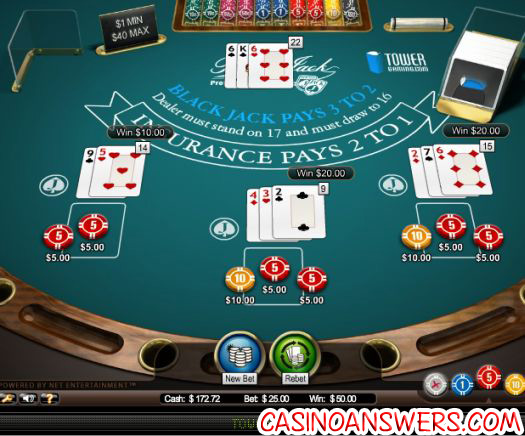 Alright, that's Multi-Hand Blackjack for you. However Tower also has Oasis Poker Pro which is a fun game that I like to play. If you're not sure of the rules, there is one 52 card deck, shuffled before each round. You have the option of discarding and drawing cards, and the best 5-card poker hand will be declared the winner. The dealer qualifies with Ace/King or Higher.
If you want to try it out, here's an Oasis Poker Pro Flash Game for you to play.
So here's my first hand: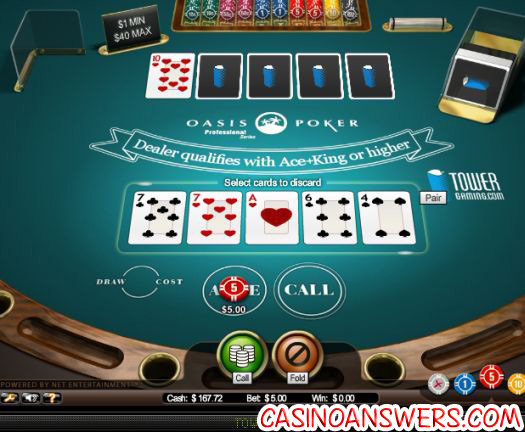 Now I have a pair of 7s. If I want to, I can discard any of my cards. I bet $5, so it will cost me $5 to discard. That's how it works. I choose not to discard, and unfortunately the dealer turns over a 10 of diamonds to beat me on this one. Oh well.
Of course if you win, you get back the money that you spent discarding, as part of your bet. For example on this hand I only drew the :qd: and :jd: and chose to discard 3 cards: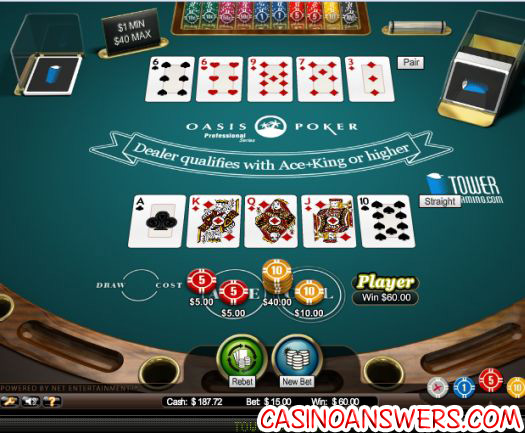 Result!
Fun game, and we go on a nice run turning our balance into $220 for a bit, however I leave the table at $167.72. I'm going to finish this blog at the Fortune Teller Slot Machine where I got so lucky the last time I played, and I won 19,000 credits…alas, that was $0.01 a credit, so I only won $200. Oh well.
We'll be betting all 30 lines, at $0.25 a credit, so that's $7.50 a spin. Here's all the lines we will be betting: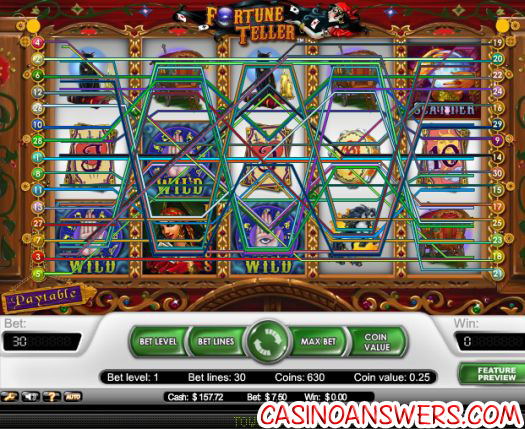 First spin is a loss. Second spin…also a loss. 30 freaking lines and I can't win, I must be the most inadequate slots player in the world.
Thankfully we turn it around on the very next spin: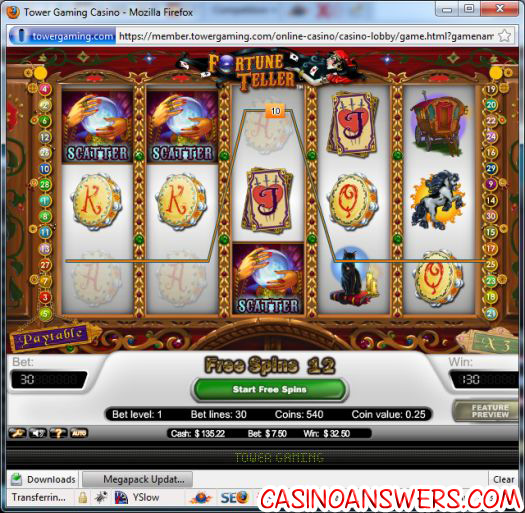 As we get winnings of $32.50 PLUS 12 free spins. Oh baby.
Here are a couple of screenshots during the free spins period: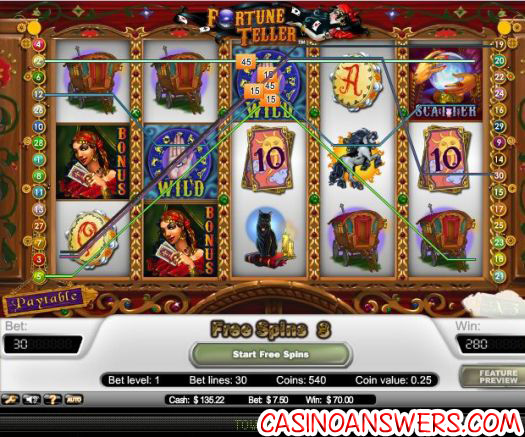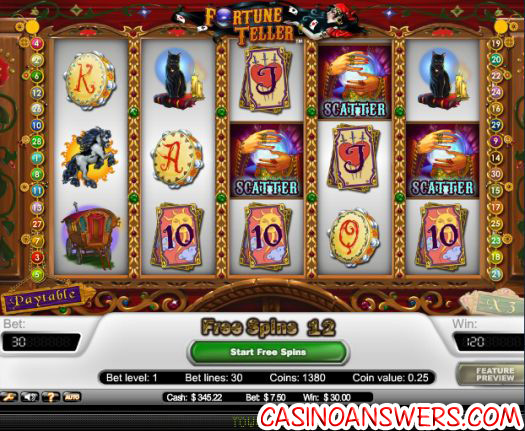 And the end result? We win 835 credits, which is winnings of $208.75 putting our balance at $343.97. Oh baby. The Fortune Teller slot is still lucky and paying out – try it today at Tower Casino.
I spin some more – and 3 spins later, BOOM, another 12 free spins: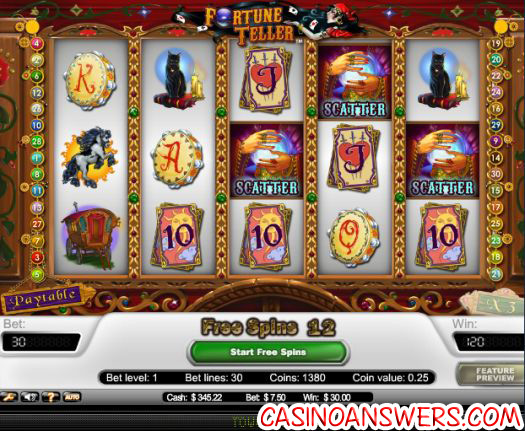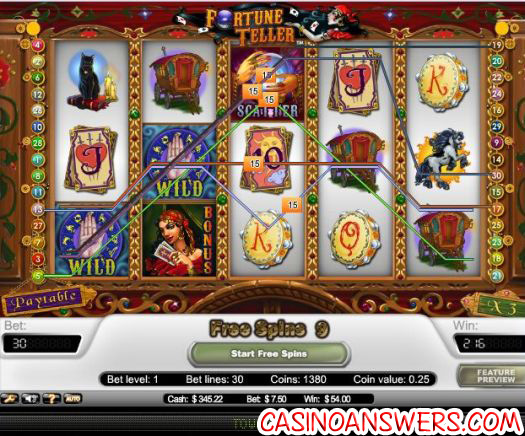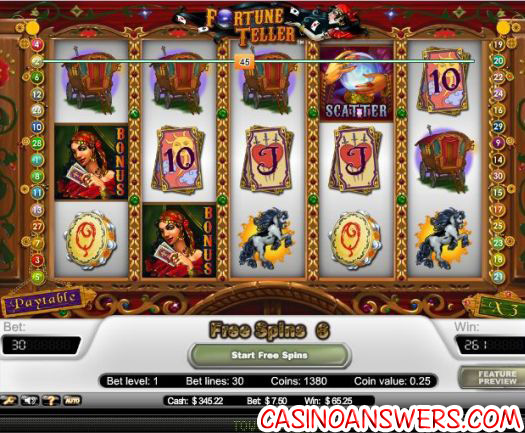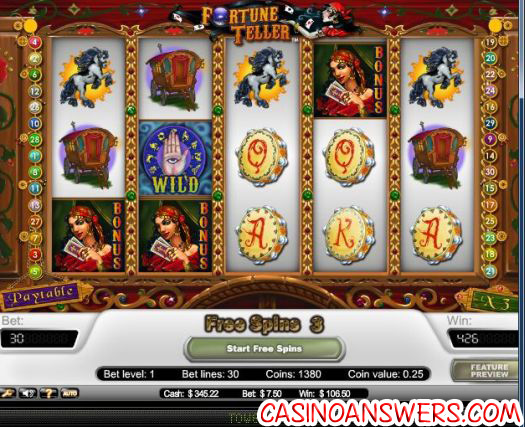 Alright, yikes. We killed on those free spins too, and our balance is $489.22, with winnings of $144. I think only one thing sums up my feelings right now:
I play a bit more, and unlock the bonus game: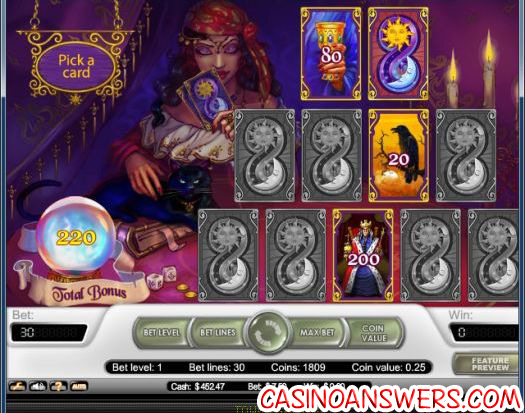 Which puts our balance at $527.47.
Looks like this is going to be one of those 10 day blogs, much like the Slots Oasis Casino Blog.
I'll be back tomorrow, and in the meantime – go play the Fortune Teller Slot at Tower Casino.
You know you want to.