Gaming Club Casino Support & Security Review:
Gaming Club Casino offers a support database inside their software, which answers a lot of frequently asked questions. On top of that, they also offer a lot of helpful information on their website to cover any problems you are having getting started with Gaming Club Casino.
Of course if you are having problems, they have customer service support for you around the clock, and in multiple languages. You can e-mail support, or use their live chat software to immediately talk to a customer service representative. Unfortunately Gaming Club Casino have no direct telephone support.
Review Score: 4/5
Gaming Club Casino Bonus Review:
The first signup bonus Gaming Club Casino offers is a 30 free spins bonus. You get 30 spins at the Mad Hatters Slot Machine, and you get to keep what you win. This is a great and fun way to start off the casino, and you don't even need to deposit to get it. So you have the potential to really build your casino bankroll right from the start, no work required.
The other welcome promotion Gaming Club Casino offers is a 100% to $100 signup bonus. This is a 30x bonus, and all games except Sic Bo, Craps, Roulette and Table Poker count towards the bonus, although certain games will make the wagering requirement a lot bigger.
Review Score: 4/5
Gaming Club Casino Software Review:
Although Gaming Club Casino only have a downloadable client for Windows, all Mac users can use the excellent flash based software to play their favourite casino games at Gaming Club Casino.
The Gaming Club Casino lobby is fantastic, with multiple views to make it easier to browse. It's very easy to navigate the games, and when you hover over a game, information about it will pop up, giving you a screenshot and a description of the game in question. If it is a progressive jackpot game, it will also tell you how hot the progressive jackpot thermometer is.
Review Score: 4/5
Gaming Club Casino Games Review:
Welcome to where Gaming Club Casino ROCKS. Microgaming Software offer the biggest variety of casino games you can imagine, and the majority of them are all high quality and an absolute blast to play. I mean seriously – over 250 slots, Over 20 Progressive Jackpot Games, And over 50 Video Poker games. Their selection is incredible.
What's great is all the games are filtered by category and sub-category, so it is extremely easy to navigate and find the casino games that you want. If you're looking to play a wide selection of games, you can't go wrong at the Gaming Club Casino.
Review Score: 5/5
Gaming Club Casino Promotions Review:
Gaming Club Casino are always offering a lot of unique promotions. They offer special freeroll casino tournaments, and unique promotions like $10,000 African Safari visit, and many more trips. Their loyalty point program is also very good, offering 3 points for every $1 wager, compared to just 1 point at most other casinos.
Review Score: 4/5
Overall Gaming Club Casino Score: 4.2/5

Gaming Club offers two initial bonuses: a 30 free spins with unlimited potential in winnings, and then the 100% to $100 signup bonus. This is a 30x wagering requirement and can be played on the majority of games at Gaming Club Casino.
On top of that, Gaming Club does regular reload bonuses and special promotions.


Gaming Club Casino currently offers two different types of tournaments – Blackjack and Slots. They offer free casino tournaments, with prize pools of $50 and above. They also offer rising prize pool tournaments, based on the number of entries, and always add money to the prize pool too. Buyins can range from free to $20.
For slots, Gaming Club Casino offers a variety of slots tournaments, with the same buyin information as above, but generally bigger prize pools. They offer prize pools in the range of $500 to $5000 – and the best thing? The buy-in is FREE! They offer a variety of slots tournaments like Avalon Video Slots and Tomb Raider Video Slots.

Gaming Club Casino have an absolute ton of progressive jackpots. They are:
Table Game Progressive Jackpots:
Progressive Cyberstud Poker
Poker Ride
Roulette Royal Progressive Jackpot
Triple Sevens Blackjack Progressive Jackpot
Video Poker Progressive Jackpots:
Progressive Jackpot Deuces Video Poker
Progressive Supajax Jacks or Better Video Poker
Slots Progressive Jackpots:
Cash Splash 3-Reel
Cash Splash 5-Reel
Fruit Fiesta 3-Reel
Fruit Fiesta 5-Reel
King Cashalot 5-Reel
LotsaLoot 3-Reel
LotsaLoot 5 Reel
Major Millions 3-Reel
Major Millions 5 Reel
Major Millions Megaspin
Mega Moolah
Mega Moolah 5 Reel Drive
Mega Moolah Isis
Mega Moolah Summertime
Treasure Nile
Tunzamunni 3-Reel
WOWPot 3-Reel
WOWPot 5-Reel

What would Gaming Club Casino be without games? Luckily, there are plenty. Infact, you can say that Gaming Club Casino has a monstrous selection of casino games – from classic slots to video slots to video poker to online poker, card games, table games, scratch cards, speciality games and anything else you can usually find at an online casino. Below is a brief write-up on some of our favourite Gaming Club Casino games.
Robin Hood – Feathers of Fortune Video Slot: Robin Hood is a 5-reel, 243-way video slot by Microgaming. In it, Robin Hood is a robin and the other characters are birds. There is a 500 coin top jackpot, stacked wilds, the chance to win 15 free spins with doubled winnings and a fun Archery bonus game. For all of the details about the Robin Hood video slot found at Gaming Club Casino, please read our complete Robin Hood: Feathers of Fortune Video Slot Review.
Billion Dollar Gran Fruit Machine Slot: Billion Dollar Gran is a British-style fruit machine or AWP pub slot that you can play at Gaming Club Casino. The main game is a 3-reel, 1-line slot machine, but there are so many features beyond that – a hold feature, a nudge ability, free spins, a bonus game, a 500 coin top jackpot and so much more. You can read an in-depth review of this fruit machine by checking out our Billion Dollar Gran Fruit Machine Review.
European Blackjack: European Blackjack is played with two decks. Blackjack pays 3:2; Insurance pays 2:10; other wins are 1:1; dealer stands Soft 17. The minimum bet is $2 and the maximum bet available is $200 per hand.
Gaming Club Casino Games List
Below is a list of all casino games Gaming Club Casino offers:

Gaming Club Casino is available in the following currencies: Swiss Franc, US Dollar, Euro, Canadian Dollar, Australian Dollar, UK Pound Sterling.
The cashier options available at Gaming Club Casino are:

Click2Pay
clickandbuy
Credit Cards
Debit Cards
EcoCard
Electronic Check(echeck)
entropay
EziPay Offshore Bank Account
InstaDebit
Instant Banking
Mastercard
Maestro
Moneybookers
UKash
UseMyBank
Visa
Visa Electron

Sound Addict wrote on Sep 18 2010 @ 12:57pm

The Blue Jerk wrote on Aug 22 2010 @ 7:57am

How do I get the 30 Free Spins?
Simply download the software and register an account. You will then be given a popup offering you the free spins.
Where can I read some reviews of Gaming Club's slot games?
We have a good portion of Gaming Club's slots reviewed on our list of Microgaming Slots.

Gaming Club Casino Blog:
I hope you all enjoyed my King Solomons Casino blog. The writing may have been a bit rough as I just have to get into a groove with these. The second casino we will be one that should be familiar to anyone that knows anything about online casinos – Gaming Club Casino.
Gaming Club Casino is one of, if not THE oldest online casino on the internet. Gaming Club was established in 1994, which is just amazing. Unfortunately they currently do not accept US Players. Gaming Club uses the Microgaming software, so lets go and sign ourselves up at Gaming Club Casino!
So I've visited the website, and it's very easy to navigate. Nice easy buttons to click "Download" and "Instant Play". If there is any other information you are looking for, it is well organized and on the front page. The signup bonus, what games they have, winners lists, promotions, and a list of current progressive jackpots.
I've chosen to download the casino, as I much prefer the software on my hard drive. The casino signup bonus is a 100% match to $100, which is perfect as I am depositing exactly $100. I also apparently get 30 free spins on Mad Hatters Video Slots which is a pretty cool addition.
The registration process was very smooth – once it was completed it gave me a button to "deposit now" which actually didn't seem to work. But once I launched the casino I was able to deposit via the cashier no problem. They have a variety of deposit options like Visa, Mastercard, Eco Card, EZIPay, and Click2Pay. I've deposited $100 from Moneybookers.
After depositing I get prompted to claim the bonus. It also lists the rules beside the bonus. It is a 30x bonus(so $3000 to be wagered), and there's a variety of different wagering requirements depending on the game – for example, Video Poker will be 10% clearance rate as opposed to the 100% you get at slots.
Alright – seems simple enough, and I claim the bonus. It states that it will appear in my balance within 30-60 minutes. So I'll see you tomorrow for some gambling at the Gaming Club!
Welcome to the first day of my online casino blog featuring Gaming Club, one of the oldest online casinos. Along with the 100% to $100 bonus that I get from Gaming Club, I also got 30 free spins at Mad Hatters Video Slots, so that is what we shall be doing today.
Like any game – it isn't automatically downloaded, so when you click it you have to download it. I remember before casinos had this feature, and when you downloaded them it took forever. I'm glad they finally changed that!
While waiting for the game to download, I see there is some sort of lottery promotion. Your account number is your "lottery ticket", and to enter you have to earn 200 loyalty points between Monday and Thursday. There are a variety of prizes, like a progressive prize pot, 10,000 loyalty points, free spins and casino credits. Hopefully I can get 200 loyalty points during my time here to check that out.
I gotta say – the selection of video slots alone they have is amazing. Over 170 slots, and they're all organized with categories like free spins, bonus, 5-15 line, 20 line etc. All sorted alphabetically too which is neat.
I load up Mad Hatters Video Slots, and I get greeted with an intro movie which I thought was pretty neat. A screenshot is from it below: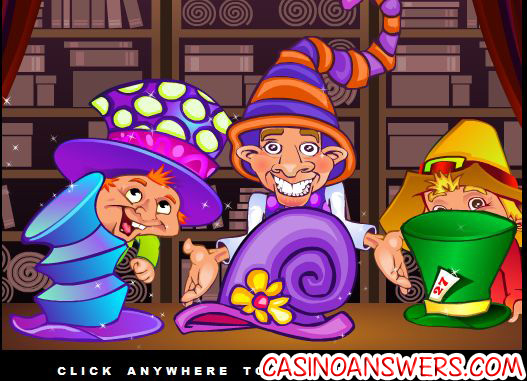 I gotta say – I really like the idea of doing things like that. It shows that the casino likes to go the extra mile.
In case I forgot about the 30 free spins, I am immediately prompted about it: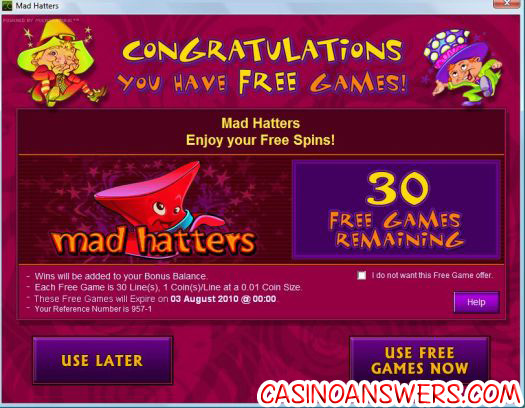 Again – stuff like that I really like. It builds trust – they want me to play and use the free spins – it's not just a savvy marketing technique.
And here is me getting to spin: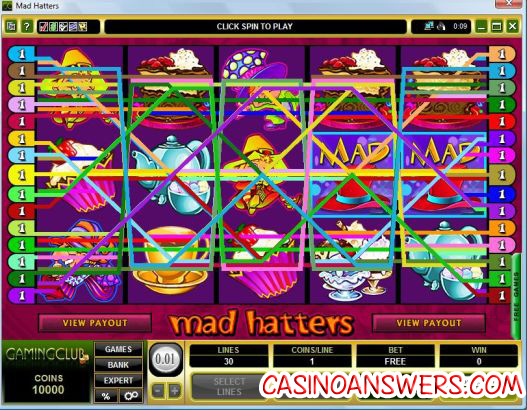 So it is 1 cent a line, and 30 lines, meaning I am getting $9 to bet for free with. Not bad at all.
First spin goes well: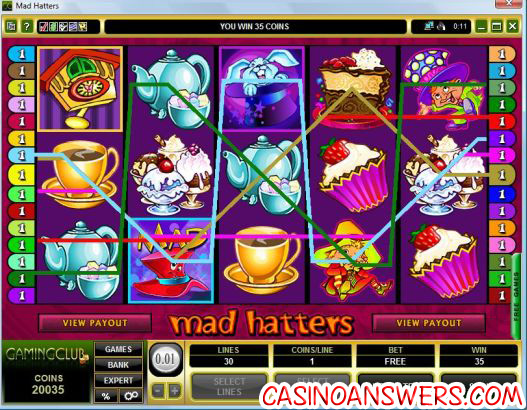 I win $0.35, off a free spin so not too shabby. Here's a list of the rest of my spins:
#01: $0.35
#02: $0.09
#03: $0.06
#04: $0.08
#05: $0.00
#06: $0.00
#07: $0.00
#08: $0.00
#09: $0.00
#10: $1.04
#11: $0.28
#12: $0.00
#13: $0.06
#14: $0.00
#15: $0.09
#16: $0.08
#17: $0.09
#18: $0.11
#19: $0.00
#20: $0.07
#21: $0.76
#22: $0.11
#23: $0.12
#24: $0.08
#25: $0.21
#26: $0.00
#27: $0.08
#28: $0.00
#29: $1.26
#30: $0.00
Some pictures from the spins:
#5: So close to a huge payout!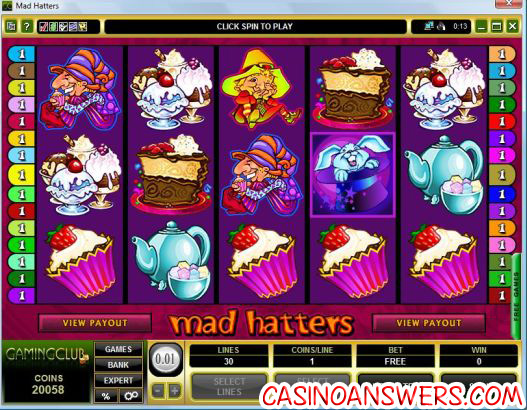 #10: The big payout!
#21: Nice little payout: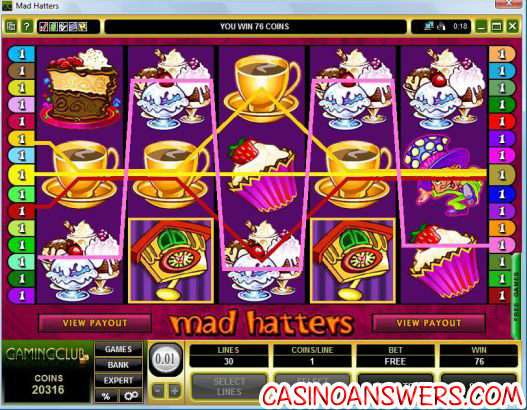 #29: Bigger Payout!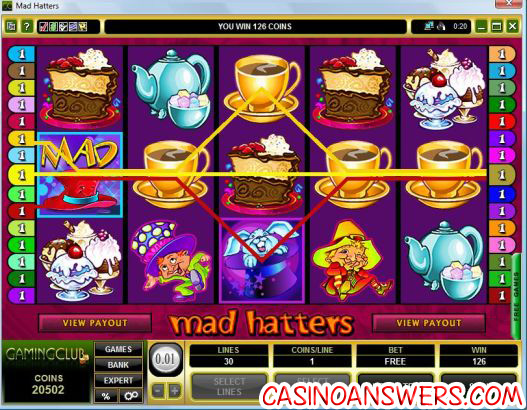 After the free spins are over, I am notified immediately with this message: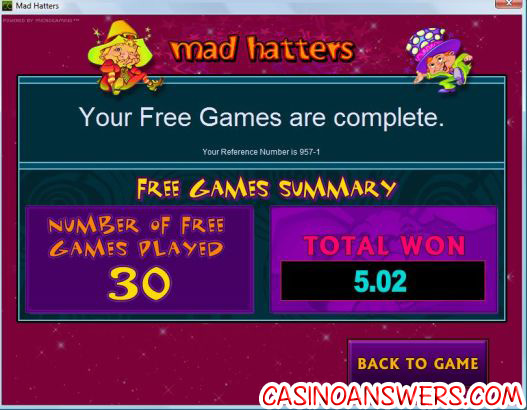 So that was a fun introduction to the casino, and I really liked that they give you 30 free spins with the opportunity to win it big. So my balance when we start tomorrow will be $205.02. Not bad at all.
Get your 30 free spins and see if you can beat my $5.02 score – sign up at Gaming Club Casino!
Welcome to Tuesday, and day 2 of my online casino blog for The Gaming Club Casino. I deposited $100 on Sunday, and thanks to their 100% match casino signup bonus, and 30 free spins, my balance now sits at $205.02.
Time to tackle those wagering requirements!
The first thing I notice is that the casino runs tournaments for both Video Slots and Blackjack, and in 27 minutes there's a video slots tournament starting with free entry and a $50 prize pool. Sweet deal! It's a Tomb Raider tournament, so I register for that.
They also have various other tournaments running, like a Hitman slots tournament, which is free and has a 35 EURO Prize Pool, and a free entry to a Loaded Slots Tournament, with a prize pool of $1000! Amazing.
These tournaments are all free BTW, so feel free to sign up and participate! If you see my around, my alias is "DansBlog".
For the Tomb Raider freeroll, all players receive 5000 coins and 5 minutes to play. We have 20 minutes till that starts, so lets hit up something else….
I decide to hit up the Texas Holdem Poker Bonus Table – Gold Series. It's been awhile since I've played this but thankfully they list the rules, as well as the bonus rules, and make it nice and simple. Basically I get two cards dealt and can fold then, or keep going. Also there is the bonus bet where you can win extra cash too. So let's get rolling.
The software is super easy to bet. No annoying dragging – just click the chip amount you want to bet, then click to place the bet, and click again for the bonus bet. The first hand: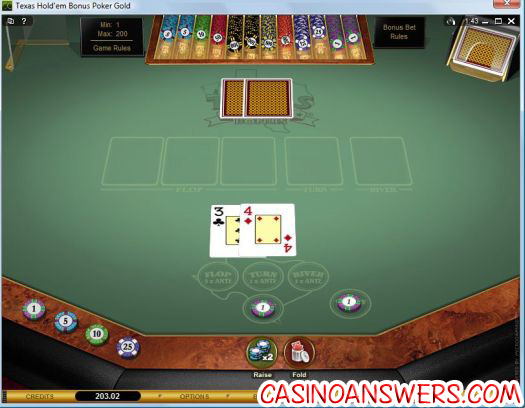 I haven't read up on strategy on this game – I really should actually, so I'm not even sure if I should play that or not. I'll fold it for now. I remember reading awhile back that there was very few hands you shouldn't play, due to the fact that you can check all the way through, and so you've already put down a large percentage of the total. Still, that does seem like one that I should be folding. I then get the option of "Rebet", or "Rebet x2" which is an awesome idea for those people that like to Martingale.
Those people do NOT include me however.
I get dealt KT and raise. Flop is 5QQ, turn is a 2 so I check all that, then I hit the winner on the river!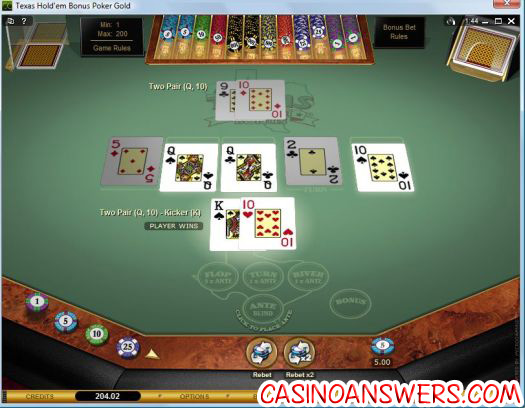 The very next hand goes well, as I pick up J4 and hit a flop of AJA. I bet the whole way and am rewarded: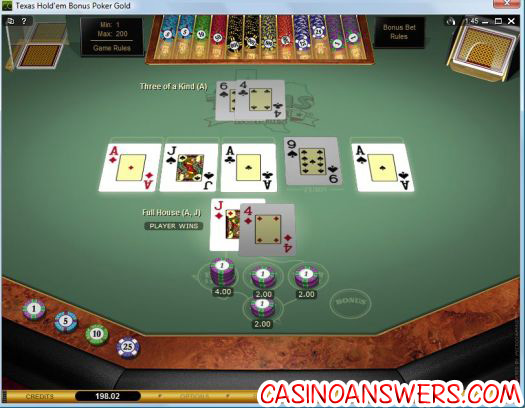 Nothing notable in my next few hands, except for when I have T8 and the dealer T9, and the board is 34578, giving me a pair at the death. Whee. Nothing like sucking out while playing against the house.
I then win my first bonus bet, with TT that flops a set..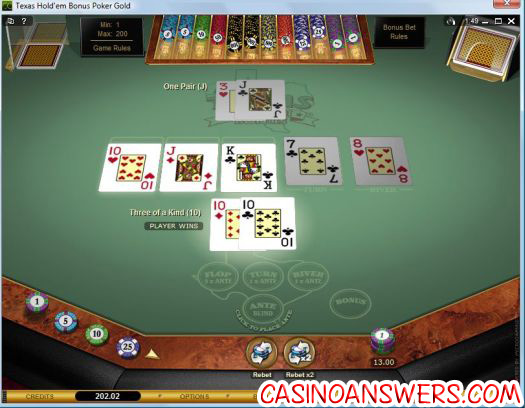 After a few losses, I then pick up a nice win when I flop a flush. Unfortunately I couldn't turn that into a straight flush. Oh well, I leave the table with $192.02 and it's time for the tournament!
I can't really give a blow by blow for the tournament as I'm basically mashing the "bet now" button as fast as possible, so here are some screenshots: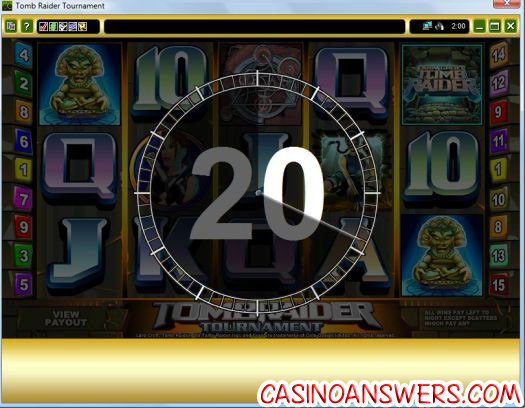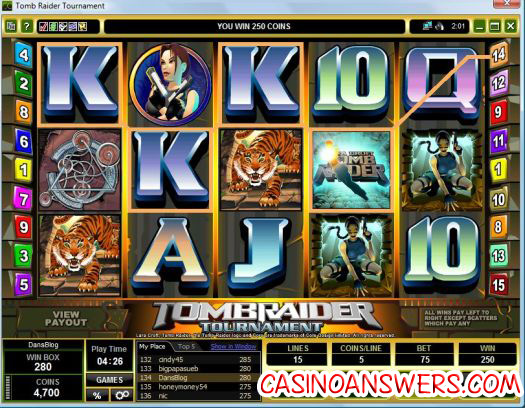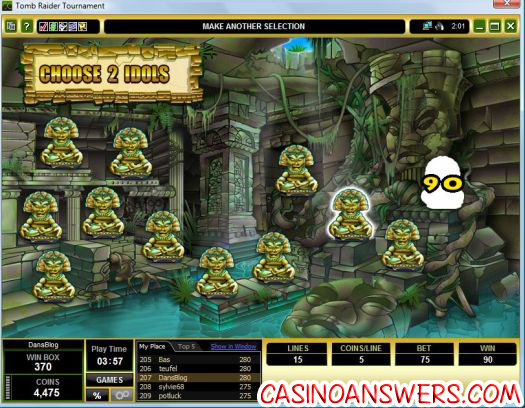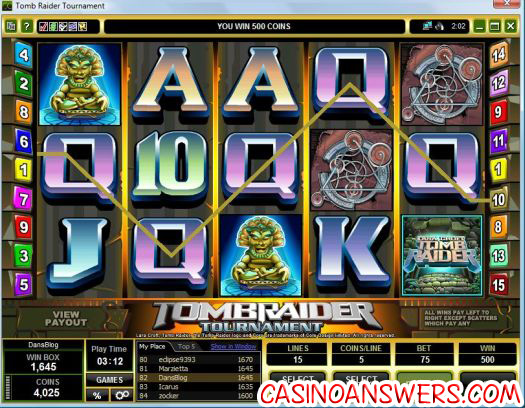 After the tournament is up, you get the opportunity to pay $2 to continue playing for 2 minutes. I did that, and it was really cool because it started where I left off with my free spins. I then had the opportunity to do it once more and did so. Alas, Windows Vista at that point decided it should crash on me. Arrrgh. I finished 47th in the tournament with 6970 in winnings which wasn't too bad. Who knows – with some luck I may have squeaked into the prize pool at the end there.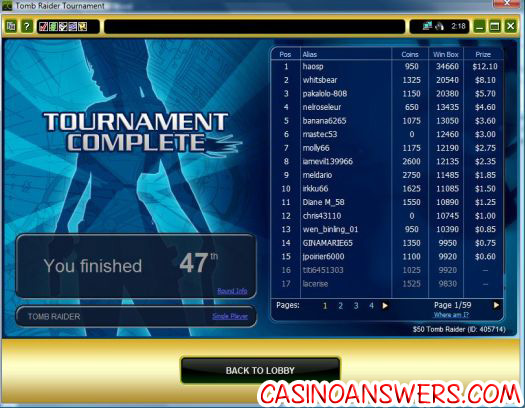 I decided to go out on a limb, and talk to live support about getting my $2 back. It's only $2, but when you're gambling with a $200 bankroll then that's 1% of the actual bankroll, which really is a substantial amount. I spoke to Nicholas in live support, who said he would get it escalated and looked into. Within one hour, I receive an e-mail stating that due to the technical issues, they've credited my account with $5. Okay, that's seriously awesome. I've played at a lot of online casinos in my time and could tell you some horror stories about customer support – so for them to credit me 250% is just awesome, even if it was just $5.
Thanks Gaming Club!
We end the night at $193.02. I seriously highly recommend signing up if only to play in those tournaments, they were a blast. Click here to signup, and I'll be back tomorrow for some serious nose to the grindstone slot playing!
It's Wednesday, and time to get down and dirty with some serious grinding. In the last two days we've wagered maybe $100, which is way below the requirements. With 3 days left, it's time to go for the big bucks or bust.
The latter is of course, more likely.
First up we'll hit up some progressive jackpot slots because really – who can resist those? One cool thing that the Gaming Club offers is a "Jackpot Thermometer" for every jackpot as shown below: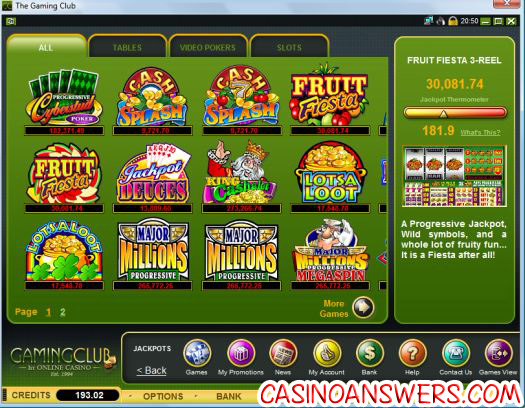 They also explain exactly what the Thermometer is. It states:
The thermometer gives an indication as to when the Jackpot was last won. The formula for the thermometer reading is:
Temperature = 80 + [ Time Since Last Jackpot — Average Time between jackpots] x100
The thermometer is provided for entertainment values only so players can get an indication as to when the game last paid the jackpot.
Of course it really means nothing – each spin is independent, and it's just for show only, which they admit. However it is quite fun, and who hasn't looked at a jackpot that is $200,000 when it is usually won by $100,000 and made a deposit.
We'll go with the Fruit Fiesta 5-Reel, which has a thermometer reading of over 250. Geez with a temperature like that how can we not win?!
The Fruit Fiesta is a $0.05 fixed bet, with 15 reels. So we're betting $0.75 a turn. I should note that I generally have a rule when it comes to casinos – I'll bet until I win twice, then I leave and go to another slot machine or something. That way I get to play a variety of games and make my money last – the rule applies for both online and offline casinos. However with a lot of bonus grinding to do, we'll stick with this one for a bit.
The second spin sees me get a decent win: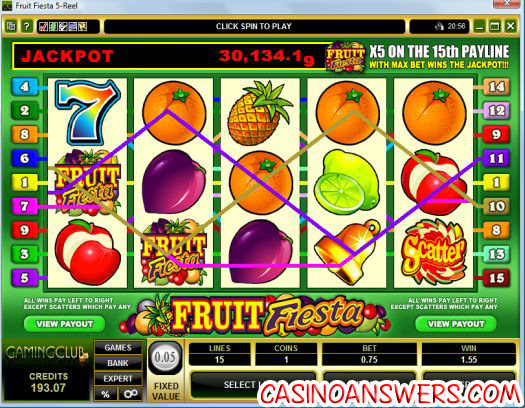 I then don't do much for about 20-30 spins before picking up this "big" win: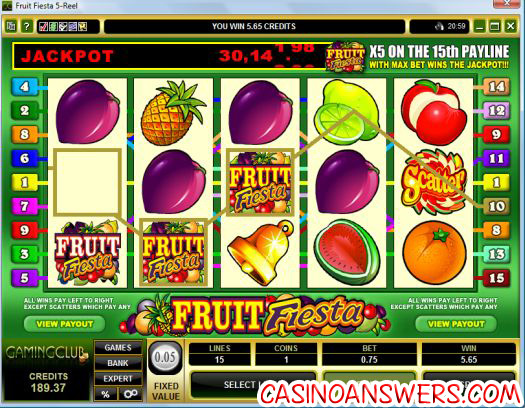 After a few more spins and nothing much happening, I take my $185.37 and leave. Time to hit up some progressive jackpot video poker! The game is Jackpot Deuces, Deuce are of course wild, and it's a 52 single card deck. 3 of a kind is the lowest winning hand. And we get off to a great start with four of a kind: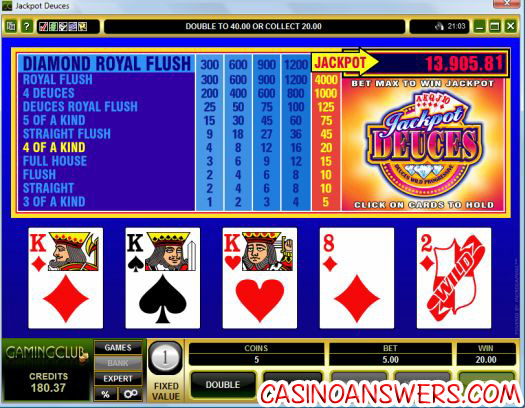 Alas after that solid start, everything goes downhill, and I finally give up with $155.37 in credits. I now hit up a game entitled Progressive Cyberstud Poker and I'll be honest I really don't have any idea the rules. It seems simple though – you get dealt 5 cards, and the dealer one card. Then you can fold or call. Despite not knowing the rules, I again get off to a nice little start: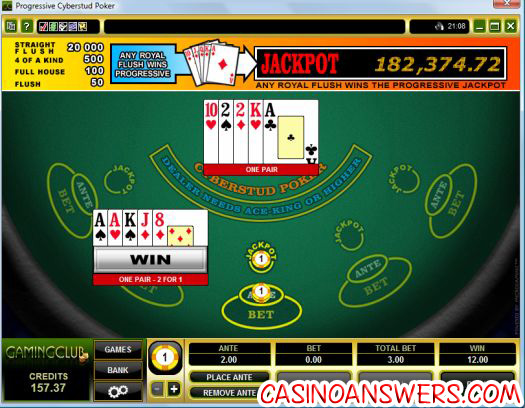 The nice start continues on the very next hand: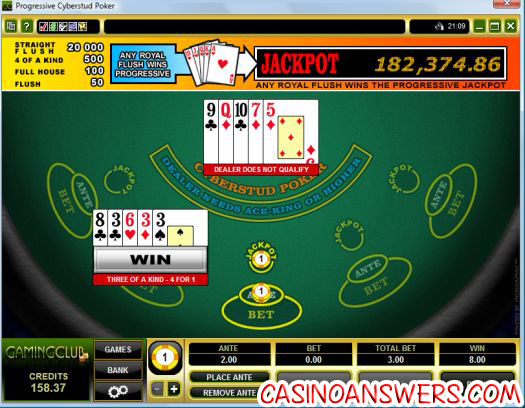 I float around the $120-$140 mark for a LONG time which is nice, eating up a large chunk of the bonus requirements. I decide to leave as soon as I go below $120, and I manage to do that on this wonderful little bad beat where I was just outkicked: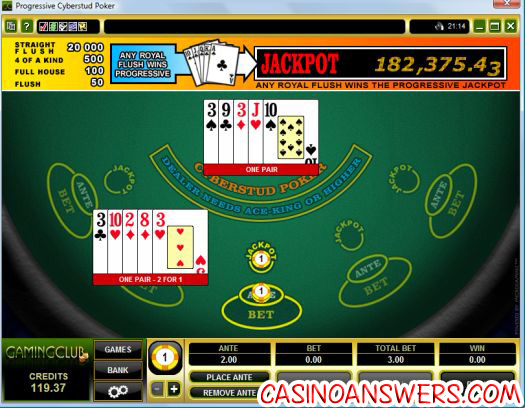 Bummer.
We'll finish the night off with some scratchcards. Oddly enough The Gaming Club only has the one scratch card available – some casinos I've seen with over 50 different kinds. This is a very simple one too and not interactive at all. You buy a card, you get this: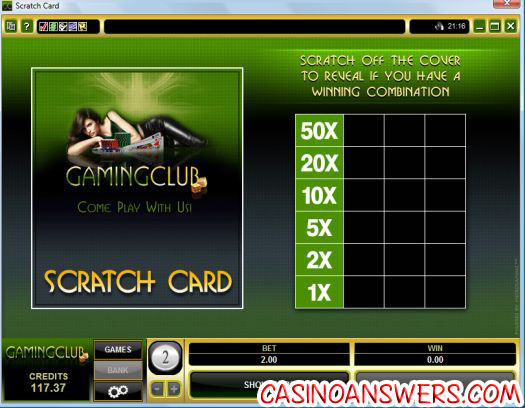 Then you click the button "show card", and it slowly changes to this: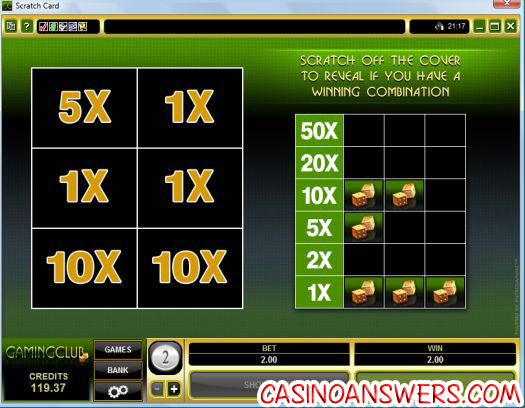 Meh, very underwhelming.
With 15 scratch cards, I get about 10 "1x" wins, and then a "2x" win. I decide to quit when I get to under $110 for the night, and just as I bet the $2 to put me my balance at $109, I get a 5x win: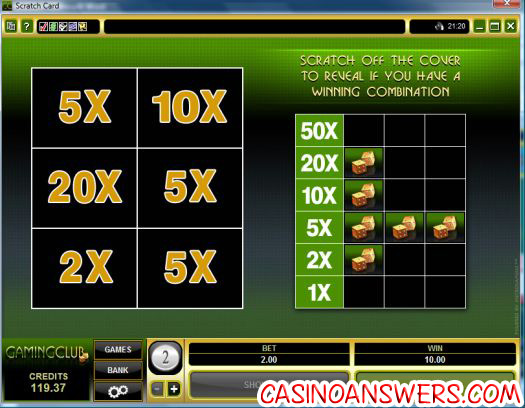 Good enough for me. We'll call it a night on that high note, and pick it up again tomorrow.
Well, things are not looking too good at the Gaming Club Casino for my chances of escaping with any sort of profit.
From my initial deposit of $100, plus the bonus of $200, I have a $119.37 balance. Damn you, video poker. The playthrough requirement for this is $3300. My current playthrough amount?
$78.50.
Eek.
So yeah, unfortunately it looks like we won't be able to follow up last weeks excellent win with King Solomons, with another win. Still, I still have $119.37 to blow – let's see what I can do with that.
Oh yeah – I should note that you can check the playthrough requirement in real-time which is excellent. Just go to Cashier-Withdrawal and it lists it there. Really handy.
I decide to hit up the Classic Slots, and choose the game Bulls Eye which is a bonus slot which I really enjoy. Here's how it looks: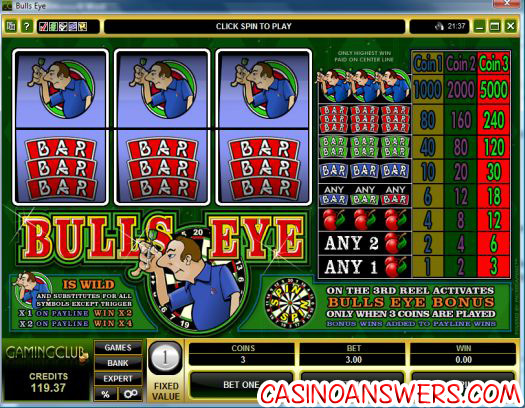 At $3 a spin, this'll either make a real man out of us or bust us pretty fast. Oh dear variance, please be on our side tonight.
5 spins in, we finally hit a cherry to give us our wager back. Wheee. The 13th spin gives us two cherries for a payout of $6. Alas it doesn't seem to be our night, as it takes until the 22nd spin for us to pick up anything else, which is just yet another lame cherry. We do manage to hit cherries on our 23rd and 24th spins, however at $86.37 already, I'm ready to call Bulls Eye "Bull Shit" at this stage.
After 10 more spins and nothing, I'm about ready to call it quits. As I go below $70 I hit one last spin, and BEHOLD: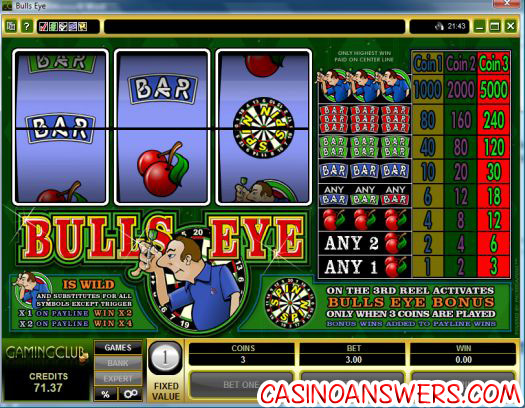 I unlock the bonus round.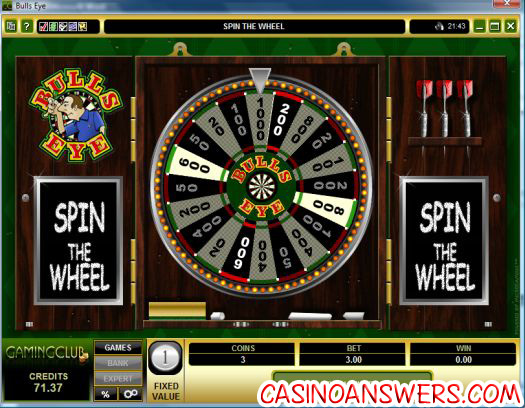 It looks like a very simple bonus round – not as fun as some of the bonus rounds you find in video slots. Still I'm not complaining – I'll take anything at this stage. Although given the choice, I'll take $1,000 over $20 any day, thanks.
We spin the wheel and……………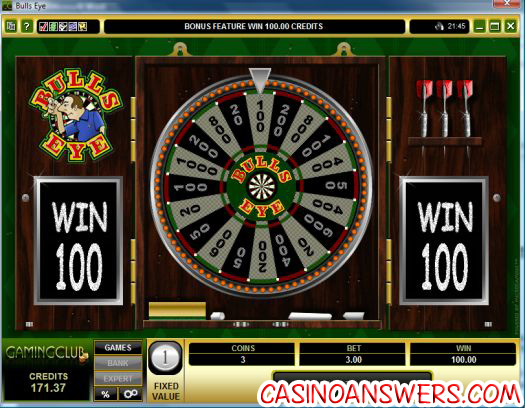 $100! Back in the game baby. God I love bonus rounds.
I decide to push my luck a little with Bulls Eye, but after losing $40 I leave. Balance is currently at $138.37.
I just realize I haven't even hit the Blackjack tables yet during this blog. Time to do that, as we go play some Atlantic City Blackjack – Gold Series. This is 8 decks, Blackjack 3:2, Insurance 2:1 and Dealer stands on a soft 17.
As always – very easy to bet. Click the amount you want, then click the "click here to bet" option, then choose "Deal". Nice and easy. I decide to start flat betting $5 because hell we got a long way to go, might as well go for broke.
Here's the layout of the table – dare me to split?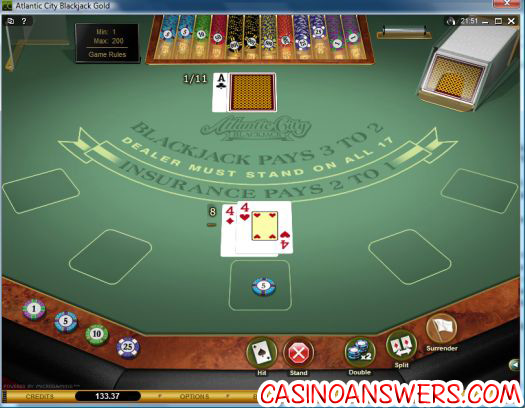 Yeah – I don't think so.
Oh, haha. Oops. I wasn't paying attention and accidentally clicked split. And hilariously: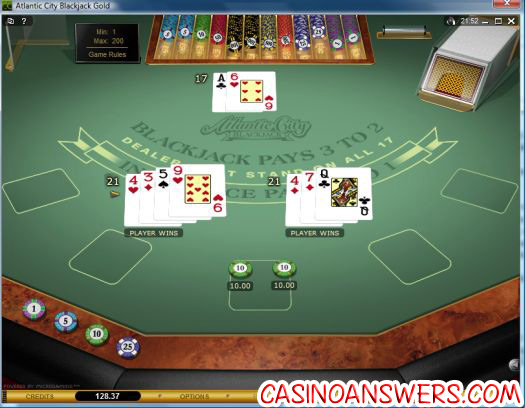 I win! Yay! That one I most certainly enjoyed. Plus being online means when I split that by accident I don't have someone yelling in my ear about how I'm losing them money.
I float around the $150 mark for awhile, then finally hit my first blackjack after about 30 or so hands: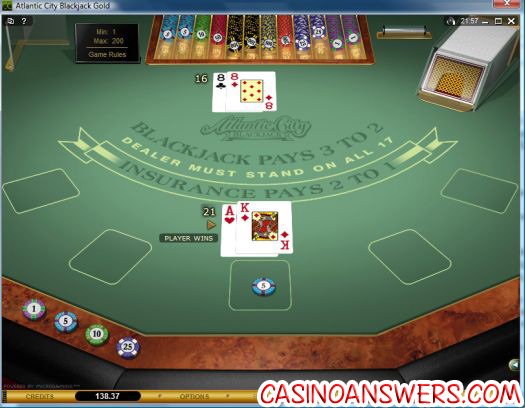 Always a pretty sight, I must say. After a few more hands, I pick up those cards against the dealers cards that always give you a warm fuzzy feeling. Dealer has a 4, while I have 11. Oh you better believe I am bashing that "double" button, and well hello there Jack: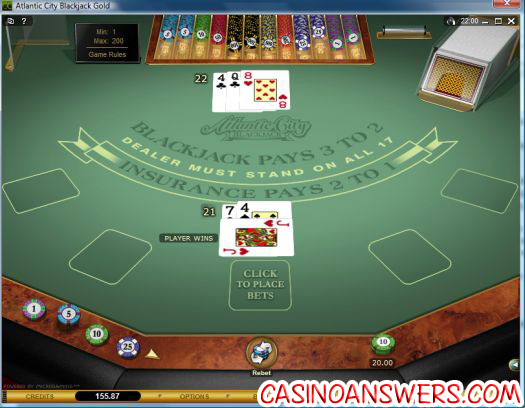 I decide to up my bet to $10, and promptly start losing those hands you just hate to lose. Where you basically pull a miracle out your ass and turn a 16 into a 20, only for the dealer to flip up 13 and turn it into 21.
I do manage to fight back, and get the bankroll up to about $180, however it doesn't last and I leave the table with a whimper, with a $90.87 bankroll.
I check the playthrough requirements and it's still not good – about $2900 left to wager. With $90. Yeah, I need a miracle.
On Friday the 13th.
Be sure to tune in tomorrow, as I go busto at The Gaming Club!
Friday the 13th, what a day to gamble. I might as well e-mail the casino and ask them to take my measly $90.87 out of my account. My playthrough requirement is still very high at $2900.
Time for a miracle.
Or to go bust in seconds.
I avoid the temptation of going all-in on roulette or something right off the bat – we'll do that some day, but we'll save it for a day that ISN'T jinxed, thank you very much. Not that I actually believe in that sort of thing – but hey, I'm not going to push my luck anyway.
Lets hit up some video slots!
The slots lobby is neat, just like all the other lobbys as seen below it has tabs that are filters – you can see all slots, 5-15 line ones, 20+ lines, free spins and bonus slots: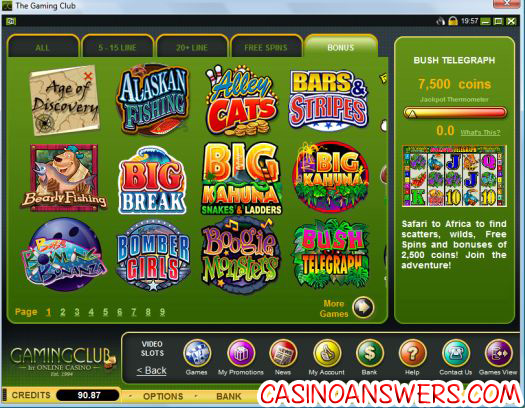 We'll go with bonus slots as they are always fun. I've chosen Star Appeal video slot to start off. It's a 30 line slot(yikes!) and we'll do $0.10 a line, so $3 a game. We need to get lucky fast! Here's how the game looks:
Heh – and I just realized I was actually betting $30 total, not $3. OOPS. On our first spin I manage a win however which brings the balance up to $120.87. Whew, close one. Anyway 30 lines is a bit much for me – we'll hit up the video slot Agent Jane Blonde. This is a 9 line slot so easier to really see how you are doing: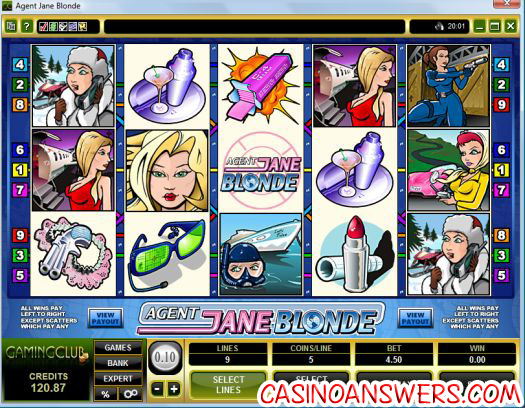 And $4.50 a line seems good.
It takes 5 spins to hit our first win: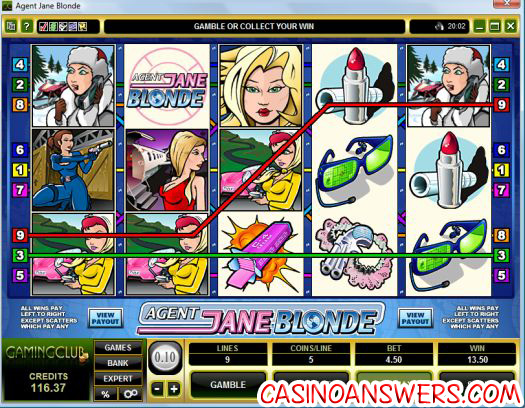 However nothing much after that, and we are down to $40.87. I didn't really like that slot too much – seemed a bit boring and bland. I decide to hit up the Major Millions 5-Reel Video Slot with my last $40. Screenshot below:
It has wild, scatter, progressive jackpots and 15 lines – seems to be a bit more fun. Time to go for broke, at $3 a spin, here's a list of my spins:
#1: $0.00
#2: $0.00
#3: $0.80
#4: $0.00
#5: $0.00
#6: $0.00
#7: $14.40 – screenshot below: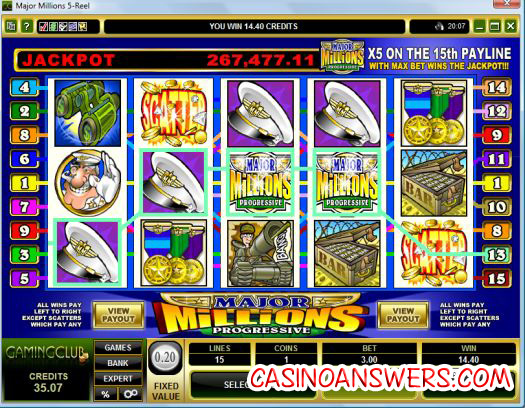 #8: $0.00
#9: $0.00
#10: $0.00
#11: $0.00
#12: $0.00
#13: $1.20
#14: $0.00
#15: $3.20
#16: $0.00
#17: $3.60 (Current Balance $17.87)
#18: $0.00
#19: $0.00
#20: $4.80
#21: $1.60
#22: $0.00
#23: $30 – BOOM! Screenshot below: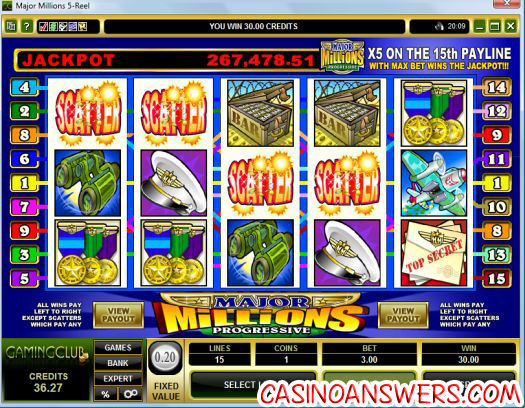 #24: $0.00
#25: $0.00
#26: $9.00
#27: $0.00
#28: $0.00
#29: $0.00
#30: $0.00 (Current Balance: $24.27)
#31: $0.00
#32: $0.00 – not a fun run.
#33: $0.00 – oh come on.
#34: $9.00 – finally, something!
#35: $0.00
#36: $0.00
#37: $0.00
#38: $0.00
#39: $0.80. Wow. 80 freaking cents.
#40: $0.00.
And with $4.07 left, it's time for my final spin to put me out of my misery….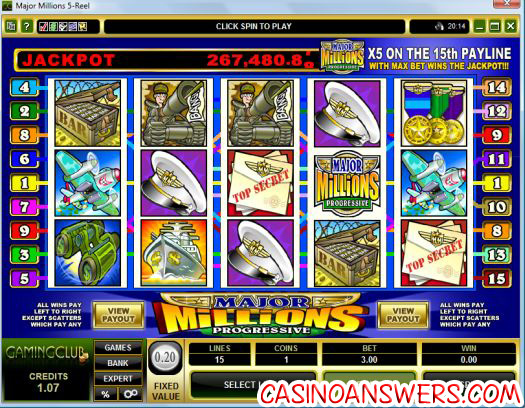 That was not a fun run at the end there. #27-#40 was just plain out depressing for the most part. I decide to take my final dollar and hit up some keno: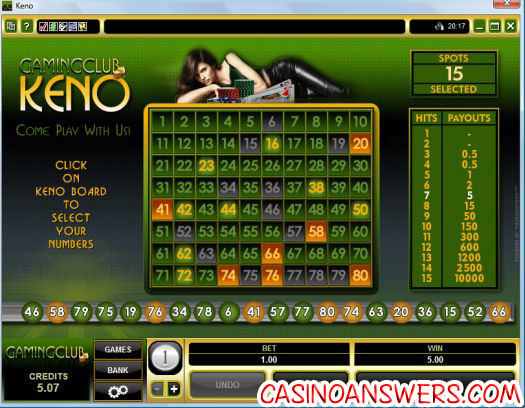 And hey, I actually won something! I decide to stick with the same numbers and give it another try but with the $5. This time I win $2.50. Same numbers with $2 and I end up winning $1. Oh please, just put me out of my misery please.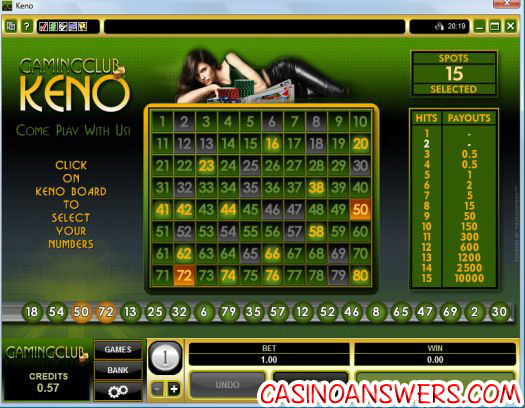 Thank you!
Well overall at Gaming Club I had fun. I think I had high expectations going into it after my success at King Solomons Casino. I didn't come close to the playthrough requirements for the signup bonus, I played through just $240 out of the $3000 required. I did manage to gain enough loyalty points to trade them in however – you can trade in 200 loyalty points for $1, and I managed to get 223 loyalty points. Yay, me! (In case you're wondering, I hit up another slot machine and lost it immediately).
Thanks everyone for reading, and please be sure to leave me feedback so I know how to improve these blogs in the future. We'll have a new casino blog next week, and I will write up a review of Gaming Club Casino. If you're interested in playing there, I'd recommend checking out some of those free tournaments. Click here to visit Gaming Club Casino.