Let It Ride is a very simple game, and playing it is very easy. There are no complex strategies to the game nor any complex rules.
First of all, lets have a look at what a Let It Ride table actually looks like. For the purpose of this step by step guide, we will be using the online casino software at Rockbet Casino to demonstrate.United States Play at Bovada
This is what a Let It Ride table looks like: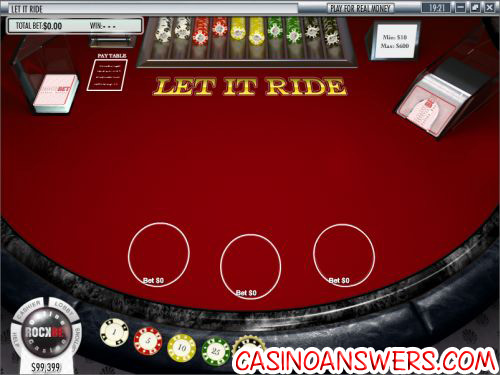 Now the first thing you will do, is place down three wagers in the three betting spots indicated below: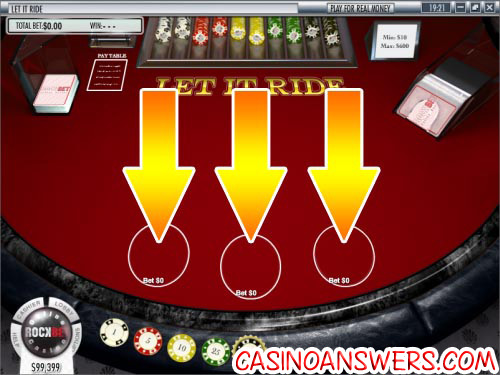 Here is a screenshot with the wagers placed: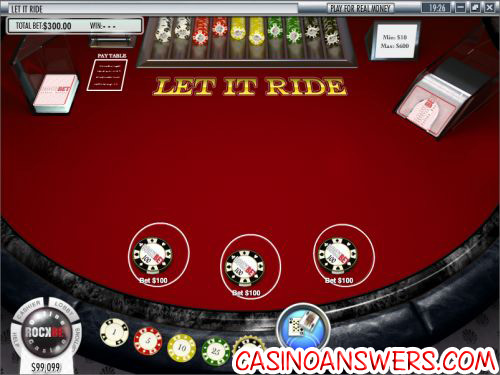 Now the wagers are placed, the dealer will deal out three cards to you. Let It Ride is also a game where multiple players can play, however there is nothing really that different from multiple player Let It Ride to single player Let It Ride. The dealer will also deal out two community cards face down, which you will use to make up a five card poker hand.
As you can see in the below screenshot, you now have three cards, and the option of "Letting It Ride" or "Pulling A Bet" – in this example, you "Let It Ride" by hitting "Play", and if you wish to pull your bet you choose the "Pull Out" button: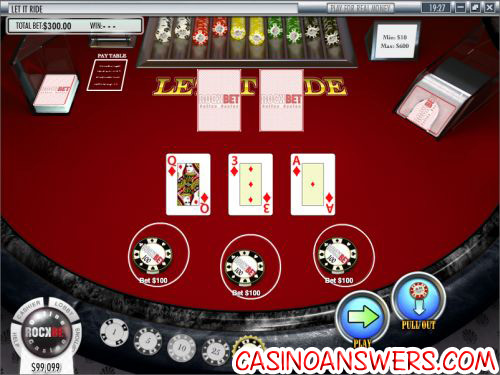 These are the only options you have, so as you can see Let It Ride is a very simple game. If you choose to "Pull" your bet, then you will pull one of the three bets you placed, and one of the community cards will be turned over. If you choose to "Let It Ride" it means that you want all three wagers to currently remain on the table. A community card will be turned over at this point as well.
Lets pull a bet and see what happens: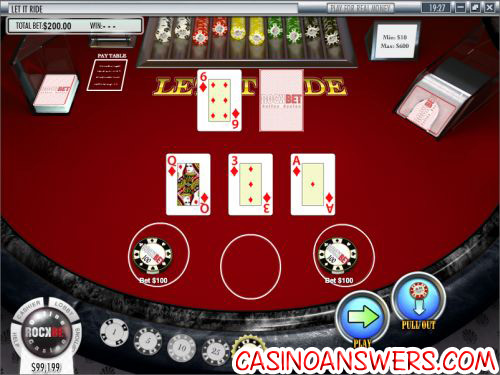 As you can see, one bet has now been removed from the table, and a community card has been turned up. You now have one last decision – to Let It Ride or Pull. By pulling, you will be pulling your second wager. By letting it ride, you are effectively stating that you wish to wager both the current bets. After either decision, the dealer will turn over the final community card.
We will Let It Ride on this hand. Here's what happens: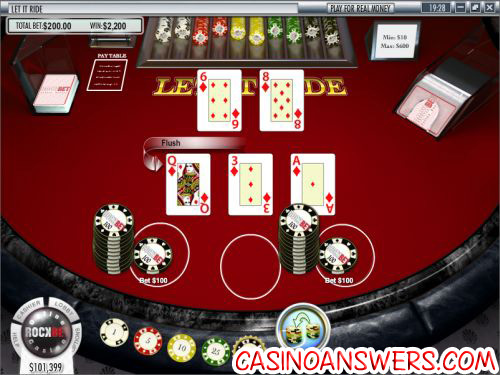 The dealer has turned over the community card, and we won the hand. Big time actually, with a flush. Look at that gorgeous stack of chips! As we had two wagers on there of $100, we win for both of those wagers. If we had Let It Ride the whole way through, then we would have won all three wagers.
And that's how you play Let It Ride. If you want to practice or are looking to play for real money, we highly recommend playing Let It Ride at Rockbet Casino, due to their awesome signup bonus. Click here for more information.
Additional Let It Ride Play Questions:
(None yet)
Related Questions:
Alternative Ways to Ask/Incoming Search Traffic:
The answer to the question How Do You Play Let It Ride? is also applicable for the following questions:
What are the rules to Let It Ride? Where is there a beginners guide to Let It Ride? Let It Ride for Beginners? Let Em Ride? Let Them Ride?