Do you love Keno? Space Keno is a really fun game that exists in the Keno universe and any Keno player can follow along with! If you want a Keno experience with intergalactic themes, aliens, and more, you have come to the right place. Or rather, you have discovered a game that can take you to outer space! Hang out with your three-eyed blue alien pal and see if your numbers are winners!
This game is a lot of fun and appeals to that little kid inside of us who always loved space. As you ride on board a space ship, you are joined by your alien pal. The colors in this game are really bright and fun, and the 3D graphics are really good! It also comes with lots of fun graphic animations and sound effects. The rules are the same as regular Keno, but this game is obviously a little different. You can also win more than usual Keno due to the ability of the double up game to double your chances of winning.(Get 20 free spins on the Mariachi 5 slot, win real cash. Click here and use code DANSPINS20 during signup.)
How Space Keno Works
The rules for this game are pretty much the same exact rules that all other Keno games require. The player begins by choosing their wager and then the numbers that they are betting. To start the game, press play. Have the game auto-play by selecting '5' or '10' for play on the control panel. You can have the game pick random numbers for you and take the pressure off of yourself by using the control panel's Quick Pick button as well, which lets you play two to ten numbers.
This game will let you play five or ten numbers to start. These are shown in a really fun way because the numbers are showcased on the planets so that once you get going and you're flying through space on your ship, the alien calls out the numbers that you hit cheering for you all the while. You can also increase your number of balls drawn for a small cost that will give you a chance to win big. You can also Double Up the winnings from a previous game that lets you pick 5 facedown cards. You need to beat the first cards, drawing from the remainder to get a higher card which will double your winnings, going until you lose.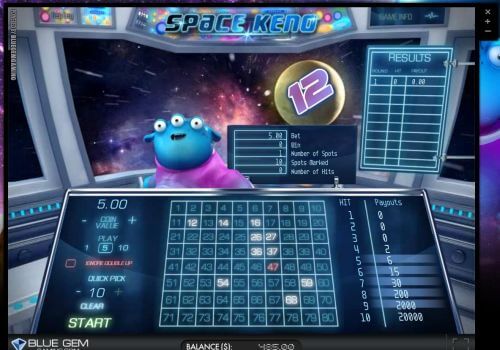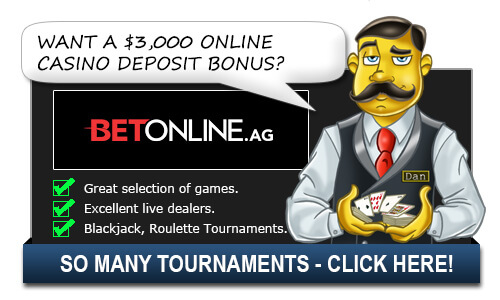 Space Keno Features
– Really nice graphics
– Auto-play allows the game to run through five to ten games in a row
– Increase the amount of balls drawn, with a price paid the game will draw you more balls which puts you at a higher odds of winning more
– Quick pick: Draw between two to ten numbers randomly
– Double Up game lets you double up or even quadruple your winnings for really high jackpots!
Space Keno Final Thoughts
With cute graphics that abound in purple and blue and that fun space theme, along with surprisingly good 3D graphics, autoplay, and sound effects make Space Keno a really enjoyable game. Whether it's your first time playing Keno or not your first day at the rodeo, this game satisfies newcomers and familiars alike. You can double up your winnings and pick how many balls that you want to be drawn. All in all, check this game out and you will not be disappointed!
Top Keno Casinos for Americans

| # | Online Casino | Reason | Visit |
| --- | --- | --- | --- |
| 1 | WinADay Casino | Amazing Multi Card Keno Game | |
| 2 | Slots.LV | $22 No Deposit Bonus just for registering, Fun Keno Game | |
Additional Space Keno Questions:
None Yet
Related Questions:
Alternative Ways to Ask/Incoming Search Traffic:
The answer to the question Space Keno is also applicable for the following questions:
Where To Play Space Keno Online, Space Keno Strategy,