Craps is one of the most popular and exciting casino games out there because of it's simplicity. You roll the dice, you bet on the roll and then you win or lose. It's a game that builds a lot of adrenaline and is always the site of the people who are looking like they are having the most fun on the casino floor. Craps is an amazing experience that doesn't need anything to make it any better than it is…
…but what if they did?
Progressive jackpot games are all the rage right now as people love playing the smaller games, but what they really love is that little chance at the big win. The tens of thousands or the millions of dollars that could potentially change their lives. This is why slots are so popular and why seemingly every game in the casino now has a progressive jackpot version of the game. What if we were able to take the fun and excitement of craps and combine it with a progressive jackpot? What if there were progressive jackpot craps?
Unfortunately at this time, no online casino currently offers progressive jackpot Craps, but that doesn't mean that there isn't one in the works. There actually was a US patent made on a progressive jackpot Craps game, which is Patent # 6805352. That means that the idea is out there and once that idea comes to the public, someone will make a lot of money on it. Unfortunately as of yet, this progressive jackpot craps game hasn't made it to online casinos but the game exists. We just haven't seen it yet.
We are holding out hope that a potential progressive jackpot craps game will get to us sooner rather than later. As we mentioned, there is already a patent filed on it, back in October of 2004, and it really sounds like an awesome game. A brief summary of the (potential) rules of this new game:
Rather than two dice for the come-out roll, there will be three dice. The progressive jackpot is funded via an ante from every player, and the progressive jackpot is won depending on the outcome of the come-out roll. There will then be an additional special jackpot event for everyone who won a progressive jackpot, with elimination rounds.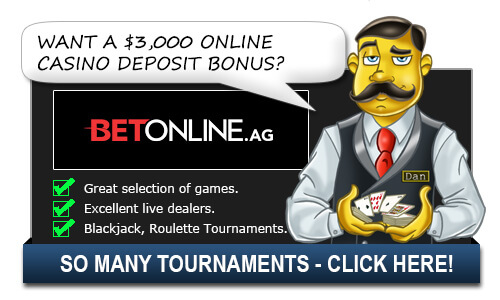 There will be a unique dice roll number for all participating players, and eventually the outcome will be one special Craps progressive jackpot winner. Honestly we've just touched the surface of this game – you can read more about it here: Patent #6805352 and get yourself all excited about what might one day be.
I really hope that Craps progressive jackpot game makes the light of day, because it sounds fun as all hell.
Top Casinos for Americans

Additional Craps Progressive Jackpot Questions:
(None yet)
Related Questions:
Alternative Ways to Ask/Incoming Search Traffic:
The answer to the question What Craps Progressive Jackpots Are There? is also applicable for the following questions:
Craps Progressive Jackpot Ticker? What casinos have a progressive jackpot game for Craps?
Top Casinos for Americans