The most convenient online casino deposit method is by Visa or MasterCard. It is recommended that before you try making a deposit by an alternative deposit option, that you try using your credit card. Credit cards are not only a secure way of making your deposit, but quick as well.
When you make a successful deposit using your Visa or MasterCard, your deposit should be credited to your casino account immediately. Visa and MasterCard are excellent options for both US-based and international players.
Unfortunately, many players from the United States run into problems getting their transactions processed. Due to the UIGEA, they are getting credit cards rejected when attempting to make deposits to online casinos. If this problem occurs, try contacting support to see if they can help. If you run into this problem and don't have another credit card available to try, we recommend you try using eWallet Xpress – a US-friendly e-wallet.
One of the positives to using your Visa or MasterCard is that online casinos will not charge you a fee for using your credit card as they would with other deposit methods. Another is that credit card deposit limits are usually higher than most of the other deposit methods. Most casinos will allow you to make a first deposit of $1000 or more and these limits will be raised the more deposits you make at that casino.
It may take up to 10 days for your transaction to appear on your credit card statement. Many casinos will require you to fill out a credit card verification form before you can start using your credit card at the casino.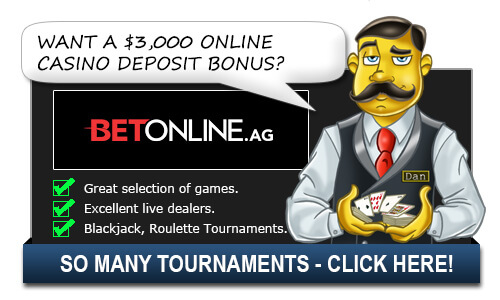 Unfortunately, most casinos will not allow you to withdraw your winnings back onto your credit card and you will have to find an alternative payment method to make your withdrawals with. If you are outside the United States, we suggest you use
Moneybookers
to make withdrawals.
Fortunately, if you want to use your Visa or MasterCard as your deposit method, you will find no shortage of possibilities. Every online casino accepts Visa and MasterCard as deposit options. We've narrowed it down so that both US-based and non-US players can find an online casino that will accept their credit card transaction.
Additional Credit Card Questions:
I'm an American. What do I do if an online casino declines my Visa or Mastercard credit credit?
If you absolutely cannot get your Visa or MasterCard to work at an online casino, please try eWalletXpress. It is a US-friendly online casino deposit method.
I live outside the United States. What options do I have to make deposits to online casinos if I do not have a Visa or MasterCard?
If you don't have a credit card or do not wish to use your credit card at an online casino, the best option for you is Moneybookers.
Top Casinos for Americans

Related Questions:
Alternative Ways to Ask/Incoming Search Traffic:
The answer to the question What Online Casinos accept Visa and Mastercard as a Deposit Option? is also applicable for the following questions:
Can I deposit to online casinos with my credit cards? Why can't I deposit to casinos with my credit card? Why was my credit card rejected at an online casino?
Top Casinos for Americans