Suit 'em Up 21 Blackjack is another excellent online blackjack variant from Realtime Gaming. The game, as suggested by its name is defined by its side bet, which is won through various combinations of suited hole cards. Suit' em Up has a number of variations from basic blackjack but is based on the traditional game to a large extent.
Suit' em Up Game Review
The game is played with six decks of 52 cards. The player can use as many as three hands simultaneously, with each deck counting as an independent game. The dealer is required to stand on hard 16s and to hit on soft 17s. at the beginning of the game, the dealer deals two facedown cards to the player and two cards to himself, one of which is face-up.
If the dealer's face-up card is an ace, the player is allowed to take an insurance bet which covers for losses that may result if the dealer's hand is a blackjack. The insurance bet pays 2:1 and it is lost in case the dealer doesn't have a blackjack when he shows the facedown card.
The main bet pays off at 3:2 and follows the standard winning rules of blackjack; the player's hand should have a combination that is closer to 21 than the dealers or a blackjack when the dealer fails to have one.
The game rules allow the player to split only once on each pair after which the split cards are assigned one more card. A 21 on a hand resulting from splitting aces does not count as a blackjack.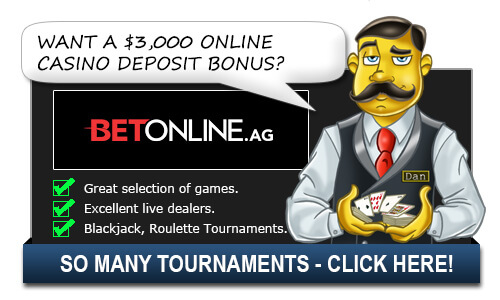 Doubling down is allowed only on the first two cards and in some variations, only if your hand totals to 9, 10 or 11. After doubling down, the player has to place a second bet of equal size to the initial wager upon which you get an extra card. The player's hand will stand automatically after this, with the player taking losses or profits depending on their resultant hand.
The payout of the side bet is dependent on the degree of matching. Suited aces result in a 60:1 payout, suited blackjacks pay out at 10:1, a suited pair at 5:1, a suited total of eleven at 3:1 and any other suited cards at 2:1.
Compared to other online blackjack games, Suit em Up retains a fairly reasonable 4.65% house edge, which leaves room for some attractive winnings. Nevertheless the best odds of winning any side bet are 4:1, rising to 770:1 which makes side bet a rather distant possibility.
Suit' em Up Game Strategy
Depending on luck alone is about the most common mistake players make in online blackjack. it is important to devise an elaborate strategy from the start for the most common scenarios that happen present themselves during the game.
Some basic moves that can help you increase your chances of winning are hitting every time you have eight or less on your hand, doubling down when you have a nine against a dealer's 6 or less, and standing when on a 17 or higher. Additionally, always split aces and eights, avoid spliting fours, fives and tens, and only split against a dealer's six or less.
Top Casinos for Americans

Additional Suit Em Up Blackjack Questions:
None Yet
Related Questions:
Alternative Ways to Ask/Incoming Search Traffic:
The answer to the question Suit Em Up Blackjack is also applicable for the following questions:
Where to play Suit Em Up Blackjack, How to play Suit Em Up Blackjack
Top Casinos for Americans