Playing Blackjack at online casinos is very easy and not complicated at all. We'll provide a nice step by step guide to not just how to play Blackjack at online casinos, but how to choose an online casino to play Blackjack at, and what you are looking for when you play Blackjack online.
Step 1: Picking an Online Casino.
The first step to playing Blackjack online is of course picking an online casino to play at. There can be a lot of factors that come into play when choosing what online casino you want to play Blackjack at. Do you want to play at an online casino that accepts Visa? What country are you from? What kinds of Blackjack do you want to play?
If you live in the United States of America, we recommend Rushmore Casino. They have a variety of different Blackjack games including standard Blackjack, European Blackjack, Perfect Pairs Blackjack and Pontoon.
They also offer live Blackjack tournaments, a double down 200% signup bonus and a variety of other sweet Blackjack promotions. Rushmore Casino also offers a variety of deposit options including Visa, Mastercard, Diners Club International and a variety of e-wallets.
Click here to play Blackjack at Rushmore Casino.
If you live outside the USA, you really want to play Blackjack at Gaming Club Casino. Gaming Club Casino is one of the oldest online casinos, and they offer over thirty different types of Blackjack. Yep, that's right. Thirty. Want to play some Atlantic City Blackjack? How about some Spanish Blackjack? Pontoon Gold? Hi Lo 13 European Blackjack? Gaming Club Casino has all that and more.
There are of course a lot of options when it comes to playing Blackjack online, and if you want to explore your options check out our online casino reviews section. However we've played at all online casinos and in short:
US: Rushmore Casino
Non-US: Gaming Club Casino
Step 2: Installing the Software:
Most casinos have two different options in regard to playing at online casinos – you can either download the software and install it to your hard drive, or you can play it online.
We've generally found that the downloadable software is faster, and you never have to worry about web browser crashes. That's not a knock on the browser based flash software the online casinos use – it's very stable and secure – we just always prefer downloading the software.
We should note that Macintosh users may have no choice but to use the browser based software, as at this time most online casinos do not offer a Macintosh option.
Either way just visiting a casino like Rushmore Casino will give you the options to download or play immediately. The software is very simple to install – just follow the steps and you'll be playing in seconds.
Step 3: Playing an Online Blackjack Game:
Once the casino software is installed or the flash software is up and running, there will be an option in the lobby to choose either "Table Games" or "Blackjack". You will then get to see a list of all the Blackjack games. Choose one, and it will open. Here's how a Blackjack table looks – we will be using examples from Rushmore Casino: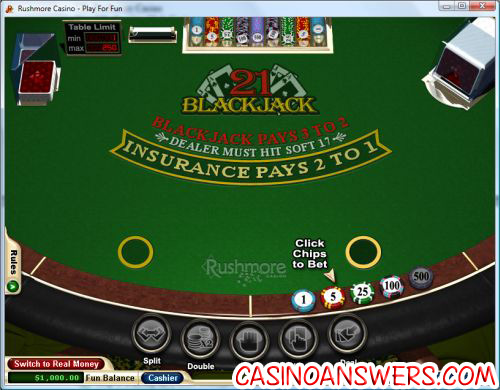 So the first thing we have to do is place our bets. We should note that some online casinos are different. Some online casinos will make you physically 'drag" your chips into the blackjack betting circle. Others force you to click the chip you want to bet, and then on the betting circle.
At Rushmore Casino, you simple click the chip or chips you want to bet, and it will immediately put that bet in the betting circle. Don't worry in case you misclick – you have to click a "Deal" button before the bet is placed, and it lists your betting amount at all time. In the below example I clicked the $5 chip once, and the $25 chip once, for a total amount of $30: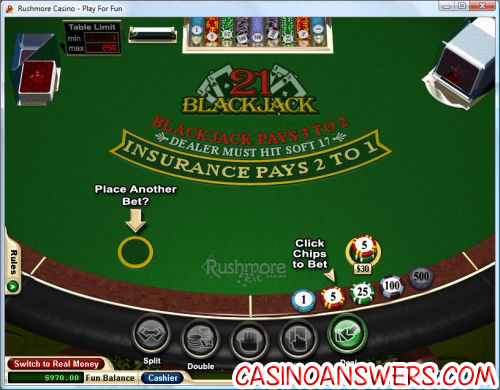 Once the bet is placed, you click the lit up "Deal" button. Your cards are dealt as are the dealers cards, and the previously greyed out "action" buttons are now lit up:
And you now have the option of doubling, standing or hitting. Also when it comes to insurance bets online, you get a prompt as shown below: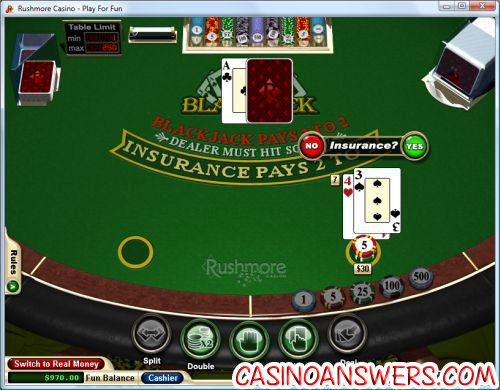 And you then select "Yes" or "No" depending on whether you want to take insurance or not.
And that is how you play Blackjack online. Now go hit up the table at Rushmore Casino (or Gaming Club Casino if you're outside the US) and make some cash!
Additional Blackjack Online for Dummies Questions:
(None yet)
Related Questions:
Alternative Ways to Ask/Incoming Search Traffic:
The answer to the question How Do You Play Blackjack Online? is also applicable for the following questions:
Online Blackjack Casino Guide? Is there a guide to playing blackjack online? How to play Blackjack online? Blackjack for dummies? Where should you play Blackjack online?