There are hundreds of online variants of popular casino game blackjack, all of which come with a unique set of rules to provide a new challenge. For players who want to play blackjack in its quintessential form, Rival's Blackjack online variant sticks to all the rules of standard blackjack.
Rival is one of the most revered online game providers and this game continues in a long line of excellent products.
The main objective in blackjack is to get a total on your hand that is closer to 21 than the dealer's is without going over 21. If the total exceeds 21, the hand busts and you lose your bet.
Similarly, if the dealer busts while your total is 21 or lower, the dealer loses and you win the bet. The dealer must hit on all soft 17. The game begins with the dealer handing two cards each to himself and the player. One of the dealer's cards is facedown and the other is face up. If the dealer's face up card is an ace, the player is allowed to take an insurance bet that is half the size of the main bet.
This bet pays off at 2:1 odds if the dealer's hole card turns out to be of value ten. If the dealer fails to make a blackjack, the player forfeits the insurance bet and continues playing for the main bet. Rival Blackjack accepts bets worth between 1 and 500 credits, covering a wide array of potential players.
The player is then allowed a handful of moves; hitting, which involves taking another card, staying- take no more cards, split matching pairs, double down- double the value of your bet. It is important to remember that only a 21 consisting of an 11 and 10 pair qualifies as a blackjack. Any 21 with three or more cards is not a blackjack and it is paid at odds of 1:1. A blackjack meanwhile pays out at 3:2. The game does not have a surrender option or a progressive jackpot, as is the case with many online variants.
Blackjack (Rival) Game Review
Rival does not divulge the number of decks that are used by the dealer, but hence the house edge is hard to determine. However many sources place it at around the .66% mark by assuming an eight-deck shoe.
If this is the case, Rival Blackjack is just about average for online casinos and makes for a fair challenge. The game does not have "Autoplay" mode, which some players find to be handy in many online variants that carry the feature. On the plus side, the game comes with a beautiful interface with well-designed and neatly placed buttons and tabs. It is designed with a light built to fit a plethora of computing devices without lagging. The great visual properties are complemented with high quality music and game sound effects to simulate a real casino experience.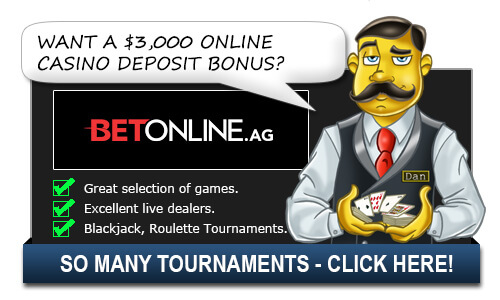 Game Strategy
The best way to win at blackjack is to adhere to a proven strategy rather than depending totally on luck. The basic strategy table for Blackjack tells you when it is time to hit, stand or split as well as a number of other moves.
Top Casinos for Americans

Additional Blackjack (Rival) Questions:
None Yet
Related Questions:
Alternative Ways to Ask/Incoming Search Traffic:
The answer to the question Blackjack (Rival) is also applicable for the following questions:
Rival Blackjack Game Review, Play Rival Blackjack Online,
Top Casinos for Americans