Well, the dictionary definition of a casino sums it up quite nicely: "a building where games, especially roulette and card games are played for money."
And, traditionally, that is what a casino is and will forever be. You go into a building, swap your money for chips and play any game on offer that takes your fancy. The building would be staffed by dealers, croupiers, waiters/waitresses and other various personnel, all there to make sure you have the most enjoyment possible while in their establishment. These casinos would vary greatly in size, from small places no bigger than your house, to buildings of an almost unimaginable size that had hotels, shops, restaurants and theaters inside them.
However, with the digital age now upon us and the internet taking over our lives more and more every day, the dictionary definition becomes a bit more defunct. It is no longer "a building where games, especially roulette and card games are played for money." No, while it is still traditionally thought of as a building, a casino can now be classed as, "a piece of software that has been developed where nearly any game you can think of is played for money."
Now you can download a piece of software (or in some cases, you don't even have to download the software) that saves you having to leave the comfort of your home to play all the games you can play at a traditional casino, as well as a lot more.
The problem with traditional casinos is floor space. You can only fit so many games into a floor space, regardless of the size of the site, as craps tables, roulette tables, blackjack tables, slot machines, etc all take up a lot of room. So, online casinos can offer a lot more games, simply because there is no real limit to their "floor space".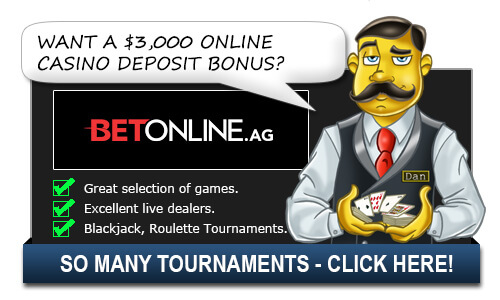 Casinos, both online and live, also look after their players and will offer them incentives to get them to play at their casino and to continue playing at their casino. Live casinos might have a show on to bring custom in, they might simply have the greatest buffet in town, or a great gimmick like Venice in the middle of Nevada. Online casinos will entice you in with bonuses when you sign up and deposit money, some will offer "free money" and the the vast majority will also offer you extra bonuses when you continue to deposit and play at the casino. The philosophies are exactly the same at online and live casinos. The same can be said for "comps". The casinos, both online and live, will usually give you something for nothing. It might be free drinks, it could be a room upgrade, or in the case of online casinos, it might be money depending on how much you've wagered.
Live casinos and online casinos have their advantages and disadvantages and while both seem cosmetically different, at the end of the day, both are essentially the same, they "offer games that can be played for money".
Traditional casinos games that you'll find in any variation of a casino include blackjack, roulette, craps and slot machines.
However, there games will vary from casino to casino, both online and traditional and most of the time there will be more games than just those listed above.
Top Casinos for Americans

Additional Casino Questions:
(None yet)
Related Questions:
Alternative Ways to Ask/Incoming Search Traffic:
The answer to the question What is a Casino? is also applicable for the following questions:
What is an online casino? What is the definition of "casino"? What is the difference between a live casino and an online casino?

Top Casinos for Americans