One thing you need to know about playing video poker online is there is a LOT of different variations of video poker. We've got a list of all video poker online and the variations are crazy.
I mean some games are simple – some offer the option to double up at the end, and others will have wild cards and different payouts and so forth.
First if you're going to play video poker online, I'd recommend
which is the online casino I am using as an example for today. They have over 70 video poker games from Double Double Jackpot Poker to multiple hand video poker games(100 hands at once!)
If you're looking to play video poker online, then hopefully you're already familiar with the most basic form of video poker, which is Jacks or Better. That's the example I am going to use for this "How to play Video Poker online" article. I'm also going to be doing the 1 hand game although I'll show you variations later.
So first of all – here is what the game looks like: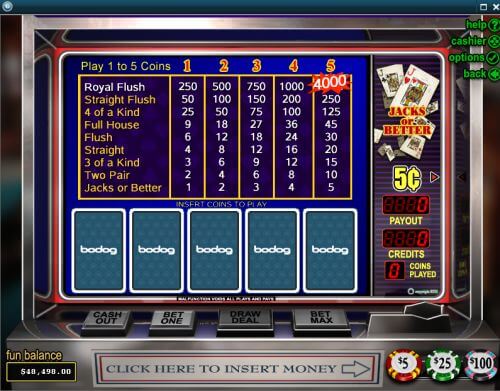 Most video poker games will follow this layout. At the top it will list the payouts, although some games may make you click to actually see the payouts – common on games that take up a lot of real estate on the screen.
You then have the 5 cards below, and on the right the information about how much money is in, how many coins being played etc.
You then have the buttons "cash out" when you are done playing and want to cash out your winnings – although you can also just close the online casino and you will get them. Next is "Bet One" and you can bet up to 5 credits – every time you hit that it adds 1 more credit. Generally with video poker you should be betting the maximum credits every time which is the "Bet Max" button for quickness.
Next is the Draw/Deal button which is the "action" button to progress the game. Then at the bottom is the chips and you can choose how much you want to put in the video poker machine. Also on the right you can change the value of how much you bet to what you want – set up by the online casino. In this case I'll be inserting $100 into the machine, and betting a max of 5 credits or $5.
When we're ready to play, we then hit the "Draw/Deal" button and your 5 cards will be dealt to you as shown below: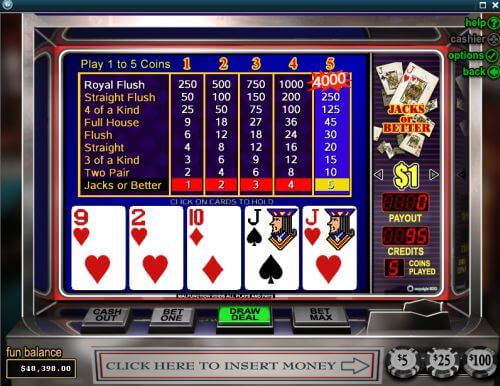 In some online casinos, it might automatically hold any pairs such as the pair of jacks. This one doesn't, but it does highlight the Jacks or Better row to indicate I have a pair of jacks.
With my mouse, I click on both Jacks to "hold" them:
Then you click Draw/Deal again and assuming it is a single draw machine, it will deal your final cards that weren't held: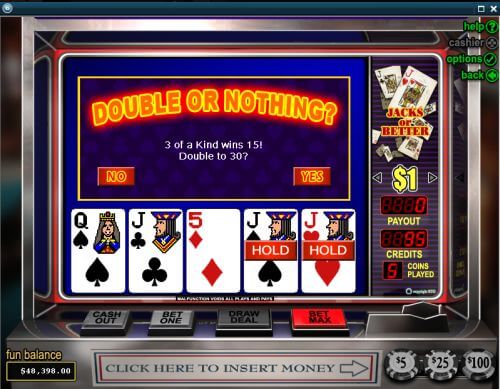 So in this instance, I got 3 of a kind and I won 15 credits. But as you see at the top, I have the option of "Double or Nothing" where I can attempt to double it to 30. Each game is different, but this one is a higher card one as you can see below: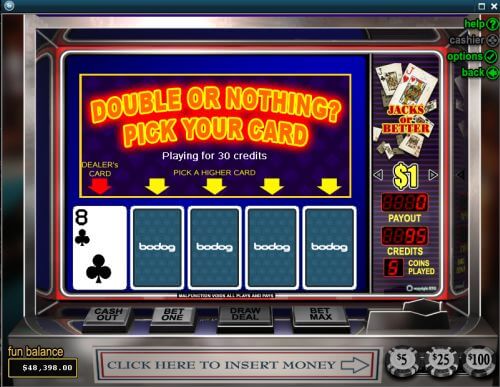 So there I click one of the 4 cards and if it is higher I will win 30 credits. Some games will ask you if you want to double or nothing AGAIN if you win, while others will only let you do it once.
And that's how you play video poker online.
Head on over to
and check out their insane selection of video poker games now.
Additional How To Play Video Poker Online Questions:
Is there any flash casinos I can play video poker at?
Yep.
will hook you up with a flash casino so no download needed. They also offer you the ability to play video poker online for free.
Related Questions:
Alternative Ways to Ask/Incoming Search Traffic:
The answer to the question How to Play Video Poker Online is also applicable for the following questions:
Where to play video poker online, how to play online video poker