Wrestlemania is always WWE's biggest show of the year so it makes sense that sportsbooks offer betting odds on the event. This show manages to get more eyeballs on it than any other show of the year and WWE always goes all out for the event as it features some of their biggest possible match-ups and takes place in a packed stadium.
Wrestlemania is truly a one of a kind event and, yes, you can bet on it.
It always surprises people when they find out that they can bet on WWE wrestling. "It's fixed" or "It's pre-determined", no sportsbook would ever let you bet on it.
Wrong. Bovada has you covered on all your WWE Wrestlemania 27 betting needs.
Yes, that's right – looking to bet on Wrestlemania 27 this weekend?
Think you know who will win between John Cena and the Miz?
Confident that Triple H will end Undertaker's streak in their very first match-up at Wrestlemania? (Because they've never fought at Wrestlemania before or anything ;))
Leading online sportsbook Bovada are offering you the chance to bet at Wrestlemania XXVII.
WWE Wrestlemania 27 Betting Odds:
Here are the current odds from Bovada:
Edge(+330) vs Alberto Del Rio(-490)
The Miz(+155) vs John Cena(-195)
The Undertaker(-1050) vs Triple H(+550)
Randy Orton(-265) vs CM Punk(+185)
Jerry Lawler(-1850) vs Michael Cole(+900)
Rey Mysterio(+120) vs Cody Rhodes(-160)
Trish Stratus/Snooki & John Morrison(-1275) vs Dolph Ziggler, Layla, Michelle McCool(+625)
Sheamus(-195) vs Daniel Bryan(+155)
You can bet on all of these by heading over to Bovada.
Of those there are a few bridge jumper bets that should come in like The Undertaker and Jerry Lawler. Throwing some money on them will only add to the excitement. Are you an Undertaker fan and think he's going to win with ease? Put your money where your mouth is at Bovada!
In the close odds matches, the favourites should win out. Sheamus has been on fire lately so should win – although a face winning a title is a good WM moment.
CM Punk is probably a decent bet because it's a match where the outcome really doesn't matter.
Cody Rhodes also winning would make sense however it's Wrestlemania where they want people to be happy – so I'd say a bet on Rey Mysterio at Bovada would be a good move.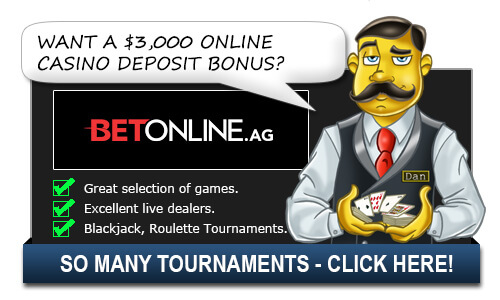 If you're not sure how to bet it's very easy – just visit Bovada, register an account, and deposit with your credit card.
Once you're registered, log in and choose "Wrestling" under "Other Sports".
Good luck, and GO JOHN CENA. RAPADOO.
Additional Wrestlemania Betting Questions:
Who won at last year's Wrestlemania?
Wrestlemania 26 was a show with a lot of favorites winning in the betting odds, but there were two great underdog wins with Chris Jericho +160 and Rey Mysterio +165 getting the upsets.
ShoMiz (-555) defeated John Morrison and R-Truth
Randy Orton (+110) defeated Cody Rhodes and Ted DiBiase Jr.
Triple H (-400) defeated Sheamus
Rey Mysterio (+165) defeated CM Punk
Bret Hart (-3000) defeated Mr. McMahon
Chris Jericho (+160) defeated Edge
John Cena (-410) defeated Batista
The Undertaker (-430) defeated Shawn Michaels
Top Casinos for Americans

Related Questions:
Alternative Ways to Ask/Incoming Search Traffic:
The answer to the question Where to Bet on WWE Wrestlemania 27 / XXVII is also applicable for the following questions:
Bet on Wrestlemania, sportsbooks offering wwe wrestle mania odds, where can you bet on wrestlemania xxvii, which website can I bet on EPL online?, why can you not bet on wwe wrestling, betting on wrestling
Top Casinos for Americans