You would think the answer to this question would be a solid "No" – why would sportsbooks let you bet on a scripted event? I mean all it would take is Vince McMahon to call a buddy, ask the buddy to place a one million dollar bet for him and then make sure that outcome happens on the night of Wrestlemania.
However, the answer to the question is actually yes – you can bet on WWE Wrestlemania 26 – with some limitations.
Online sportsbook Bovada are offering the ability to bet on WWE Wrestlemania 26. However before you think you can go there with your copy of the Wrestling Observer and clean up, please note that there is a betting limitation in how much you bet.
On an underdog, you are not able to risk more than $50. On a favourite, you are not able to win more than $50. These betting limitations are put in place to make sure that there is no funny business when it comes to betting on a predetermined sport. They are there so that you can spice up Wrestlemania with a few bets – not make any serious money.
For anyone who has never bet on sports before don't worry – Bovada is a very trustworthy sportsbook and has been around for years. It is the top choice of sportsbooks by Americans, and is very safe and secure.
You can see the current Wrestlemania betting odds at Bovada. To see them you will have to do the following:
Visit Bovada.
Register an account. This option is at the top right of the screen, entitled "Register Here".
Once registered, log in and choose "Wrestling" under "Other Sports". Then scroll to the bottom of the screen and choose "Continue". The latest Wrestlemania Betting Odds will be there.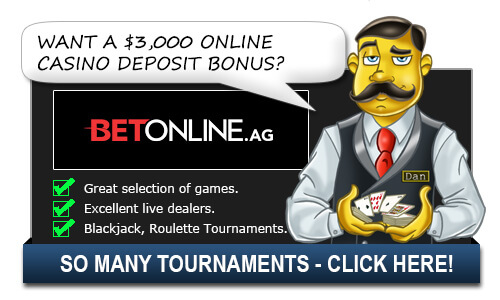 As of March 28th at 10am EST, Wrestlemania odds were the following:
Batista(+290) vs John Cena(-410)
The Undertaker(-430) vs Shawn Michaels(+310)
Chris Jericho(+160) vs Edge(-210)
Bret Hart(-3000) vs Vince McMahon(+1300)
Big Show/Miz(-555) vs John Morrison/R-Truth(+365)
Triple H(-400) vs Sheamus(+280)
Ted Dibiase(-150) or Randy Orton/Cody Rhodes(+110)
Rey Mysterio(+165) vs CM Punk(-215)
For the latest odds, visit Bovada.
Wondering who to bet on at Wrestlemania? Here is our Wrestlemania betting analysis:
WrestleMania is easily the biggest wrestling event of the year. Every year, thousands of people fly from around the globe to attend WrestleMania live and millions of people park themselves infront of their TV, plonk down their hard-earned cash and order WrestleMania on pay-per-view. But what if you could enhance the enjoyment factor of WrestleMania XXVI by betting on the winners? (Picks are in italics.)
WWE Championship Match
Batista (c) +290 vs. John Cena -410
WrestleMania almost always ends on a high note, so we expect this will likely get the final slot on the card and thus would mean Cena wins the title for the umpteenth time at WrestleMania. However, if it is not the last match, we could see Big Dave pulling this one out. There is some value in the Batista Bomb.
Streak vs. Career / No DQ or Countout
Shawn Michaels +310 vs. The Undertaker -430
We fully expect the Dead Man's streak to stay alive here. Perhaps a better bet to make would be whether or not the retirement stip will be adhered to, if the Heartbreak Kid does indeed lose here. Undertakers odds were a lot bigger on Saturday, so this is now a solid value bet.
Bret Hart -3000 vs. Vince McMahon +1300
We're 99% sure "The Hitman" is going to put McMahon in the Sharpshooter for the submission, but you never know. A small bet on Vince may be worth it. If you know wrestling, you know Vince McMahons ego. He could easily win this match but let Bret get his "heat" back after the match.
WWE Unified Tag Team Championship Match
ShoMiz (c) -555 vs. R-Truth & John Morrison +365
We expect Big Show and Miz to retain here, but it doesn't make much of a difference in the grand scheme of things. For that reason, it may be worth betting on the challengers, R-Truth and Morrison, at +400.
Triple H -400 vs. Sheamus +280
Sheamus makes for a great pick here. We know, it's Triple H at WrestleMania, but he's gotten the better of this feud, including getting the better of the Celtic Warrior this past Monday. One thing is for sure, a win for Sheamus will help him whereas it wouldn't hurt Hunter at all… but since when did that matter?
Triple Threat Match
Ted DiBiase vs. Randy Orton vs. Cody Rhodes
Bovada has two options here – Ted DiBiase (-150) and Orton or Rhodes (+110). What are they thinking? Orton is by far the biggest star here, which would seemingly make him the favourite. We are strongly picking the Orton/Rhodes value pack for this one.
Rey Mysterio +165 vs. CM Punk -215
There isn't much value in this match. We're going to agree with the oddsmakers here and pick CM Punk to their first encounter.
To bet on Wrestlemania, visit Bovada.
Additional Wrestlemania 26 Betting Questions:
Can Americans bet on Wrestlemania?
They sure can. Bovada allows all Americans to bet on sports.
Top Casinos for Americans

Related Questions:
Alternative Ways to Ask/Incoming Search Traffic:
The answer to the question Can I Bet On WWE Wrestlemania 26? is also applicable for the following questions:
Who is going to win at Wrestlemania? Wrestlemania 26 betting guide? Where can I bet on Wrestlemania? At what sportsbooks can you bet on Wrestlemania?
Top Casinos for Americans