Triple Edge Poker, which is played on a poker table, is fitted with a gaming software made by Betsoft Gaming.
Europeans have a suchlike variant, which is called 3 Card Poker. In Triple Edge Poker, only three cards are used, unlike in variants of poker wherein as much as five cards can be used. The name Triple (three) Edge Poker refers to the players' tendency of taking up to three virtual seats in a given round.
This game uses one deck.
Generally, Triple Edge Poker players challenge the dealers. The value of the player's cards should be relatively higher than that of the dealer for it to be considered a win, whereas the invisible virtual dealer needs to qualify.
Triple Edge Poker players are required to choose their desired bet amount. The gaming chips are valued at $1, $5, $25, $100, and $500. Triple Edge Poker has a table limit of $1 (minimum) and $100 (maximum).
First, a player clicks the desired betting chips and ante box(es) almost simultaneously, thereby dragging the chosen bets into the poker table.
Secondly, the player presses the "Deal" icon, and a set(s) of cards are dealt.
Three playing cards, which are dealt facing up, materialize. The dealer also gets three cards, which are dealt face down. Lastly, the player presses the "Ride" icon to reveal the face values of the dealer's playing cards.
Triple Edge Poker: Game Review
Players can be dealt cards (up to nine cards) three times back-to-back. The payouts in Triple Edge Poker are divided into two. First, there are ante bet payouts which range from 1:1 for a Straight to 5:1 for a Straight Flush, whereas '3 of a kind' attracts 4:1. Incidentally, Triple Edge Poker has a side bet feature, which pays players with paired or better cards. Secondly, there are even higher payouts for the side bet (named Pair Plus), which range from 1:1 for a Pair to as much as 40:1 for a Straight Flush. Other payouts of the side bets are 4:1, 6:1, and 30:1 for Flush, Straight, and '3 of a kind', respectively.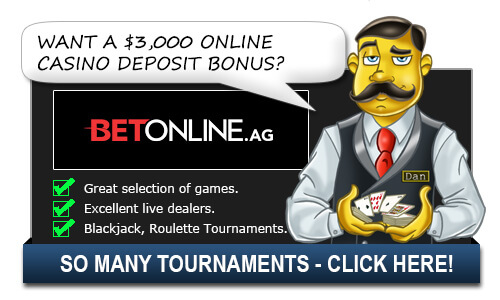 In the Triple Edge Poker game, players can decide whether to stake on only one Ante box, two of them, or all three boxes. If a player has chosen the three Ante boxes and wins two of them but loses one, this does not mean the entire game is lost. In fact, the active playing boxes are judged individually. Players can adjust some features accordingly, including sound. The virtual poker table is void of clutter, and Triple Edge Poker has easily understandable and user-friendly graphics.
On the flip side, there are betting limits. For instance, while the Pair Plus feature allows players to bet a minimum of $1, they cannot bet more than $250. The players have to decide –if to press Ride or Raise –prior to revealing the dealer's hand. The Ante bet of a player is lost if they press the "Fold" icon.
Triple Edge Poker: Strategy
A player should know if to raise Ante bets (especially if holding Q, 6, and 4) and if to fold (when dealt relatively lowly valued cards to minimize losses). Triple Edge Poker has a return to player (RTP) rate of 97.99%. The 3 Card Poker, which is similar to Triple Edge Poker, has a house edge of 7.28% based on the Pair Plus feature, while the combined house edge of both the Ante bet and the Pair Plus feature is 5.32%.
Top Casinos for Americans

Additional Triple Edge Poker Questions:
None Yet
Related Questions:
Alternative Ways to Ask/Incoming Search Traffic:
The answer to the question Triple Edge Poker is also applicable for the following questions:
Triple Edge Poker Strategy,
Top Casinos for Americans