Bonus Bowling is an online casino game that runs on software offered by the Douglas-based Playtech Plc. Bowling, which is categorized under parlor games, is a sporting activity or recreational game wherein players roll large balls towards bottle-like objects called pins.
These pins are placed in a straight line, and the objective is hitting all pins at a go, or most of those pins within a specific number of attempts.
Bonus Bowling lets the players bet on the number of pins that the virtual ball thrower will strike in two attempts. Bonus Bowling allows players to stake $0.10 minimum and $50 maximum in the various categories. After adjusting their stake using the well-displayed "+" and "—" icons, they then press "Throw".
Bonus Bowling: Game Review
Bonus Bowling is almost similar to the traditional bowling. The biggest difference is that this is a virtual game, and the ball thrower is a simulation. In the Bonus Bowling game, players bet $50 maximum, but this is for a specific category.
When the multi-bets are factored in, the combined bets for the different categories can add up to $109. Accordingly, Bonus Bowling has five betting options. Players can stake on how many pins that will be hit, which are in the following dominations: between 0 and 3 balls, from 4 to 6 balls, between 7 and 9 balls; Strike bet, which is all about hitting the ten pins at a go, and the Spare bet, which concerns hitting the ten objects after throwing the ball twice.
Each of these segments has corresponding payouts. For instance, betting on 0-3 pins gives X2; 4-6 pins gives X3, 7-9 hits gives X5; while the Spare and Strike features give X10 and X25, respectively. An appealing feature of Bonus Bowling is the bonus feature, which is called Golden Frame; this special round comes once after three games and lets players earn 10X, the bet placed notwithstanding.
Bonus Bowling players can use their pre-determined bets over and again without necessarily setting it again each time, although it is somewhat confusing because it requires the players to press the "Throw" icon. Otherwise, they can press "Clear Bets" icon and re-adjust the stake. Players cannot readjust the graphics, but it is glamorous. Considering the realistic pins and virtual throwing balls, which are all in 3D—coupled with a reflective wall—Bonus Bowling gives its players a realistic feel considering the reflection.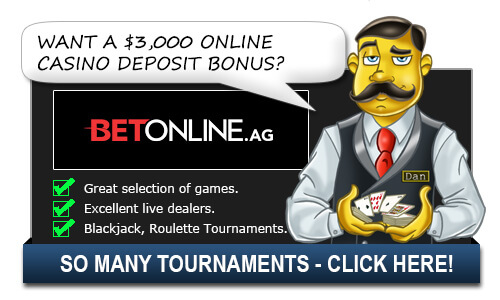 Bowling is especially famous in North America and the UK (tenpin bowling) , but relatively less common in other parts of the world; as such, bonus bowling mostly appeals to North American players—a regional game. Another disadvantage is that Bonus Bowling does not offer progressive jackpots. Worse still, the topmost award for a specific category is a mere $100, which is way less.
Bonus Bowling: Strategy
Bonus Bowling has a RTP rate that ranges between 96.33% and 96.94%. Bonus Bowling has a house edge of between 3.07% and 3.67%. The five categories of Bonus Bowling have the following winning probabilities: Strike, Spare, 7-9, 4-6, 0-3 have 3.4%, 8.56%, 17.04%, 28.4%, and 42.6%, respectively. It might be worthwhile sticking with the 0-3 category.
Top Casinos for Americans

Additional Bonus Bowling Questions:
None Yet
Related Questions:
Alternative Ways to Ask/Incoming Search Traffic:
The answer to the question Bonus Bowling is also applicable for the following questions:
Bonus bowling strategy,
Top Casinos for Americans