Fruit Slot is a 3-reel, 1-line classic slot machine developed by Top Game, featuring a wild symbol. You can play the Fruit Slot classic slot machine at Bovada.
Fruit Slot Game Description
Fruit Slot is exactly what it says it is. It's a slot featuring a bunch of fruits – a regular staple of slot machines. Symbols included are Pinapple, Kiwi, Cherry and three Bar symbols. It should be noted that Top Game has three other variations of Fruit Slot available besides this 1-line edition – there are also 3-Line and 5-Line classic slots available as well as a 25-Line video slot. For a look at Top Game's 1-Line Fruit Slot, a screenshot has been provided below: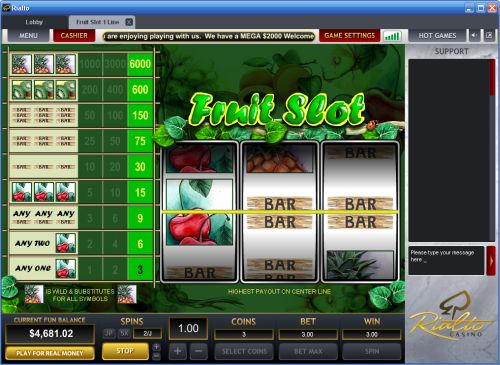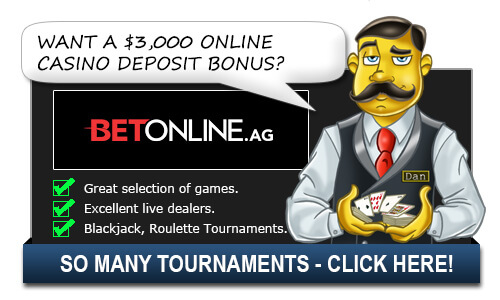 Fruit Slot Betting Options
Fruit Slot is a penny slot machine. Bets on the Fruit Slot machine are $0.01, $0.05, $0.10, $0.25, $0.50, $1, $3 and $5. You can bet 1-3 coins per spin. The maximum total bet available per spin is $15. Fruit Slot has a decent betting range available. To play the Fruit Slot game, select your bet and press "Spin." To play the maximum 3-coin bet, use the "Bet Max" button to spin the reels.
Fruit Slot Top Payout
The highest paying symbol on Fruit Slot is the Pineapple symbol. If you land 3 Pineapple symbols on the center payline when making the maximum bet, you will win the 6000 coin top jackpot. The Pineapple symbol is wild and will substitute for all other symbols on the Fruit Slot casino game. You can win this top payout by playing Fruit Slot 1 Line at Bovada!
Fruit Slot Payout Schedule
There are 9 winning combinations on the Fruit Slot 1-Line classic slot machine. The complete payout schedule is as follows (1/2/3 coin payouts in parenthesis): 1 Cherry symbol (1/2/3), 2 Cherry symbols (2/4/6), any 3 Bar symbols (3/6/9), 3 Cherry symbols (5/10/15), 3 Single Bar symbols (10/20/30), 3 Double Bar symbols (25/50/75), 3 Triple Bar symbols (50/100/150), 3 Kiwi symbols (200/400/600) and 3 Pineapple symbols (1000/3000/6000).
Fruit Slot Autoplay Mode
Fruit Slot has a basic autoplay mode. You can use the "5X" button to play five autoplay spins or hit the "JP" button to play until the jackpot is won. If you would rather play a specific number of automatic spins, use the "+" and "-" buttons to select up to 95 autoplay spins. To start the autoplay feature on Fruit Slot, use the "Autoplay" button. You can stop Fruit Slot's autoplay mode at any time by using the "Stop" button.
Fruit Slot Summary
Fruit Slot is a very meat and potatoes classic slot game, but it does offer a pretty good top payout and at least has a wild symbol. Not all reel slot machines can say that. You can play all four versions of Fruit Slot by signing up today over at Bovada.
Additional Fruit Slot Questions:
Can players from the USA play Fruit Slot for real money?
Yes, American players are welcome to play the Fruit Slot 1-line fruit machine and all of the other great slots at Top Game online casinos such as Bovada.
Related Questions:
Alternative Ways To Ask/Incoming Search Traffic:
The answer to the question Fruit Slot 1-Line Classic Slot Review is also applicable for the following questions:
Fruit Slot, Fruit Slot 1-Line,