Frozen Assets is a 3-reel, 1-line classic slot machine developed by Realtime Gaming, featuring a wild symbol, bonus wins and a progressive jackpot. You can play the Frozen Assets classic slot machine at Bovada.
Frozen Assets Game Description
Frozen Assets is a winter-themed slot machine. Symbols on the Frozen Assets classic slot are the Penguin (wild symbol), Sun, Snowflake, Red Top Hat, Blue Top Hat, Snowman and Seven symbols. For a look at the Frozen Assets RTG slot game, a screenshot has been provided below: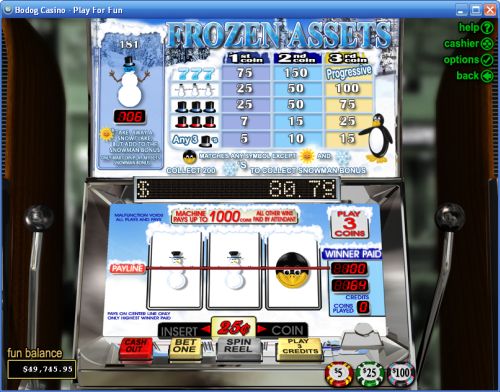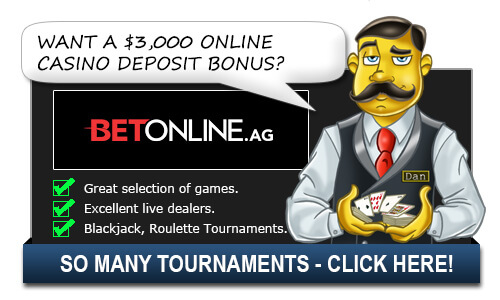 Frozen Assets Betting Options
Coin sizes on the Frozen Assets slot machine are $0.05, $0.25, $0.50, $1 and $5. After selecting your coin value, you can buy credits in denominations of $5, $25 or $100. You can cash out your credits at any time by using the "Cash Out" button. You can play anywhere from a nickel per spin up to $15 per spin on the Frozen Assets nickel slot. Frozen Assets has a decent betting range, suitable for most online slots players. You can play Frozen Assets by pressing the "Bet One" button up to three times followed by the "Spin Reel" button. However, we recommend that you press the "Play 3 Credits" button at all times to play the maximum bet and activate all of the features on the Frozen Assets slot machine.
Frozen Assets Progressive Jackpots
On the $0.05, $0.25 and $0.50 coin values, the Frozen Assets classic slot features a progressive jackpot for each coin value. The current jackpot totals are $28.26, $80.35 and $125. On the $1 or $5 coin sizes, the jackpot is replaced by a 250 coin top fixed jackpot. To win the progressive or top jackpot, you must hit 3 Seven symbols on the center payline. You can play for the Frozen Assets progressive jackpot at Bovada!
Frozen Assets Special Features
The Penguin symbol is the wild symbol on the Frozen Assets slot game. It will match any symbol in Frozen Assets except for the Sun and Snowflake symbols.
When you start playing the Frozen Assets reel slot machine, you will notice a Snowman to the left. He will have the number "0" ontop of him and "500" below. The number ontop is the number of Snowflakes you have collected. Whenever a Snowflake lands on the reels on a max bet spin only, you will collect 1 Snowflake. Once you get to 200, you will win the Snowman Bonus below. The Sun symbol will subtract 1 Snowflake from your counter, but add 1 coin to your Snowflake Bonus. This special bonus feature rewards loyalty from players who play the Frozen Assets slot game. Each coin value has its own Snowman Bonus. If you leave the game and come back, your progress on the Snowman Bonus will be retained.
Frozen Assets Payout Schedule
There are 5 winning combinations on the Frozen Assets classic slot machine. The complete payout schedule is as follows (1/2/3 coin payouts in parenthesis): any 3 Hat symbols (5/10/15), 3 Red Hat symbols (8/15/25), 3 Blue Hat symbols (25/50/75), 3 Snowman symbols (25/50/100) and 3 Seven symbols (75/150/250 or jackpot).
Frozen Assets Game Rules
Machine pays up to 1000 coins (all other wins paid by attendant). Pays on center line only. Only the highest winner paid. Malfunction voids all plays and pays. Wild symbol will substitute for all symbols except for Sun and Snowflake symbols. Collect 200 Snowflakes to collect Snowman Bonus. Only max coin play affects Snowman Bonus.
Frozen Assets Summary
The highlight of the Frozen Assets slot machine is its unique Snowman Bonus feature. The feature rewards your loyalty to the slot with a nice bonus payout. Winning combinations aren't too frequent on the Frozen Assets slot game, so really what you are looking for is that big bonus payout after you collect 200 Snowflakes. To play the Frozen Assets classic slot machine, sign up and make a deposit today at Bovada!
Additional Frozen Assets Questions:
Where can American players play the Frozen Assets online slot?
Players who are based in the United States are welcome to play the Frozen Assets slot game at Bovada Casino.
Related Questions:
Alternative Ways To Ask/Incoming Search Traffic:
The answer to the question Frozen Assets Classic Slot Review is also applicable for the following questions:
Frozen Assets Flash Game,