X-Men is a popular franchise that started out as a Marvel comic book, but has since spawned several different television cartoon series and three movies. Now, X-Men is a slot machine that you can play at Omni Casino! The slot is based around the movie, rather than the comics or the cartoons. The characters featured in this game are Wolverine, Professor X, Cyclops, Storm, Nightcrawler, Magneto, Juggernaut, Mystique and Lady Deathstrike.
The Marvel X-Men Slot is available at online casinos like Omni Casino.
X-Men is a 5 reel, 25 line video slot. It boasts X-tra Pay with the X-Feature, Heroes vs. Villains in free games, unlimited free games in Heroes mode, 4 Mystery Progressive Jackpots and a maximum prize of $10,000 X Line Bet. Here is what the X-Men video slot looks like: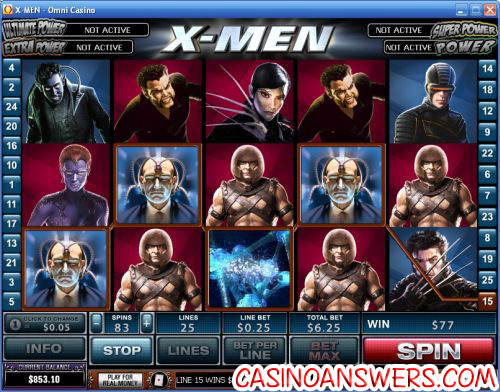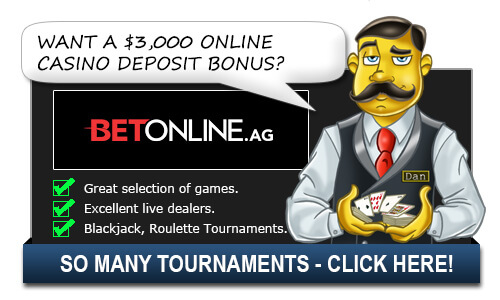 Bets can be made in increments of $0.01, $0.05, $0.10, $0.25, $0.50, $1, $2 and $5. You may change the bet per line to up to 10X those amounts, meaning the maximum bet is $50 per line or a total bet of $1250. There is an autoplay feature where you can play up to 99 spins at a time.
There are four Progressive Jackpots in the X-Men video slot. All Marvel slots on the Playtech platform are linked to four Mystery Progressive Jackpots: Power, Extra Power, Super Power and Ultimate Power. All four jackpots are won randomly. Any spin of any amount in the X-Men video slot can win entry to the jackpot game including spins with no game wins. However, the higher the bet, the bigger your chances are of entering the Jackpot Game. Entering the jackpot game guarantees a win of one of the four jackpots.
The Jackpot Game has a 4X5 grid of 20 squares hiding different jackpot symbols. Click of the squares to reveal jackpot symbols. Match 3 identical jackpot symbols to win that jackpot. The Jackpot Game has a reaction timer. The jackpot timer will be paid automatically if you don't react in time.
The X-Feature is triggered when only Hero symbols occupy the 5 positions on reels 2, 3 and 4 form an 'X' shape. The Hero symbols are Professor X, Wolverine, Storm, Nightcrawler and Cyclops. The X-Feature immediate pays a prize of 5X total bet, which is added to the line and scatter wins. The X-Feature is available in the main game only. Here's what happens when you get the X-Feature: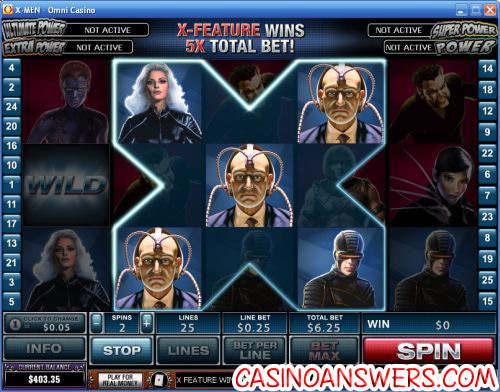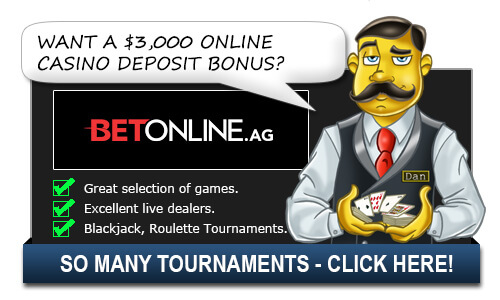 If you want to try out the X-Men video slot, your best bet is Omni Casino, which currently has a really special slots bonus going on. Click here.
Additional X-Men Movies Questions:
Does the X-Men slot machine have any Progressive Jackpots?
The X-Men slot has four Mystery Progressive Jackpots that are won randomly. Any spin you make can win, but the larger bet you make the larger your chances are.
Where can I read more reviews of slots based on movies?
If it's movie slots you want, check out all of the video slots that are based on films on our list of movie-themed slots.
Related Questions:
Alternative Ways to Ask/Incoming Search Traffic:
The answer to the question X-Men Marvel Video Slot Info, Review, Q&A, Flash Game, Rules is also applicable for the following questions:
Where can I play the X-Men Video Slot? What marvel slots are there?