Tropic Reels is a 3-reel, 5-row multispin video slot that can be found at Playtech casinos, including Casino Del Rio and Titan Casino. Tropic Reels has a Hold feature that you can normally only find only Fruit machines.
Tropic Reels starts out as a 3-reel, 1-line reel slot, but as a multispin slot, you are actually playing 5 rows of reels. The first spin will spin the bottom reels, then you can choose to hold any or all of the reels. The next spin will spin the above four rows. Here is what the game looks like: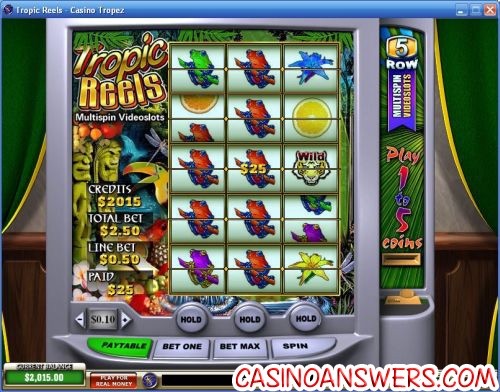 If you can't tell by the name, Tropic Reels is a slot machine with a very tropical theme. The symbols in Tropic Reels consist of parrots, tropical fruits such as grapefruits and tree frogs. This gives the slot a very cool look.
You may bet on as many or as few of the rows as you wish. We recommend you bet on all five rows to get the full experience out of Tropic Reels. There are 23 possible winning combinations, excluding the wild symbol. You may bet $0.01, $0.05, $0.10, $0.25, $0.50, $1, $2 and $5 coins per row per spin, so if you're making the max bet, multiply each of these by 25. This means that the absolute minimum you can bet per spin is $0.05 (one cent per row). Here is a look at part of the paytable of Tropic Reels: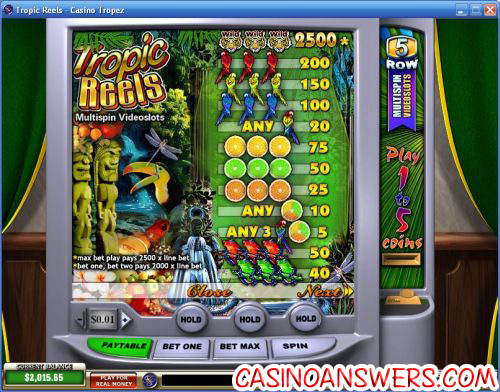 If you want to play Tropic Reels and are looking for a great casino to play it at, we recommend you try Casino Del Rio, the world's first eco-casino. It's got a similar type of atmosphere that you get with Tropic Reels and offers a nice 100% up to $100 signup bonus. If you plan on sticking around, you can get a 50% bonus up to $50 for the next ten months. As an added bonus, for every new player that signs up at Casino Del Rio, they will plant a tree.
Additional Tropic Reels Questions:
What is a multispin slot machine?
A multispin slot machine is a slot machine that you can spin multiple times. It gives the player more of a chance to affect the outcome of the game. However, it must be emphasized that even multispin slot machines are games of luck, rather than games of skill.
Does Tropic Reels have a progressive jackpot?
Tropic Reels lacks a progressive jackpot. However, Casino Del Rio does have several other progressive jackpot slots, including Beach Life, Cinerama, Diamond Valley, Fruitmania, Gold Rally, Safecracker and more.
I'm a US-based player. Where can I play Tropic Reels?
Unfortunately, due to the UIGEA, American players cannot play at the Playtech casinos which host the Tropic Reels slot machine. However, there are several US-friendly online casinos with equally fun slots, such as Go Casino. Go Casino features lots of slots tournament and a deep variety of slots to choose from.
Related Questions:
Alternative Ways to Ask/Incoming Search Traffic:
The answer to the question Tropic Reels Multispin Slot Guide & Review is also applicable for the following questions:
Where can I play the Troop Reels flash game?