Haunted House is a 3-reel, 5-line multi-coin slot machine from Playtech. You can play Haunted House at Europa Casino and Casino Bellini.
Haunted House is a vampired-themed reel slot machine. There are several slot machines called "Haunted House" on the many different casino platforms, but for the purposes of this review, we will be referring to the Playtech version. The symbols in the game are: garlic, candle, chalice, knife, coffin and cross. There are eight different winning combinations in total. Here is a screenshot of the Haunted House slot machine: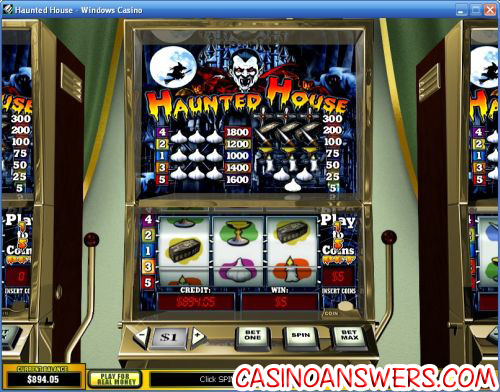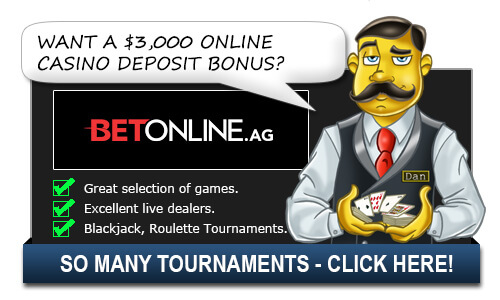 To play the Haunted House slot machine, choose a coin value. There is a decent amount of choice in coin values available, including $0.05, $0.10, $0.25, $0.50, $1, $2 and $5. From there, you must choose how many coins you wish to play. The number of coins you play will determine how many of the paylines will be active. To play all five, hit "Bet Max" and you will spin the reels. To play less than five, hit "Bet One" the desired number of times and then the "Spin" button. Spooky music will play as the reels spin. If a winning combination comes up on one of the active paylines, you will be paid out your winnings. Casino Answers strongly recommends you play the maximum bet at all times on Haunted House.
Payouts in the Haunted House slot machine are as follows: 1 garlic symbol (5), 2 garlic symbols (25), 3 candle symbols (50), 3 chalice symbols (75), 3 knife symbols (100), 3 casket symbols (200), 3 cross symbols (300), 3 garlic symbols (1000/1200/1400/1600/1800). The top payout depends on which line the winning combination falls on.
The 1800 coin top jackpot on Haunted House is the garlic symbols. To be eligible to win the top jackpot, you must be making the maximum bet. To win the jackpot, you must hit three garlic symbols on the fifth payline. If you get three garlic symbols on any other payline, you can still win 1000, 1200, 1400 or 1600 coins.
The Haunted House slot machine has an autoplay feature that you can find in the game menu. In the simple mode, you can set the number of spins to play automatically (up to 9999), the delay between spins, to stop on jackpot win, to stop if a single win is more than any value you enter, to stop when your overall win more than a value you can enter and to stop when your overall loss is more than any value you enter. You can stop the autoplay feature at any time.
Haunted House is a ghoulishly fun slot machine by Playtech that we think horror buffs will get a kick out of. It's nothing too complicated, but it's got a decent top fixed jackpot for a reel slot and some other sizable possible pay outs as well. If you're looking for the best Playtech casino to play Haunted House at, you can get 100% up to $100 deposit bonuses for one whole year plus $25 weekly bonuses at Europa Casino!
Additional Haunted House Questions:
Are players based in the United States allowed to play Haunted House?
Unfortunately, Playtech casinos are not US-friendly, so USA players will have to go somewhere else such as Millionaire Casino to play. For more on Millionaire Casino, you can read our in-depth review on Millionaire Casino.
What other casino software platforms have Haunted House slot machines?
Cryptologic casinos such as Casino Joy have their own Haunted House video slot.
Where can I play the Haunted House online slot game?
You can play Playtech's Haunted House slot machine at Europa Casino and Casino Bellini. For more on Casino Bellini, please read our Casino Bellini Review.
Where can I read more Halloween slot reviews?
If you want to read more Halloween-themed slot game reviews, please read our list of Halloween slots.
Related Questions:
Alternative Ways to Ask/Incoming Search Traffic:
The answer to the question Haunted House Playtech Slot Review, Q&A, Flash Game, Rules is also applicable for the following questions:
Are there two haunted house slot machines? What is a scary slot machine?