SWAT Team is a 3-reel, 1-line multi-coin slot machine developed by Microgaming with a wild multiplier symbol. You can play SWAT Team at Bovada.
SWAT Team Game Description
SWAT Team's theme is a SWAT team consisting of bugs. We're going to go by the assumption that you get the joke. The symbols in SWAT Team are a bug swatter, bar symbols in the shape of bullets, a member of the SWAT Team and the SWAT Team logo. Here is a screenshot of the S.W.A.T. Team slot machine: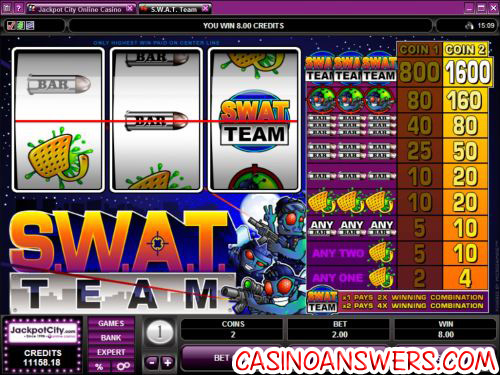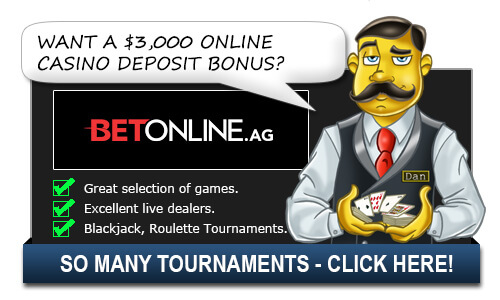 SWAT Team Betting Options
To play SWAT Team, pick a coin value. The values available to you are $0.25, $0.50, $1, $2 and $5. You can play either one or two coins. You can set your number of coins by clicking "Bet One" or clicking on the paytable. When you're ready to spin the reels, hit the "Spin" button. Hitting the "Bet Max" button will spin the reels using two coins at your chosen coin value. We would say that a fly "buzzing" sound effect plays when you spin the reels, but every Microgaming slot machine uses that sound effect. SWAT Team's minimum bet is $0.25 per spin and its maximum bet is $10 per spin.
SWAT Team Special Feature
SWAT Team has a special feature – a wild multiplier symbol. A SWAT Team symbol will double any winning combination that it completes. Two SWAT Team symbols will quadruple any winning combination it completes. The SWAT Team logo is also the top fixed jackpot of the game, worth 1600 coins. Hit these jackpots to win big at Bovada!
SWAT Team Payout Schedule
Payouts on the SWAT Team slot machine are (1/2 coin payouts in parenthesis): 1 Swatter symbol (2/4), 2 Swatter symbols (5/10), 3 of any Bar symbols (5/10), 3 Swatter symbols (10/20), 3 Single Bar symbols (1/20), 3 Double Bar symbols (25/50), 3 Triple Bar symbols (40/80), 3 SWAT Team Bug symbols (80/160) and 3 SWAT Team Logo symbols (800/1600).
SWAT Team Autoplay Mode
Hit the "Expert" button to switch the SWAT Team slot machine into expert mode. You will now have the option of using SWAT Team's autoplay feature. You can either hit the 5X and 10X button to play 5 or 10 autoplay spins with no advanced settings or you can hit the "Autoplay" button for more options. Here you can choose your spin settings: number of spins (5, 10, 25, 50, 100, 250 or 500) and the number of seconds between spins (0.25, 0.50, 0.80 and 1.50). Stop settings available to you will be: to stop once all spins are complete, to stop when the jackpot is won, to stop if a win exceeds or equals ($25, $50, $100, $250, $500, $1000 or $2500), to stop on any win or to stop if credits increase/decrease by ($25, $50, $100, $250, $500, $1000 or $2500). Unfortunately, Microgaming does not allow you to input your own values. You can stop the autoplay feature at any time.
SWAT Team Summary
SWAT Team has a cute theme and is easy to play. There is nothing special to it, but if you are looking to play a Microgaming slot machine, we don't think you can go wrong by playing a few spins of SWAT Team. To play SWAT Team, you can take advantage of the 100% up to $100 signup bonus at River Belle Casino.
Additional S.W.A.T. Team Slot Questions:
Where can players from the US play the SWAT Team slot?
Players from within the United States are not able to play the SWAT Team slot machine for real money. If you're in the mood for a bug-themed slot machine, you can try Travel Bug out with $20 free cash at the US-friendly Superior Casino.
Related Questions:
Alternative Ways to Ask/Incoming Search Traffic:
The answer to the question S.W.A.T. Team Slot Review, Q&A, Flash Game, Rules is also applicable for the following questions:
Are there any cop game slot machines? Are there any police swat slot machines? Are there any casino games based on SWAT? Where can I play a bug themed slot game? SWAT team online slots,