I have to admit – sometimes I underestimate the game of slots. I've written on here before about how simple slot machines are and how you can't really do anything wrong – and while at their core that is true, many slot machines with all their bonus games and wacky features like "nudge" and "hold" can actually be a bit complicated to play.

First lets discuss slot machines at their core. Here are what slot machines look like at live casinos: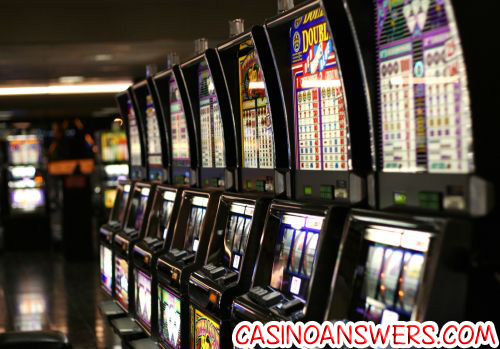 And here is an example of a slot machine at an online casino: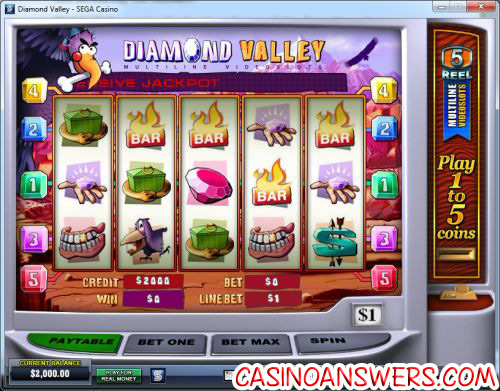 Slots at their core are very simple to play. You put your money in. Then you pull the handle. The reels spin, and then they stop. If certain symbols stop in a row on the payline, then you win money. If they don't, then you lost the money that you put in.
That's how you play slot machines.
Of course, there is more to it than that depending on the slot machine. For the ease of screenshot purposes, we are going to be using screenshots from the excellent online casino Slots Oasis Casino. Although these screenshots are all from an online casino, these are all applicable to the kind of slot machines you will find in Las Vegas and Atlantic City.
First of all, you will have your classic slot machine which is described above. A popular slot machine both in land and online casinos is the Sevens & Stripes Slot Machine. Here is a screenshot of that: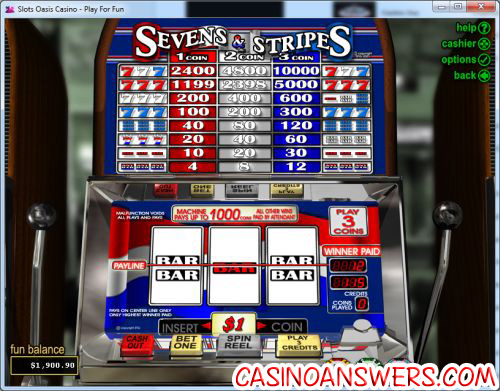 That is the most basic of all slot machines. You put in your money, you choose how many credits to play(the maximum 3 credits is the best slots strategy) then you spin and spin until you win.
Then there are video slots like the Shopping Spree slots: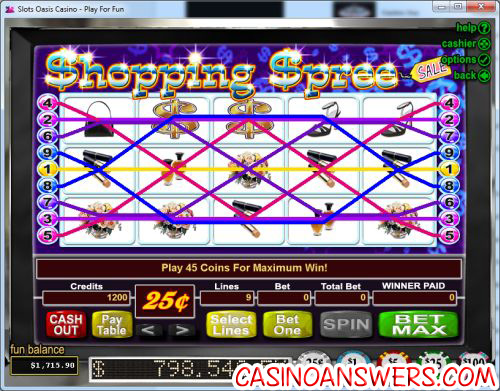 As you can see, with slot machines like this you get a variety of lines to play at, and there are 5 different reels. This particular slot machine allows up to 9 different lines to play, and you can bet up to 45 credits per spin. Again however these slot machines fundamentally are the same as a classic slot machine, just with a bit more glamour to them.
Notice the jackpot ticker at the bottom? That's the progressive jackpot ticker. Many slot machines have progressive jackpots, and those are the slot machines you generally want to play, because if the jackpot is big enough it may even give you the advantage when you bet.
These type of slot machines usually offer bonus games that allow you to get more bang for your buck. You've seen slot machines in casinos with bonus games – well these are very similar. Most slot machine bonus games will give you a multiple choice item to select, and when you pick one you win a random amount of credits.
Finally we have to talk about Fruit Machines. Fruit machines are practically the same as a slot machine, however you get the option to "hold" or nudge". Take this example in the Cops and Robbers Fruit Machine: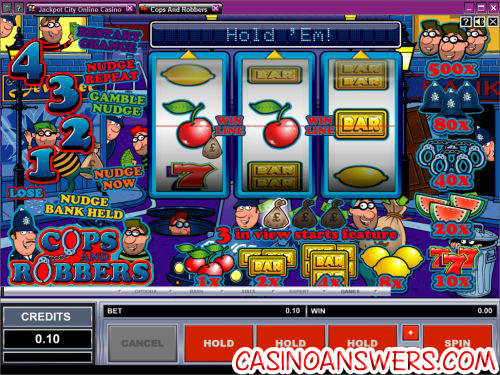 In that example, 3 money bags will allow you to start the feature or bonus game. So what you would want to do in this situation is hold the first reel and that will help you in regard to unlocking the feature. If you have the option to "nudge" that means you can move a reel down one. You can get multiple nudges in a game. If on that 3rd reel the cherry symbol was the one above the payline, you'd want to nudge that down to win money with three cherries.
And that's how you play slots. If you are looking for where to play slots – well if you're a big fan of fruit machines then we'd recommend Gaming Club Casino. However we also really have to recommend the amazing Interactive Slot Machines available at Slots Jackpot Casino.
Additional Slots for Dummies Questions:
(None yet)
Related Questions:
Alternative Ways to Ask/Incoming Search Traffic:
The answer to the question How Do You Play Slot Machines? is also applicable for the following questions:
Slot Machines for Dummies? Complete idiots guide to slot machines? How to play slots? How to play slot machine games?