The Hulk is a 5-reel, 9-payline video slot from Cryptologic. It is based on the Marvel Comics series The Incredible Hulk, one of the most popular and well-known comic book characters around. The Hulk slot has a bonus game, scatter wins and three progressive jackpots. Hulk can be found at Cryptologic casinos including InterCasino and Casino Joy.
Unlike many Marvel Jackpot Slots, Hulk uses a lot of 3D-type graphics for its symbols rather than 2D comic book style symbols. It's a slot machine based on the Incredible Hulk, so you can only expect that there will be a lot of green involved in the look of the slot. Here's a peek at Cryptologic's Hulk slot machine: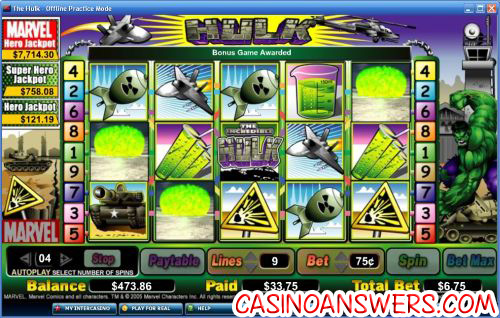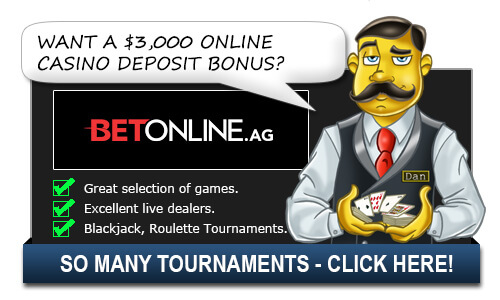 You can bet $0.05, $0.10, $0.15, $0.20, $0.25, $0.50, $0.75, $1, $2, $3, $4 or $5 per line on the Hulk video slot, making the maximum total bet $45. Casual players are more likely to be betting $0.25 or $0.50 per line on a spin, which would be $2.25 or $4.50 respectively. Either way, if you're a high roller or casual player, the Hulk slot machine has a betting option for you.
The Hulk's highest payout is a sweet 10,000X if you hit 5 wild substitute logos. The substitute symbol is the Incredible Hulk logo, unlike most Marvel Jackpot Slots, where the substitute will be the main character's face. The scatter symbol, which is most commonly the logo, is a radiation logo. The animation when you get a scatter win with radiation logos is a giant explosion and looks great. Scatter wins are multiplied by your total wager, are paid separately of the lines selected and are added to your payline wins.
If you manage to have three of these radiation scatter logos appear, you will activate the Hulk Smash bonus game. In the game, The Hulk must located and destroy a secret weapons lab. First, you have a choice of whether to smash a tank or helicopter and a prize will be awarded accordingly. After that, you'll have a second stage with the tank and helicopter. Finally, you will enter the labratory and if Hulk destroys it, you will win more prizes. Hulk has a life meter and if he takes too much damage during these tasks, the game will end. The Hulk Smash bonus game has some great graphics and even better, chances to win big: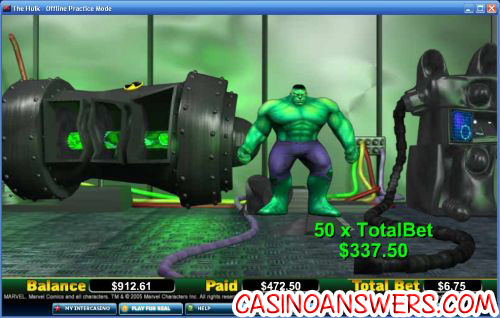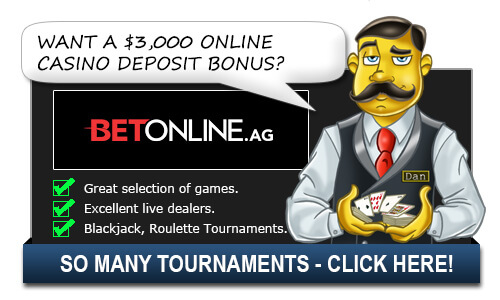 The Hulk has three progressive jackpots: Hero, Super Hero and Marvel Hero. Hero starts at $50 and is often won every hour. Super Hero starts at $500 and is won every hour or two. Marvel Hero starts at $5,000 and is won every two or three hours. These jackpots add an extra dimension the Hulk slot's gameplay, as they are won randomly and don't require any matching symbols to win. Make sure to bet as much as you can per spin to maximize your odds of triggering one of these progressive jackpots.
The Hulk video slot is another great Marvel Jackpot Slot brought to you by Cryptologic. To get the best bonus to play Hulk, you can find a 100% up to $225 signup bonus over at InterCasino. In addition to that signup bonus, InterCasino is always running special promotions, including monthly reload bonuses for existing players.
Additional Hulk Comic Slot Questions:
I'm in the United States and looking for an online casino where I can play the Hulk slot. Can I find one?
No, none of the Cryptologic casinos are accepting players from the US at this time. Have a look at some RTG casinos such as Bovada.
How many Incredible Hulk slot machines are there?
Out of all of the comic book characters who have received slot machine treatment, Hulk has the distinction of having the most – three. There are two at Cryptologic – this one and the Hulk Ultimate Revenge slot. There's also a Playtech Hulk video slot based on the most recent film.
Which Hulk video slot should I play?
Quite simply, play them all! Each of the games is a lot of fun, they each have great bonus games and they all offer you the chance to win a lot of cash. This goes double for you if you're a big Hulk fanatic.
Related Questions:
Alternative Ways to Ask/Incoming Search Traffic:
The answer to the question Hulk Marvel Comic Video Slot Info, Review, Q&A, Flash Game, Rules is also applicable for the following questions:
Where can I play the Hulk slot machine? What marvel comic slots are there? Is there an Incredible Hulk video slot?