If you thought they had run out of ideas for new slot machine games, now you can play a video slot based on the Hollywood movie Forrest Gump at InterCasino. The Forrest Gump video slot opens with a video cutscene with clips from the very memorable 1994 film that starred Tom Hanks. It's a 5-reel, 25-line video slot. It has two features – Box of Chocolates free spins and a Run Forrest Run bonus game. Forrest Gump also has five different progressive jackpots.
Forrest Gump features art inspired by the movie. The symbols include Forrest Gump, Jenny, Lieutenant Dan (as a hippie), Forrest's house, ping-pong paddles, an army helmet, a football, a peace symbol and Bubba's hat. The substitute/wild symbol is Forrest on a bench. The scatter symbol is a box of chocolates. Here's what the Forrest Gump video slot looks like: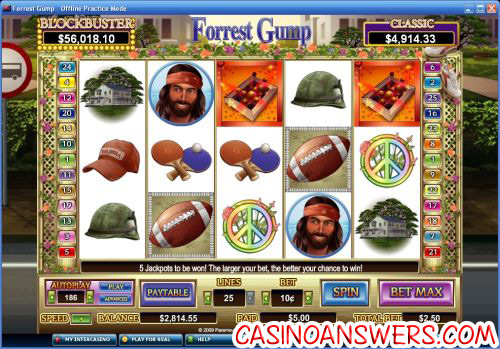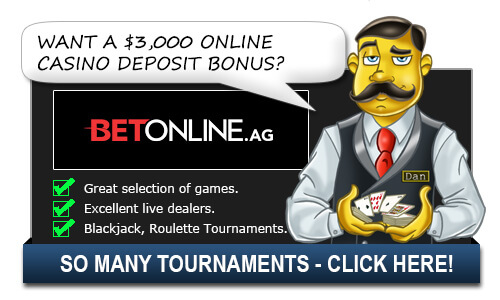 Forrest Gump has randomly won 5 Progressive Jackpots. These are Smash, Epic, Classic, Acclaimed and Blockbuster. Each successive jackpot listed is greater than the previous one. For an example, at the time of this writing, the Blockbuster Progressive Jackpot is currently at $120,582.36. The jackpot certainly lives up to its name. In the Hollywood Jackpot game, you can make up to four selections to reveal film reels and move up the jackpot ladder. The Gold, Silver and Bronze reels award 10, 5 and 3 points. The more points you have, the higher jackpot you have a chance to win. If you move up a new jackpot level, the selection area will be reset and you have four new selections to make. You cannot win these jackpots during free games.
The Run Forrest Run bonus game harkens back to Forrest's football days. It's triggered whenever three or more footballs appear together on a single played line. When you trigger the bonus game, it starts off with a cutscene from the movie. In the game, for every 10-yard line you pass, you win more money. If you score a touchdown, you will also get a Touchdown Bonus. To play, you move the arrow keys left and right to dodge your opponents who will be trying to tackle you. Personally, I was able to activate the Run Forrest Run bonus game three times, and each time got tackled at 90 yards. Here's what the Run Forrest Run bonus game looks like: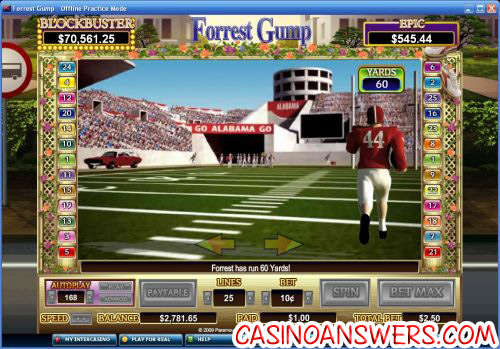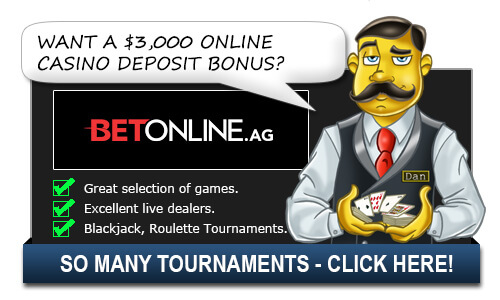 If you receive three Box of Chocolate scatter symbols on any played lines on a spin, you will unlock the Box of Chocolates free spins. Automatically, you are given five free spins and you must pick the right boxes of chocolates to win more free spins. There are nine boxes of chocolates to choose from.
With two different features, great cutscenes and sound clips straight out of the movie, Forrest Gump will make for an excellent gaming experience for any fan of the movie. Not only is it a lot of fun, but there are lots of chances to win big! Try it out at InterCasino!
Additional Forrest Gump Questions:
Does the Forrest Gump slot machine have any progressive jackpots?
It has five! They are (in order) the Smash Jackpot, Epic Jackpot, Classic Jackpot, Acclaimed Jackpot and Blockbuster Jackpot. The jackpots are awarded randomly – you don't even need to match any symbols to win! However, the more you bet, the more you will increase your chances of winning the jackpot.
Where can I read more reviews of slots based on movies?
If it's movie slots you want, check out all of the video slots that are based on films on our list of movie-themed slots.
Related Questions:
Alternative Ways to Ask/Incoming Search Traffic:
The answer to the question Forrest Gump Slot Machine Info, Review, Q&A, Flash Game, Rules is also applicable for the following questions:
Is there really a Forrest Gump slot machine? What movie slot machine games are there?