This is perhaps one of the most important questions we can answer when it comes to playing at online casinos. One of the problems people have with anything on the Internet is the security of their personal data/private information.
Well, the short answer and definitive answer is simply: yes. Yes, online casinos are safe. In fact, they are safer than they've ever been. The advances in software development mean that your personal data has never been more secure.
Online casino transactions are carried out over encrypted connections of ever increasing strength. This means that when entering your payment details, the information you is scrambled so that no-one can read the details you enter. Also, the information stored in a casino's database is encrypted and can often only be accessed by select individuals.
However, a player must also realize they have a part to play in ensuring their experience at an online casino is safe. They should make sure never to give out their account information to anyone, especially their password. Also, they should take care to give their business to reputable companies and, without sounding too cliche, the casinos we recommend are always reputable and you can always be sure that your private information is safe with them. All the sites we recommend, we would consider to be safe and secure, but if you want some recommendations on the best, we'll we're more than happy to oblige:
Bovada is a huge name, not only in the online gambling industry, but in many facets. They are a company that would have a lot to lose if their online security wasn't up to the standard of the rest of their company. You can sleep safe at night knowing you're gambling with such a large and prestigious company, as they'll do all they can to make sure your information is safe and secure. Simply put – they have a huge reputation to lose if they don't offer you the best service possible.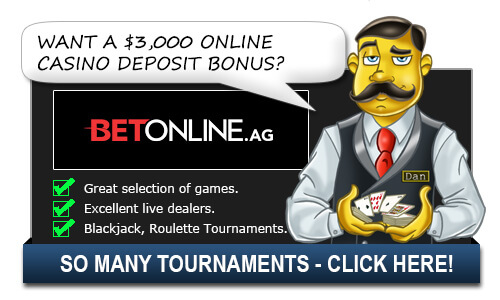 However, we must stress that every casino we promote is safe and secure, otherwise we wouldn't promote it. As long as you do the relevant research and keep your information safe and secure at your end, you should never have to worry about the confidentiality of your personal information at an online casino.
Additional Casino Safety Questions:
Will I get spam from an online casino?
The only e-mails you will get from an online casino are e-mails offering you special promotions and bonuses, or newsletters. There have been a few cases of online casinos selling their e-mail database to other online casinos however – we have tested this out with unique e-mail addresses and noticed this. It thankfully doesn't happen that often however.
Top Casinos for Americans

Related Questions:
Alternative Ways to Ask/Incoming Search Traffic:
The answer to the question Are Online Casinos Safe? is also applicable for the following questions:
Are my personal details safe at online casinos? Will an online casino keep my information safe? How dangerous is it to give my personal details to an online casino? Can I trust an online casino to keep my information safe? Will my personal information be made readily available?
Top Casinos for Americans