So you're wanting to play online scratch cards for free? Well – you can do that at practically any casino.
But what about the best places to play online scratch cards for free?
I mean – you might not think there is much of a difference but trust me, there is.
What you want is an online casino that will allow you to do the following:
Play their scratch cards for free
Play free scratch cards WITHOUT having to register an account
Not harass you every 2 or 3 cards to sign up at their online casino
Not block you after 5 minutes and tell you if you wish to be able to play you need to register
Not limit you in the amount of play money you have
Be available online so that within 1 minute of reading this post, you can be playing scratch cards for free
Offer a nice variety in scratch cards because some casinos they're all the same just with slightly different graphics
So with that in mind, here are the two best online casinos to play scratch cards at for free:
Slots.LV: First of all let me state that these guys go one better – they offer a $22 No Deposit Bonus so what that means is that not only are you playing for free, but you're actually playing with real money without risking any of your own, and can actually win real money.
On top of that however Slots.LV check all the boxes above(and accept Americans if you're from the USA). They offer a solid variety of scratch cards under their speciality section.
Ons such scratch card is Cast for Cash which is so well done it's like playing a video game. It has animations and it has a player fishing and so on and it's just a really cool type of game.
Slots.LV also offer games like Gunslingers Gold, Cavalier Cash and Beach Bums. Although my favourite is probably Itchin' 2 Win. This is a really fun game with some good payouts and it pays out fairly regularly. Plus you get to actually scratch a man to scratch his itch – which is silly but damn funny.
So yeah check out Slots.LV and get that $22 no deposit bonus.
The other option does NOT accept Americans. If you're not American though we'd highly recommend VideoSlots.com. This site is AMAZING. What they do is they license their casino games from a variety of diferent software providers – over 50 at last check.
What that means is you're not restricted to the same old scratch card every time. There is a massive variety of them meaning you get to try out all different scratch cards with different themes and features.
Be sure to check out Bunny Boiler Gold there as well because this one is insane – it's like an adventure game and it's a whole new take on scratch cards. I was testing a few out before writing this review and I must admit I got hooked on it. Just look at it: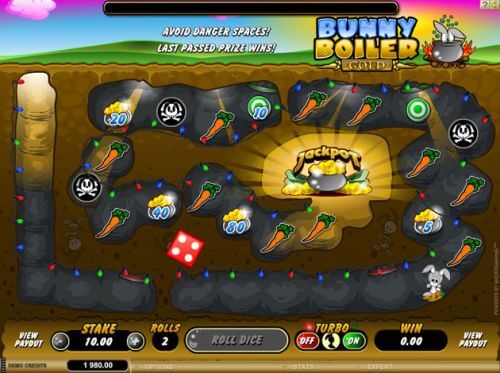 Seriously if you enjoy scratch cards, head on over to VideoSlots.com
and play Bunny Boiler Gold today.
Additional Free Online Scratch Cards Questions:
None Yet
Related Questions:
Alternative Ways to Ask/Incoming Search Traffic:
The answer to the question Where To Play Online Scratch Cards For Free? is also applicable for the following questions:
Free scratch cards online, free online scratch cards,