Weed Whacker is an instant win online scratch card developed by Top Game. You can play the Weed Whacker scratch card game at Bovada.
Weed Whacker Game Description
Weed Whacker is a lawn mowing themed scratch card. It takes place on a lawn and your character is mowing the lawn. You have to mow the lawn over top of each of the six symbols to reveal the prize value symbols. The Weed Whacker scratch card is fully animated with whistling music that fits its theme very well. For a look at the Weed Whacker scratch and win card from Top Game, a screenshot has been provided below: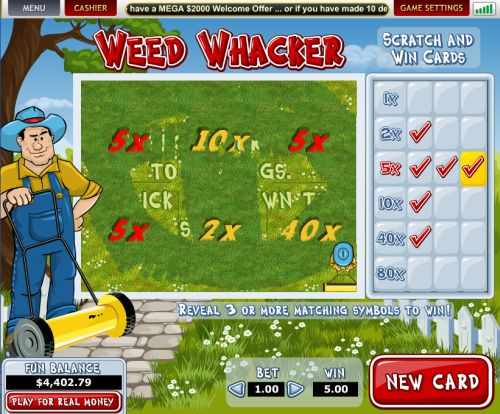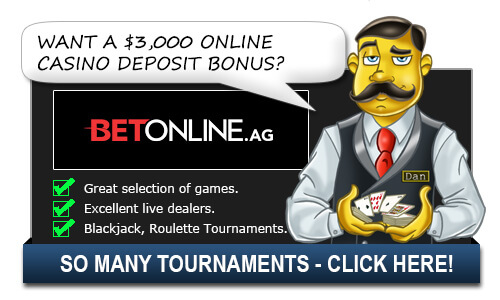 Weed Whacker Betting Options
The Weed Whacker casino game is a nickel scratch card ticket. You can bet $0.05, $0.10, $0.25, $0.50, $1, $3, $5, $7 and $10 per ticket on the Weed Whacker instant win scratch lottery game. Weed Whacker has a decent betting range for most online scratch card players. To play Weed Whacker, select your bet and press the "New Card" button. Then you can either scratch the ticket manually or press the "Reveal" button to automatically scratch the entire ticket (or mow the entire lawn).
Weed Whacker Top Payouts
The highest prize value on the Weed Whacker scratchie is 80X. You can win 80X your bet by matching three 80X symbols on the Weed Whacker scratch ticket. To have fun and win on the Weed Whacker scratch card, play it now at Bovada!
Weed Whacker Payout Schedule
There are 6 winning combinations on the Weed Whacker scratch card. The complete payout schedule is as follows: 1X, 2X, 5X, 10X, 40X and 80X. By betting $10 on a game of the Weed Whacker scratch lottery ticket, you can win up to $800!
Weed Whacker Summary
Weed Whacker is currently the only scratch card game being offered at Top Game casinos. If its quality is any indication of future scratch card games from Top Game, We look forward to seeing more. You can play the Weed Whacker scratch & win game at Bovada.
Additional Weed Whacker Questions:
Can American players play the Weed Whacker scratch card for real money?
Yes, USA players are welcome to play the Weed Whacker internet scratch card game at Top Game online casinos such as Bovada.
Is there a Weed Whacker flash game available that I can play for free?
Unfortunately, there is no flash game available for the Weed Whacker scratch card. For scratch card flash games that are USA-friendly, please visit Bovada.
Where can I read more online scratch card reviews?
If you want to read more reviews of other scratch ticket games, please visit our Scratch Cards section for much more!
Related Questions:
Alternative Ways To Ask/Incoming Search Traffic:
The answer to the question Weed Whacker Scratch Card Review is also applicable for the following questions:
Weed Wacker Scratch Card,