Bingo Scratch is a bingo scratch card game developed by CTXM. You can play Bingo Scratch at US-friendly online casinos Juicy Stakes Casino and Bovada.
Bingo Scratch is not only a scratch card, but a bingo game as well. In the game, you must scratch 18 panels on the right side of the screen. Behind each panel is a number. As you are scratching your scratch card, the corresponding number on the bingo card at the left side of the screen will be daubbed. Here is a screenshot of an unscratched card of the Bingo Scratch specialty game: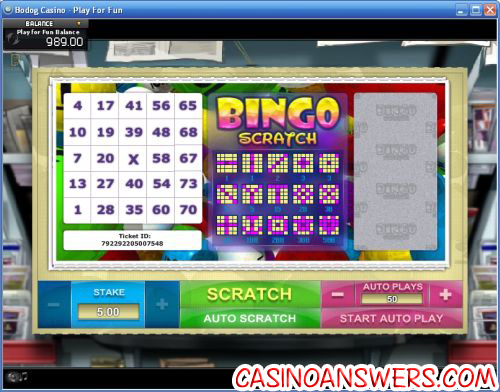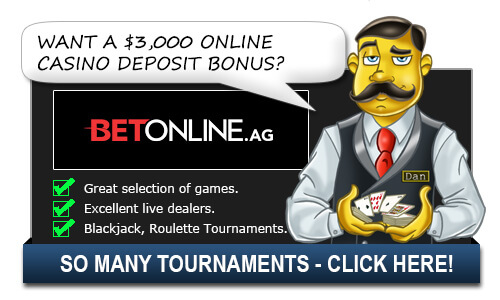 To play Bingo Scratch, you must first select your stake. You can bet $1, $2, $3, $4 or $5 per game of Bingo Scratch. Hit the "Buy New Card" button to start a new game. A new card will be generated. Take your penny, press down on the left mouse button and scratch the card. As you scratch, you will see a green "X" if a number on your scratch card matches the bingo card on the left side of the screen. Alternatively, you can use the "Scratch" button to automatically scratch your scratch card. Also, you can turn on the "Auto Scratch" button that will scratch every new scratch ticket.
To win on Bingo Scratch, you must daub numbers to match one of the fifteen patterns in the game. Some of the patterns include horizontal and vertical lines in the center of the bingo card, a diagonal line, four corners, a "Y," a "T," an "X," a cross, a circle and anchor, a heart and more. Here is what Diamond pattern looks like: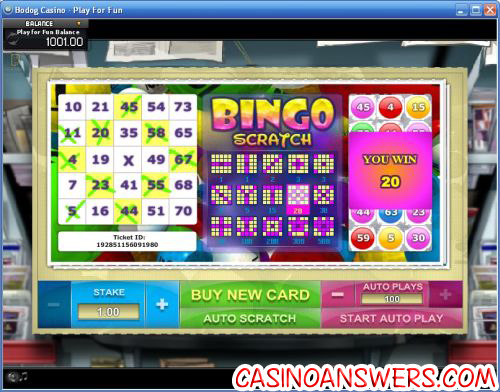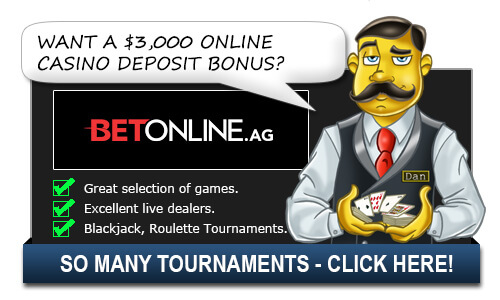 Payouts on the Bingo Scratch game depend on the pattern. Payouts are: 1X, 2X, 3X, 5X, 15X, 20X, 30X, 50X, 100X, 200X, 300X and 500X. The top jackpot is the Heart symbol at 500X your stake.
If you're looking to play a lot of games of Bingo Scratch, you can use Bingo Scratch's autoplay feature. Using it, you can play up to 100 auto plays. Use the "+" and "-" buttons to select the number of games you wish to play and hit the "Start Auto Play" button. The game will scratch your cards for you. To stop the autoplay feature, hit the "Stop Auto Play" button.
Bingo Scratch is a very unique and interesting game. It's ideal for both bingo and scratch card players. To play the Bingo Scratch specialty game, use the bonus code coupon DealerDan when you sign up at Juicy Stakes Casino!
Additional Bingo Scratch Questions:
Can USA casino players play Bingo Scratch for real money?
Yes, US players are welcome to play Bingo Scratch at both Juicy Stakes Casino and Bovada Casino.
How can Mac users play the Bingo Scratch game?
Macintosh users in addition to other players who don't wish to download any casino software can play Bingo Scratch and many other games at the
website. If you experience any issues with the Instant Play casino, make sure you have the latest edition of Adobe Flash Player installed on your computer.
Related Questions:
Alternative Ways to Ask/Incoming Search Traffic:
The answer to the question Bingo Scratch Card Review, Q&A, Flash Game, Rules is also applicable for the following questions:
What bingo casino scratch card games are there?