When it comes to casino games, Roulette is really the simplest game of all. There's a Roulette Wheel. There's a ball. The wheel is going to spin, and you're betting on where the ball stops bouncing, and what slot it lands and stays in. Simple as that.
Where Roulette can get complicated, is all the betting options that you actually have.
First for this example, we'll be using a traditional European Roulette wheel as shown below: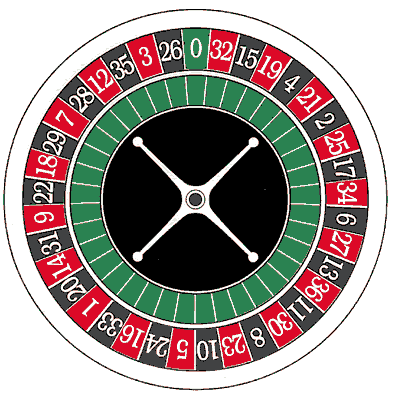 The other popular form of Roulette is American Roulette. Both wheels have the numbers one to thirty six and a zero slot. The only difference is the American Roulette wheel also has a double zero slot. This means that with standard bets, you are better off playing European Roulette, because the odds of winning on odd or even bets or bed or black bets are 1 in every 37 bets, compared to the American Roulette wheel where it is 1 in every 38 bets.
(If you are looking to play European Roulette, hit up Vegas Days Casino)
Here is the full betting layout for Roulette: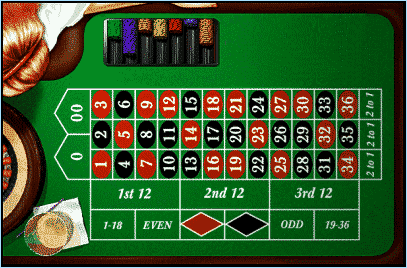 As mentioned, you are placing bets on where the ball ends up. You may want to play along with our Roulette Flash Game, where you can take it slow and get to understand the game and how it works, as you read our Roulette Rules. We highly recommend practicing Roulette first before hitting up a live casino, or even a live dealer casino that offers Roulette, as the betting can get fast and furious, and can be hard to keep up if it is your first time playing Roulette.
Here's an online casino roulette game in action: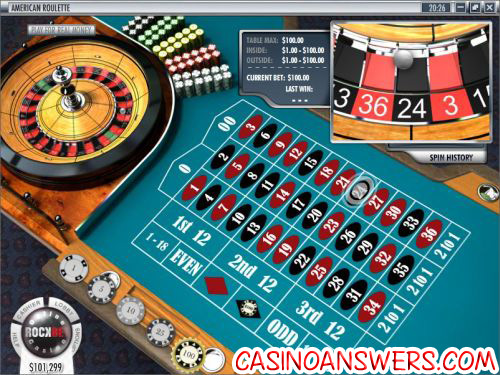 Cool, huh? That screenshot is taken from Rockbet Casino if you want to try it out. It's free.
All you will be doing is placing a bet on where the ball will land, and settle. That's it. You are able to place your bets until the dealer drops the ball, at which point they will state "No more bets" and you cannot place any more bets until the next game of Roulette.
That's really it. There are of course a variety of bets, which you can read in our What Type of Roulette Betting is there? If you want to mix it up and have fun, there is a variety of betting options including split bets, trio bets and six number bets. If you're looking for even more fun, then be sure to read our article on the Best Roulette Betting System, as betting systems can add a lot of spice to the game.
That's really it when it comes to Roulette. First of all for Americans, a great place to play Roulette is Lucky Red Casino. However if you are outside of the US, we highly recommend – Americans might want to stop reading at this stage – Europa Casino. You see, Europa Casino offers not just Roulette – they offer 3D Roulette, Club Roulette, Live Dealer Roulette, Wild Viking Roulette and a lot more variations of this game. So yeah, if you're not an American, then head on over to Europa Casino and ENJOY.
Additional Roulette Rules Questions:
(No additional questions)
Related Questions:
Alternative Ways to Ask/Incoming Search Traffic:
The answer to the question What are the Rules to Roulette? is also applicable for the following questions:
How do you play Roulette? Where can I find roulette rules online? Where is there a roulette beginners guide for dummies?