When it comes to playing casino games online, there are a few options for games. You may play games online all the time and may have won, but not won a progressive jackpot win. When it comes to this type of win, will an online casino actually pay out if you win big? How will it do so? We're here to tell you, so read on to find out.

Will An Online Casino Actually Pay Out a Progressive Jackpot Win?
Progressive jackpot games are on the rise, and there are many different types of games offered by digital casinos that may result in sizable prizes to the players. Slot games now offer progressive jackpots, as do video poker, card games, and table games.
What Happens When I Win One of These Jackpots?
Winning a progressive jackpot is exciting and fun! What usually happens is that a message will show up on the game you are playing. The message will pop up and alert you to the fact that you've won and then transfer the winnings to the balance of your casino account.
The jackpot will be set back to the normal amount where it can rise back to the value. You should see the winnings instantly in your account, but it is online.
Give it a few moments to transfer or check the FAQs of the site.
What If My Winnings Don't Transfer?
First, you'll want to be familiar with the policy of the site. By which we mean, if you know the standards and regulations of the online casino that you are playing at, then you'll know what to expect (and whether the sum not showing up instantly in your account is a problem). Many online casinos pay the lump sum of the progressive jackpot out instantly, so if you do not see the earnings in your account, it could be due to a glitch in the system and things taking a bit longer than normal, or your Internet could even be acting up and the money is being credited to your account.
If you are really concerned, get in touch with the casino, whether phone or online. The will usually be very helpful and resolve any problems you may have, congratulating you on your win in the process. You may have to withdraw a certain amount at certain times, so be sure to be up on the terms and policies of the casino you're playing at before participating, because you don't want to be playing at a casino that actually pays out a jackpot like this eventually over a series of years– that's really not that much fun.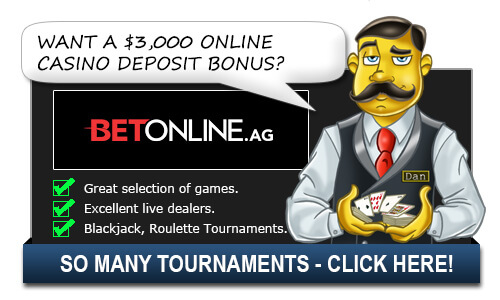 However, certain casinos may have a policy of shelling out in one payment, so take it if you can get it! If you think you might want that option if you do hit big, it pays (literally) to go to the casinos that offer the policies that you want. You'll get them as soon as you need them with a withdrawal; it's that easy.
Conclusion
Some online casinos will pay you out instantly, while others may take a while. It definitely is a matter of seeing what policies the various online casinos you're interested in have and going with the best of the bunch. If getting paid instantly is important to you, shop around and then play– you'll be better off for it!
Top Casinos for Americans

Additional Jackpot Payout Questions:
None Yet
Related Questions:
Alternative Ways to Ask/Incoming Search Traffic:
The answer to the question Will An Online Casino Actually Pay Out a Progressive Jackpot Win? is also applicable for the following questions:
Do casinos actually pay out jackpots?
Top Casinos for Americans