In regards to any game of chance, most commonly a slot machine, gamers can be presented with a progressive jackpot. A progressive jackpot, basically, is a jackpot in which a minor percentage of each wager (most commonly about 5%) is set aside so that it can be added to the total amount of the jackpot.
With that being said, the jackpot is able to steadily and incrementally increase until an individual wins it. Once the jackpot has been won, it will reset to a base amount (which is determined by the respective gaming establishment) and the process starts anew.

When taking a closer look at a progressive jackpot, you will note that it is quite similar to the jackpots assigned to older mechanical machines. Basically, in older machines, a proportion of the coins that were played are diverted as a measure of filling jackpots. This caused players to never truly know how much could be won within that system. In addition, it was made to be illegal within the state of Nevada which requires that all jackpot amounts ne accurately presented to players.
It does need to be mentioned that it is plausible that a progressive jackpot can be placed on a single slot machine. It is more of a standard that they are a number of slot machines that are linked together. Every one of the slot machines are then able to contribute to the progressive jackpot, which allows for it to grow rapidly. Keep in mind that even though slot machines are linked, there will still be a singular winner for the jackpot.
This type of machine connection is called a wide area progressive and in a variant of properties, differed countries and varied cities allows for the building of frequently rising jackpots. Such jackpots can reach the tens of millions before a winner is determined. The most widely known and popular of the wide area progressive jackpots is the Megabucks. It is advised that players NEVER play this game. Within the state of Nevada alone, the payoff percentage is horrid and truly not worth the gamble.
Other Games with Progressive Jackpots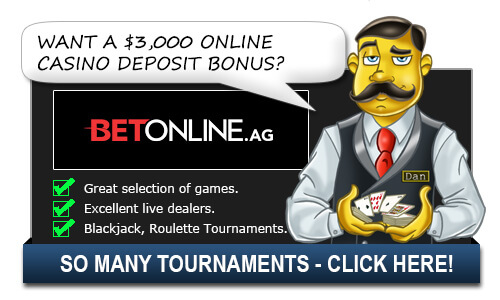 Although, up until this point, we have focused on slots; there are additional games that feature progressive jackpots. Most often, this type of jackpot is found in video poker. The payout arrives for players in the event that they receive a royal flush. There are a handful of poker games that offer players progressive jackpots in the form of "bad beat jackpots". In order to win a prize, a player will need to lose a sufficiently strong hand.
Additionally, there are online gaming outlets that offer players progressive jackpots for roulette as well as blackjack. Do note, that progressives will not be found in your neighborhood gaming establishments.
In Conclusion
Progressive jackpots are the primary reasoning behind the popularity of slots within global gaming establishments. It is the idea that a player may be able to win millions on a bet that consisted of merely a few dollars. Hopefully, we have explained to you what is a progressive jackpot.
Top Casinos for Americans

Additional Basic Progressive Jackpot Questions:
None Yet
Related Questions:
Alternative Ways to Ask/Incoming Search Traffic:
The answer to the question What is a Progressive Jackpot? is also applicable for the following questions:
Top Casinos for Americans