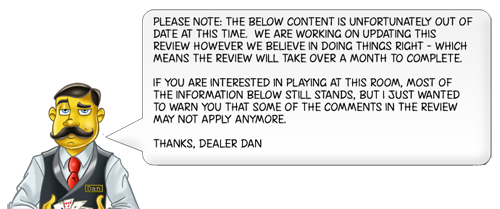 Ultimate Bet is one of the bigger poker rooms on the internet, and was one of the first sites to be able to advertise the ability to sit down and "Play with the Pros". Ultimate Bet is endorsed by "The James Bond of Poker" as Mike Sexton reguarly calls him, David "Devilfish" Ulliott. Team Ultimate Bet also boasts Howard Lederer's sister Annie Duke, Antonio "The Magician" Esfandiari and of course the ultimate bad boy of poker, Phil Hellmuth, who can regularly be found playing the high limit triple draw games at UB, yelling and swearing at his opponents over and over.
Ultimate Bet runs some fantastic promotions, has a large variety of games including Royal Hold'Em, some excellent tournaments, a visually different and appealing type of software, and is overall an excellent site definitely worth playing at.
Promotions: 100% to $500 sign-up bonus, 50k Wednesdays, Ultimate Winter Games, Poker Pro In Aruba, Get Rich on TV!
Ultimate Bet Software: Ultimate Bet have a very unique look, as they have went for the "realistic" view of a poker table, and the cards are shown as if you were holding them up to your face. The software is very easy to use, the cards are crisp and clear, and there is even a mini-view, to make it easier to multi-table, or if you're a Commodore 64 kind of guy. The software is also highly customizable, allowing you the option of four colour deck, change the backgrounds, turn off any of the sounds as well as various other settings so you can model the table and software to your needs. The lobby is easy to navigate and laid out well. poker software rating
Ultimate Bet Traffic: GMT Peak Time: 8000. EST Peak Time: 18,000. There is always a wide array of games to play in the North American evenings, at any level. poker traffic rating
Ultimate Bet Game Variety: Ultimate Bet offer some exclusive and rare games, including Royal Hold'Em, which is Texas Hold'Em, except only Tens through Aces are in the deck. This game attracts fish like you wouldn't believe, and is incredibly profitable if you know what you are doing. Ultimate Bet also offer 2-7 Triple Draw Lowball, Pineapple, and the standard Hold'Em, Omaha and Stud games, with limit, no limit and pot limit options, as well as Hi/Lo for both Omaha and Stud. poker game variety
Ultimate Bet Fish Factor: At low limits the games tend to be tight, and at high limits they tend to be loose and aggressive. Ultimate Bet isn't anywhere near the fishiest site on the internet, but with good table selection, Hold'Em, Stud & Omaha can offer some easy games. Also, games like Pineapple and 2-7 Triple Draw are very soft, due to the amount of "curious" players. Royal Hold'Em earns Ultimate Bet an extra poker fish as it attracts an unbelievable amount of fish, even after being around for almost a year. poker fish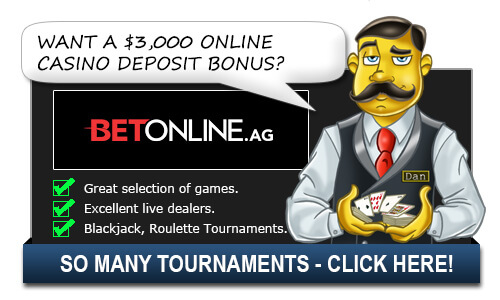 Ultimate Bet Bonuses:
Ultimate Bet currently offer a 100% to $500 deposit bonus, as well as entry into a freeroll. For every 10 Ultimate Points earned, you gain $1. They changed their rake/points structure in August 2005 however to make Ultimate Points harder to collect. The bonus is good for $2/$4 and above, but is a lot tougher to clear at lower limits. Ultimate Bet offer frequent reloads, sometimes on a weekly basis. poker bonuses promotions
Ultimate Bet Freerolls: Ultimate Bet offer approximately 10 freerolls per day, although they are usually either for $500 in bonus dollars, or for satellites into other tournaments.
Ultimate Bet VIP Club / Loyalty Rewards: By signing up at Ultimate Bet, you become a member of "The Ultimate Players Club". Earn points by playing poker here, both for amount of hands played and amount of time played, in both tournaments and cash games, as well as via surveys and other methods. You can use these points to enter tournaments, or use in their store where they have clothing, books, chipset and even a Harley Davidson and $10,000 cash!rn 50 Full Tilt points for 30 consecutive days, you gained entry to a special freeroll. poker loyalty rewards
Ultimate Bet Support: Support is on the average side. Responses have sometimes been slow, and not the response I was looking for, but support staff are friendly, and always trying to help. They provide e-mail support only. poker support
Ultimate Bet Deposit/Withdrawal Options: Neteller, Visa, Mastercard, Firepay, Citadel, Visa Electron, Delta, Moneybookers
DEALER DAN'S CASH IN
Dealer Dan Poker Review "Not the ULTIMATE poker room on the internet, but still a great one to play at, and a must-try. Just do ol Dealer Dan a favour, and put a bad beat on Hellmuth while you're there!"
Top Casinos for Americans

Additional Questions:
What games does Ultimate Bet offer?
Ultimate Bet has a great selection of games. Classics such as Hold 'Em, Omaha and Seven Card Stud are there at various limits, along with games such as Razz. Ultimate Bet has mixed games, such as HORSE. There is a diverse selection of tournaments to ensure there is something for every player.
Does Ultimate Bet have a deposit bonus for new players?
Ultimate Bet has a 111% first deposit bonus for new players, up to a maximum of $1,100.
Do Ultimate Bet offer monthly reload bonuses?
Frequently, Ultimate Bet offers reload bonuses to their players. They will be advertised through e-mails on the Ultimate Bet homepage.
What is the software like at Ultimate Bet?
The software at Poker Stars is the very good in terms of simplicity and ease of navigation. It is simple to navigate, uncluttered and totally customizable, so you can have the poker room looking how you'd like it. You can customize the cards, including a four color deck; you can change the look of the table or the background.
At the table, there's a colorful, clear, screen, where everything is easy to use and hard to miss.
Everything is simple when using the software at Ultimate Bet. Everything is neat and well structured and you should never get confused when playing at the tables on Ultimate Bet.
They also have a mini-view, so you can play multiple tables without any confusion. The site caters well for multi-tabling players.
Ultimate Bet also offers Mac users their own software, so everyone can play at Ultimate Bet.
Does Ultimate Bet have a loyalty store or rewards program?
Ultimate Bet's rewards program is called Rai$e, which rewards players for play on the site. As you pay rake and tournament fees, you'll earn points that can be redeemed for merchandise, tournament entries, and cash. The more points you collect, the further up the Rai$e program you get, which could include entries to live poker tournaments, free tournament play and also other exciting bonuses that aren't found at any other poker site.
Does Ultimate Bet have a Refer a Friend program?
Yes, Ultimate Bet Do have A Refer A Friend program, which allows you to earn up to $75 for every player you refer and each player you refer will receive a $50 bonus.
Does Ultimate Bet have a Bad Beat Jackpot or High Hand Jackpot?
At the moment, Ultimate Poker does have a substantial Bad Beat Jackpot. If you're at a jackpot table and you lose with quad eights or better, you'll earn a slice of the jackpot. Players at the table where the bad beat occurred also get a piece of the jackpot and even the players at other jackpot tables get their slice of the jackpot. So, while there is one loser, everyone is a winner at Ultimate Bet's jackpot tables, which is a unique change.
What countries and nationalities can play at Ultimate Bet? Can Americans play at Ultimate Bet?
Ultimate Bet allows everyone to play in their poker room, including American players.
How do I deposit money into Ultimate Bet?
Ultimate Bet offer a variety of deposit options, depending on what country you live in. Ultimate Bet's deposit options include: Bank Transfer, Credit Card, eWalletXpress, InstaDebit, Moneybookers, UKash, Western Union , Switch/Maestro/Solo
How do I withdraw money from Ultimate Bet?
You can only withdraw money from Ultimate Bet via Bank Transfer, Check, Credit Card, eWalletXpress, InstaDebit, Moneybookers, UKash, Western Union, as well as Switch/Maestro/Solo.
Are Ultimate Bet trustworthy? Is my money secure at Ultimate Bet?
Ultimate Bet had some controversy in January 2008, with a cheating scandal due to a special super user account. However, since then Ultimate Bet claims to have sorted all that out and have been working hard to reassure their users that their software is now fair and unbiased, especially moving to the CEREUS network, which prides itself on the water-tight security of the network.
Revisión de Ultimate Bet
¿Cuáles son los juegos de apuestas que ofrece Ultimate Bet?
Ultimate Bet tiene una gran selección de juegos. Clásicos como Hold 'Em, Omaha y Seven Card Stud, hay en varios límites, junto con juegos como el Razz. Ultimate Bet tiene juegos mixtos, tales como HORSE. Hay una gran cantidad de torneos para asegurarse que hay algo para cada jugador.
¿Tiene Ultimate Bet tiene un bono de depósito para nuevos jugadores?
Ultimate Bet tiene un bono de primer depósito del 111% para los nuevos jugadores, hasta un máximo de 1.100 dólares.
¿Ofrece Ultimate Bet bonos mensuales de recarga?
Frecuentemente, Ultimate Bet ofrece bonos de recarga a sus jugadores. Estos serán divulgadas a través de mensajes de correo electrónico en la página web de Ultimate Bet.
¿Cómo es el software en Ultimate Bet?
El software en Poker Stars es muy bueno en términos de simplicidad y facilidad de navegación. Es fácil de navegar, ordenada y totalmente personalizable, le permite tener la sala de póker luciendo tal como le gustaría. Puede personalizar las tarjetas, incluyendo un paquete de cuatro colores, puedes cambiar la apariencia de la mesa o en el fondo.
En la mesa, hay una pantalla colorida y clara, que todo es fácil de utilizar y difícil de perder.
Todo es sencillo cuando se utiliza el software de Ultimate Bet. Todo está limpio y bien estructurado, y que nunca puede confundirse cuando juega en las mesas de Ultimate Bet.
También tienen un mini-vista, para que pueda jugar varias mesas sin ningún tipo de confusión. El sitio es perfecto para los jugadores que prefieren varias mesas.
Ultimate Bet también ofrece a los usuarios de Mac un software propio, para que todos puedan jugar en Ultimate Bet.
¿Tiene Ultimate Bet una tienda de lealtad o un programa de premios?
El programa de premios de Ultimate Bet se llama Rai$e, que recompensa a los jugadores por jugar en el sitio. Como usted paga comisión y los honorarios del torneo, usted ganará puntos que pueden ser canjeados por mercancía, entradas a torneos, y dinero en efectivo. Cuantos más puntos acumule, estará más arriba en el programa Rai$e, que podría incluir entradas a torneos en vivo de póker, torneos emocionantes y primas gratis de otro tipo que no se encuentran en cualquier otro sitio de póker en otros.
¿Tiene Ultimate Bet un programa Refiera a un Amigo?
Sí, Ultimate Bet tiene un programa Refiere un Amigo. Recomendar un amigo le permite ganar hasta $ 75 por cada jugador que se refiere y cada jugador que remita recibirá un bono de $ 50.
¿Tiene Ultimate Bet un Bad Beat Jackpot o un High Hand Jackpot?
Por el momento, Ultimate Poker tiene un importante Bad Beat Jackpot. Si estás en una mesa jackpot y pierde con ochos quad o más, usted ganará una tajada del premio mayor. Los jugadores en la mesa donde el bad beat se produjo también conseguir una parte del premio e incluso los jugadores en las mesas de jackpot obtienen su tajada del jackpot. Así que, si bien existe un perdedor, todo el mundo es un ganador en las mesas de jackpot de Ultimate Bet, lo que es un cambio único.
¿Qué países y nacionalidades pueden jugar en Ultimate Bet? ¿Pueden los estadounidenses jugar en Ultimate Bet?
Ultimate Bet permite que cada uno juegue en su sala de poker, incluyendo los jugadores de EE.UU.
¿Cómo puedo depositar dinero en Ultimate Bet?
Ultimate Bet ofrece una variedad de opciones de depósito, dependiendo en qué país viva opciones de Ultimate Bet depósito incluyen: transferencia bancaria, tarjeta de crédito, eWalletXpress, InstaDebit, Moneybookers, Ukash, Western Union, Switch / Maestro / Solo
¿Cómo puedo retirar dinero de Ultimate Bet?
Sólo puede retirar dinero de Ultimate Bet a través de transferencia bancaria, cheque, tarjeta de crédito, eWalletXpress, InstaDebit, Moneybookers, Ukash, Western Union, así como Switch / Maestro Solo /.
¿Es Ultimate Bet de confianza? ¿Está mi dinero seguro en Ultimate Bet?
En enero del 2008 había cierta controversia con Ultimate Bet, por un escándalo de fraude debido a una cuenta de usuario super especial. Sin embargo, desde entonces, Ultimate Bet afirma haber ordenado todo y han estado trabajando duro para tranquilizar a sus usuarios de que su software es ahora justo e imparcial, sobre todo moviéndose a la red CEREUS, que se enorgullece de la seguridad a prueba de todo en la red.
What is the Calgary Flames Contest at UltimateBet.com?
For all those hockey-loving poker players out there, this is an amazing contest! You could win 2 tickets to watch the Calgary Flames take on the Ottawa Senators in Calgary. All you need to do is participate in one of the daily qualifiers. The daily qualifiers are held every 3 hours from 6am to Midnight (Eastern Time). The top 100 finishers in each qualifier will compete in the following Sunday's Main Event. The four main events in January will be held on the 10th, 24th, and 31st.
If you win the Main Event, you will be on your way to Calgary! The prize package includes 2 tickets to the March 11th game in Calgary and $1000 for travel expense that will be deposited into your UB account. There are 8 tickets available to win, so visit Bovada to get started.
What is the UltimateBet.net Play Chip Hall of Fame?
Bovada wants to give recognition to those that deserve it. Rack up 10 million chips at UltimateBet's free online poker tables and they'll etch your name onto their Hall of Fame wall plus give you access to a special bonus.
UltimateBet will also reset your chip count to 20,000 after you've reached the top so that you can climb your way to greatness again.
Can Americans play at Ultimate Bet?
Bovada allows everyone to play in their poker room, including American players. It is an extremely accommodating poker room. Another sites that welcomes US residents is
Top Casinos for Americans