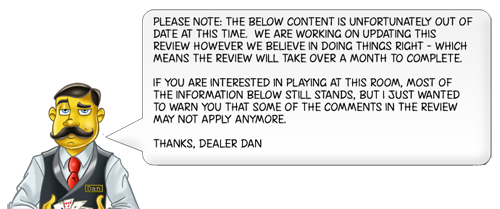 Poker Host is owned and operated under SBG Global, one of the biggest and most respected online sportsbooks. A site ripe with promotions, and full of sportsbook fish, it unfortunately drags due to their amateurish software, which makes it hard to navigate the lobby, yet alone one-table or multi-table. They are building a solid community with their recently-added poker forums.
Promotions: 110% to $500 sign-up. 30% & 100% Instant Cash Bonuses. Pokerhost Fabulous Millionaire Challenge. 10 Daily Freerolls, Wild Poker Nights, High Hand of the day, Testosterone Tuesday, Cracked Aces Tuesday, Ladies Night.
Poker Host Software: Poker Host's lobby, with options at the top, middle and bottom of the screen, along with a patterned background, extra buttons(Sportsbook and Casino), scrolling text and various text blurbs at random places make the lobby appear amateurish and cluttered. Also, clicking on Single or Multi Table Tournaments opens up an extra "Tournament Lobby".
Also opening up tables, at times, can cause a delay while the software states that it is "connecting" to the table, which can take 20 seconds. Sometimes it wouldn't connect at all, or would give me messages while playing saying my connection has became "corrupted" and suggest it was my internet connection, although (a) I was playing two other poker rooms at the same time, and (b) I could see the table still in action, while it claimed I was disconnected.
There was also some odd navigational instructions, for example if I tried to sit at a table with less money than the buy-in, I was told to go to the lobby and click cashier, although I could just click the cashier button at the top of the poker table. The table graphics were average, however again the table felt cluttered with buttons to click at the bottom left, middle of the screen, and also a row of buttons along the top. Pokerhost offer the ability to change the table skins, although unfortunately the few selections they currently have only offer a different colour scheme. Overall, despite some good features including readily-available statistics, hand strength indicator and an excellent hand history replayer, Poker Hosts software, layout wise, is in need of a big overhaul. poker software rating
Poker Host Traffic: GMT Peak Time: 600. EST Peak Time: 1500. All traffic is generally towards the Hold'Em Cash & Tournament games. Poker Host also spread Omaha & Stud, but there is very rarely anyone there. poker traffic rating
Poker Host Game Variety: PokerHost offer the industry standards, Hold'Em, Omaha and Stud, with the usual Limit, No Limit and Pot Limit variants, as well as Hi/Lo options for the lsat two. Unfortunately due to the majority of their traffic being from the Sportsbook, Hold'Em games are usually the only ones available, and those are usually No Limit. Fortunately however, these are all fish! poker game variety
Poker Host Fish Factor: Poker Host excels in one regard; the fish. Dominated by the Sportsbook crowd, their tables are usually filled with No-Limit Hold'Em seeking action junkies, with 50% seeing flops on most tables and at most limits. poker fish
Poker Host Bonuses: Pokerhost offer a 110% bonus to $500 on your initial deposit, and will have monthly reloads offered. All bonuses clear as you generate rake at the site, at 50% rakeback. Poker Host are also running lots of promotions, refreshing to see in a Sportbook-operated Poker room. poker bonuses promotions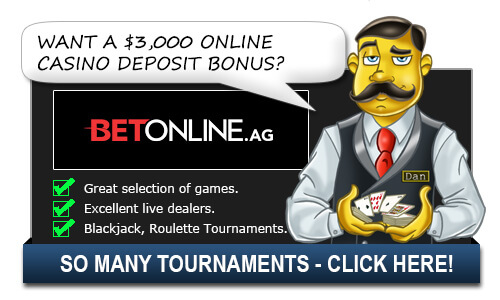 Poker Host Freerolls: Pokerhost offer 10 freerolls daily, including various different games(Stud, Omaha), and different rules, for example a men-only and ladies-only freeroll. These are all $50-$100.
Poker Host VIP Club / Loyalty Rewards: At PokerHost, you earn points for every hand that you see the flop with, as well as points for rake generated. 4 points to see the flop, $1 in rake = 20 points. For every 10,000 points, you get $20. You can also buy in to special tournaments. Rating: poker loyalty rewards
Poker Host Support: PokerHost offer an excellente knowledge base with regard to any questions you may have, and also 24/7 e-mail, telephone and live chat support, all of which is fast at responding, and very knowledgeable. The type of support that is standard, but still excellent, in the Sportsbook industry. poker support
Poker Host Deposit/Withdrawal Options: Visa, Mastercard, Money Transfer, Neteller, Instacash, Firepay, Nexum Financial, Internet Cash Card (ICC), ACHNow, Check / Cheque
Dealer Dan's Bonus Rating: Unlike the majority of Sportsbooks, Pokerhost hold some EXCELLENT promotions, and obviously put a lot of work into their poker room, including trying to start a solid community with their own forums, and rewards system for forum members. On top of that, they've did something different with freerolls, making them stand out more than normal, and due to both of these factors I feel it is only fair to give Poker Host an extra poker bonus rating.
Top Casinos for Americans

Additional Questions:
None Yet
Related Questions:
Alternative Ways to Ask/Incoming Search Traffic:
The answer to the question is also applicable for the following questions:
Top Casinos for Americans