Annette Obrestad is a Norwegian female poker player, who was recently signed up by Bovada as one of their team of professional poker players, and to represent their brand when it comes to playing in live events like the World Series of Poker and World Poker Tour.
Annette, known mainly by her screen name of Annette_15 first started making headlines when she played a 180 player online tournament, and won. What's so special about this? The fact that bar one hand, she didn't look at her hole cards the entire time. That's right – she played the tournament blind. And won.
Obrestad actually started playing online poker when she was just 15, hence the username of Annette_15. She was born in Norway on September 18th, 1988 and started her poker career thanks to winning freeroll poker tournaments at the likes of Bovada. Annette excelled at online poker tournaments, and proceeded to win hundreds of thousands of dollars at the likes of Pokerstars and Full Tilt Poker.
Online, Annette_15 has had a lot of success, including winning the 20,000 players deep Stars Sunday Hundred Grand tournament, as well as the Betfair $125 guaranteed event. Although Obrestad made her name online, she still managed to tear it up offline, winning a World Series of Poker bracelet in the 2007 WSOPE event, with a prize of one million pounds. This would put Annette Obrestad in the record books, as the youngest ever player to win a World Series of Poker bracelet.
Annette Obrestad was initially signed by poker room Betfair and was the face of the UK-marketed poker room for awhile – however due to her age she was not allowed to be featured in any advertising in the UK. Her stock value dropped and she left Betfair, and signed up as one of the famous red pros at Full Tilt Poker.
You can follow Annette on her Twitter account at http://twitter.com/annette_15 and play online poker with her and the likes of Phil Ivey at Bovada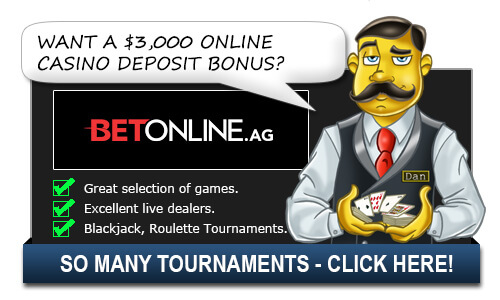 Annette's twitter sometimes gets her into to trouble as she wants got into an argument online with poker legend Doyle Brunson. In an interview with ESPN she disrespected the poker great by saying that she believes that online players process information much faster and don't let their egos get in the way of improving as a poker player. She said she'd rather play him because she believed that to be an advantage. Brunson would respond on twitter by saying that he's at Bobby's room every day of the week if she would like to play him and find out.
Obrestrad locked up a sponsorship deal withe Venetian Casino in Las Vegas to be a spokesperson for their poker room. This deal drew some controversy since Oberstrad began playing poker online at just 15 years of age which is not a good look for a public casino in America where the gambling age is 21. A lot of people didn't like it as well because Venetian owner Sheldon Adelson had a long running crusade against online poker.
Top Casinos for Americans

Additional Annette Obrestad Questions:
(None Yet)
Related Questions:
Top Casinos for Americans