7 Card Stud is one of, if not the most well-known poker game, although it's popularity in recent times has declined due to the explosion of Texas Hold'Em. Regardless, 7 Card Stud is still very popular online, and is becoming more popular as of late with people complaining that Hold'Em is becoming tight, and moving over to the fishier yet more complex 7 Card Stud.
7 Card Stud will seat a maximum of eight players to a table. All eight players will put in an ante, before they receive their cards. The antes vary from site to site, and a sites ante structure is very important, as it can change the way you play a game. For example, you would play a lot looser in Bovada's $0.5/$1 ante structure as opposed to Bovada's ante structure, where you could play incredibly tight.
All players must first ante up, and then they are dealt three cards, two down, one face up for everyone to see. The player with the lowest up-card will be the bring-in, who is forced to initiate the action with a bet. If two players or more have the same lowest card, it is ranked by suits, in the order of Spades, Hearts, Diamonds and Clubs. So if everyone were showing a deuce, the two of clubs would be the bring-in.
This betting round is known as third street. There will be five betting rounds in total in Stud. Every subsequent street, the highest hand will initiate the betting. If both people have the same hand(for example two are showing a pair of aces), then the player to the left of the dealer is first to act.
As per standard poker rules, you can either call the bring-in, raise the bring-in to a full bet, or fold. Each bet and raise on third street and fourth street is known as a small bet, for example in $1/$2 it would be a $1 raise.
On 4th street, if a player pairs their upcard, known as their door card, on most sites they have the option of betting double, betting single, or just checking. On 5th to 7th street, the betting is set at the highest end of the limit structure.
Depending on the site, there may or may not be a cap to betting heads-up. Numerous sites, including Bovada and Bovada have no cap.
The question that is most commonly asked about Stud is this: What if all 8 players stay in until the river? It's a good question; with 52 cards in the deck and 8 players receiving 7 cards each, there would have to be 56 cards. So if 8 players are still in it at 7th street, a community card is dealt in the middle of the table, and all players can use that card.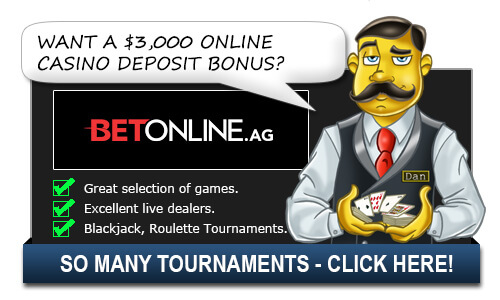 7 Card Stud is generally a limit game,
however
it is currently available in a pot limit variant on the Prima Poker Network. We recommend
Bovada
and
Bovada
on that network.
7 Card Stud also has a hi-lo variant which is very popular. Usually an 8 qualifier, as per Stud rules, the player uses 5 of his 7 cards to make the best hand. However in Stud Hi/Lo, if there is a Low qualifier, the High & Low will split the pot. For example if someone has a pair of aces, and their opponent has 23467, then it will split. However the low hand can also scoop the pot, by winning both high and low, with for example 23456, or the more popular steel wheel, which is a straight flush A-5.
Required Reading: Hi/Lo Split Poker by Ray Zee is required reading for anyone wanting to play Stud Hi/Lo. For Hi players only, you can't go wrong with Seven Card Stud for Advanced Players by Ray Zee, although 42 Lessons in 7 Card Stud by Roy West and Winning 7 Card Stud by Ashley Adams are also great books.
Online Availability: For both Stud Hi and Stud Hi/Lo, the three main sites are Bovada, Bovada and Bovada. For just Stud Hi, Bovada and Bovada Rakeback are also excellent choices.
Top Casinos for Americans

Additional 7 Card Stud Rules Questions:
7 Card Stud Basic Rules:
Here is an example hand for $2-$4 7 card stud with a .25 ante. The dealer deals every player two cards face down and then one card face up. The player with the lowest card showing is forced to make a minimum bet of $1, but can elect to bet $2 if he chooses. The player to his left can either raise his bet to $4 , fold, or call the player's bet. Play continues until all hands have folded or bets have been called.
The dealer deals every player a fourth card, face-up. The player with the highest card is first to act: he can either bet $2 or check. Play continues clockwise around the table. After all players have acted, the dealer deals a fifth card face-up. The player with the highest card is, again, first to act. He can either bet $4 or check.
Play continues clockwise around the table. The dealer deals a sixth card face-up, followed by another round of betting with a bet size of $4. The dealer deals the final card face-down, and there is a final round of betting. The best five-card poker hand wins.
A basic strategy for 7 card stud should include folding early in the hand unless your hand is strong, remembering the cards that players fold (called "dead" cards), and not chasing draw cards that have already been dealt. You should play aggressively when your hand is best, as many players will draw with incorrect odds.
Related Questions:
Alternative Ways To Ask/Incoming Search Traffic:
The answer to the question What Are The Rules to 7 Card Stud? is also applicable for the following questions:
7 Card Stud rules, How to play Stud, Stud Rules,
Top Casinos for Americans