Back in the glory days of casino gaming, casinos were owned by wealthy individuals, or sometimes a group of nefarious people. Anyone that is naïve enough to think that all the "entrepreneurs" that had casinos in Las Vegas when it started taking off really has led a sheltered life.
It's fair to say that the Mob had a huge interest in Las Vegas casinos in the early days up until fairly recently, when casino gambling was legitimized in the eyes of the public. The first thing that happened was massive companies buying these old casinos and building casinos of their own. In Atlantic City, it's slightly different, as casino gambling was seen as a way of revitalizing the economy in the area, so it was, more or less, legitimate business that opened up casinos there.
So, these days it's mostly massive companies that run the casino market in the United States and they also run casinos all over the world. It's no longer Bugsy Siegel running The Flamingo, or Benny Binion running The Horseshoe, it's multi-national companies, which, for the most part, a good thing for casinos in the country.
But who are the big players? Well…
MGM Mirage: God bless MGM Grand if you love going to Vegas. It owns around 40% of the casino-based operations in Las Vegas and has a big influence throughout the world, especially in the burgeoning market of Macau. However, let's get back to the US. In Las Vegas, MGM Mirage owns 10 casinos (Bellagio, Circus-Circus, Excalibur, Luxor, Mandalay Bay, MGM Grand, Mirage, Monte Carlo, New York-New York and Slots-A-Fun Casino) and has a 50% share in another (Aria Resort and Casino), which is quite a considerable amount of property in a relatively small area when you consider the size of the properties.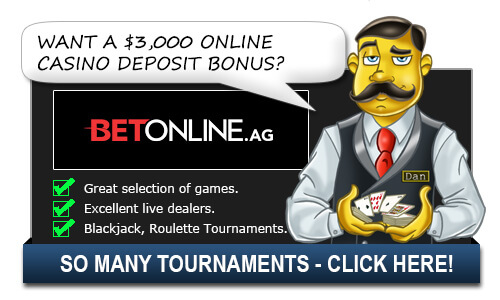 Throughout the rest of the United States, MGM Mirage owns somewhere in the region of 10-14 casinos, with many of their well known brands being used, such as the MGM Grand in Detroit, Atlantic City and Foxwoods.
The company was formed after a merger of MGM Grand and Mirage Resorts in 2000, which ended up giving them, at the time of writing this article, roughly a 40% market share in Las Vegas and it is the world's second largest casino operator, right behind…
Harrah's Entertainment: If you've ever watched the WSOP, or even if you've never seen it, only heard of it, the chances are you'll have heard of Harrah's. Of course, that's just a tiny part of what they do and Harrah's actually own many, many casinos under many different brands throughout the world, but especially in the United States. Harrah's Entertainment owns just short of 40 casinos in the United States, under many different brand names. However, their most famous brand name is perhaps the Horseshoe brand, then their own name, followed by Caesar's, Planet Hollywood and the Flamingo and the Rio. Harrah's owns around 10 casinos in the Las Vegas area, so their business is a lot more diluted across the United States than that of many of their main competitors and you can find many of Harrah's casinos throughout the United States, owning four in Atlantic City (Bally's, Caesar's, Harrah's and Showboat).
Harrah's was founded in 1937, in Nevada and has grown from strength to strength since then, becoming the first company of its kind to be listed on the Stock Exchange, all the way back in 1973. Since then, all of their competitors have followed suit, but Harrah's can be seen as a trend-setter, which has helped catapult them to the top of the industry.
So, Harrah's and MGM Grand the are two big boys when it comes to casino operators in the United States, but there is also competition from Las Vegas Sands and from Wynn Resorts, although neither compete on the same scale as Harrah's and MGM Grand and are really only competitive in Las Vegas when it comes to the United States. The competition seems to be more focused on Macau, at this moment in time, so the landscape of the United States casino market is most likely going to remain stagnant for a while, with no real shifts in power.
It should also be noted that a lot of casinos in the United States are owned by Native American tribes, although they can't really be classified in the biggest casino operators, as even though there are over 400 casinos owned by Native American tribes, most of them are independent of each other. However, if you care to argue that fact, then yes, Native American's are the biggest casino operators in the United States, with considerably more properties than MGM Grand and Harrah's combined.
Now Harrah's has finally got in on the act when it comes to online gaming, although sadly not for US-based gamblers. Caesar's Casino has all the branding of Caesar's in Las Vegas and means you can have the Caesar's Palace experience in your own home, which saves a lot in air fares. I have to admit, I'm a sucker for Caesar's Casino and I love the idea you can play casino games with a little taste of Vegas thrown in.
Top Casinos for Americans

Additional US Casino Operator Questions:
(None yet)
Related Questions:
Alternative Ways to Ask/Incoming Search Traffic:
The answer to the question Who Are The Main Casino Operators In The US? is also applicable for the following questions:
Which company owns the most casinos in America? What casinos do Harrah's own? What casinos do MGM Grand own? Who owns the most casinos in Las Vegas? Who owns The Horseshoe? Who owns Caesar's Palace? Who owns The Bellagio? Who owns Circus-Circus? Who owns Excalibur? Who owns The Luxor? Who owns Mandalay Bay? Who owns MGM Grand? Who owns The Mirage? Who owns Monte Carlo Casino? Who owns New York-New York? Who owns Slots-A-Fun Casino? Who owns Bally's? Who owns The Flamingo? Who owns The Rio? Who owns Planet Hollywood Casino?
Top Casinos for Americans