First of all here's the good news – there's no real etiquette when it comes to Let It Ride, or nothing to concern you with. While games like Craps and Blackjack, when played with other players, can have the other participants yelling at you if you do something wrong, it's practically impossible to do anything wrong at Let It Ride.
Still, there is a few things you should know before you play Let It Ride at your local casino.
The first thing is that when you go to bet at Let It Ride, you have to place three equal wagers in front of you. Not one wager. Not two wagers. Three wagers. Of the exact same amount. This is done because you can essentially "give up" the hand for 1/3rd of your wager after your cards are dealt, but before the community cards are dealt.
Once the three wagers have been placed, you cannot touch the wagers until the hand is over. If you want to pull back a wager you can either tell the dealer, or scratch your cards on the table in a pull back motion.
The other thing to know is that when the dealer deals out everyones cards, he will usually deal them face down. Before you look at your cards, allow the dealer to look around and make sure everyone has cards. You don't want to have looked at a hand when the table isn't ready as it could potentially lead to a dead hand. That would not be fun, especially if it was a good one!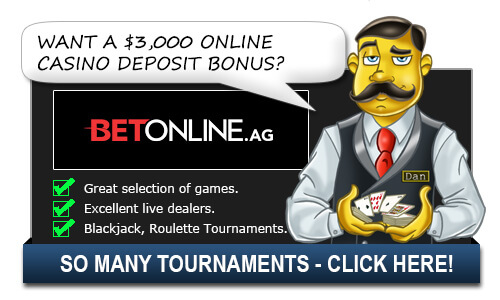 Once the dealer has dealt out everyones cards, he will move the cards closer to you. This is his sign that you are free to pick them up. At that point it is okay for you to pick up and look at your cards. It's important to never move the cards away from the table as well.
As always, it's good to know the rules of this game. For instance, you wouldn't want to complain that your pair of nines didn't pay out because that is not a winning hand in Let It Ride. A pair of 10s is the weakest hand that you can win with in Let It Ride.
Also, the payouts work differently and are based on the quality of your hand. So, a pair of tens pays just 1–1, but a flash pays 8-1. The best hand in all of Let It Ride, like pretty much every other poker variation, is the Royal Flush which pays 1,000-1. There is a lot of money to be made in Let It Ride poker if you can just get the cards to agree with you!
Top Casinos for Americans

Additional Questions:
(None yet)
Related Questions:
Alternative Ways to Ask/Incoming Search Traffic:
The answer to the question What Let It Ride Etiquette Is There? is also applicable for the following questions:
What should I know before I play Let It Ride? What beginners tips are there for Let It Ride? I am going to play Let Them Ride for the first time, what should I know?
Top Casinos for Americans