In the majority of cases, you have to be 18 to play at an online casino. However, because there are different laws around the world, companies tend to put a disclaimer along these lines:
"Laws regarding gambling vary throughout the world, and it is the responsibility of each player to ensure he or she understands and fully complies with any laws or regulations relevant in their own countries or states. "
So, why is it 21 to play in brick and mortar casinos in the United States? Well, a big factor is alcohol. As the legal of of consent for purchasing alcohol is 21, casinos have set the same age to gamble. So, to avoid underage gamblers being comped free drinks by waitresses, thus getting the casino in trouble (and saving their staff the hassle of ID'ing every person in the casino), 21 is the age. Because there is no alcohol involved in online casinos, the age can be set to 18. Of course, some states and some sites may not agree, so it is always wise to check before you sign up.
Any underage player will be unable to claim a real money prize in the event of a win. Because an underage player is an illegal player, there would be nothing they could do about the casino's decision.. Any players who do not meet age or jurisdiction requirements of the casino will not be able to claim any money won. Just imagine how you would feel if you won a huge 6-figure jackpot, yet you couldn't claim it. It's really not worth it.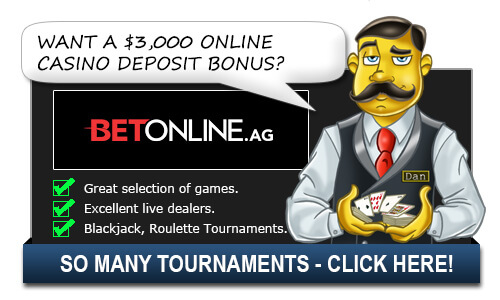 Plus, the reputable online casinos out there have security checks in place to make sure you are the age you say you are. Many will require a proof of ID sent to them before you can play or before you can withdraw and then will have other checks in place to ensure their players are legally allowed to play. Since these operators can get into a lot of problems if they allow underage players to play, they are extremely vigilant about it, so it really wouldn't be worthwhile for an underage player to chance their luck.
So, if you're 18 or older and want to play at an online casino, try out Bovada.
Additional Casino Age Questions:
How old do I have to be to play in a casino in Las Vegas?
The minimum age for gaming in the United States is 18, but each state has their own rules about gaming that you need to check. For the state of Nevada where Las Vegas is located, the gaming age is 21.
Top Casinos for Americans

Related Questions:
Alternative Ways to Ask/Incoming Search Traffic:
The answer to the question How old do I have to be to play at an online casino is also applicable for the following questions:
What is the minimum age to play at an online casino? Do I have to be 21 to gamble at an online casino? What is the legal age to gamble online? Can I play at online casinos if I'm 18?

Top Casinos for Americans