Keno is one of the games that tends to be forgotten about when you think of casino gaming. You think of the glamorous games of roulette, blackjack, baccarat and the type of games like that. However, people forget that you can win a small fortune by picking some numbers.
There is a lottery going on all the time at online casinos and live casinos and if you know your stuff, you'll be one step ahead of some of the schmucks that play keno. So, take a look at the keno terminology. It might not help you win, but it should clear a lot of things up.
All Or Nothing: If you make this bet, all your numbers have to come up to win. If they don't you win nothing.(Get 20 free spins on the Mariachi 5 slot, win real cash. Click here and use code DANSPINS20 during signup.)
Blower: This is what mixes the balls around in the bubble. It puts a steam of air in, which mixes all the keno balls up to ensure a random draw.
Booth: Where the keno draw takes place.
Bubble: The glass enclosure that houses all 80 keno balls. I'm sure you can guess what shape it is.
Caller: This is the person that is in charge of the keno draw. They press the button to get each ball.
Combination Keno: When a player chooses combinations of numbers to play. They might choose the numbers 1, 2, 3 and 4 and will choose to play all 4 numbers, but also 1 and 2 as a bet and 3 and 4 as a bet.
Draw: This is when the caller picks the 20 balls.
Hit: When the caller draws a number a player has selected.
House Edge: How much the odds favor the casino. In the case of keno, it varies depending on how many numbers you choose. It can range up to around 30%.
Keno: The game you're playing, based on a lottery format that pays out depending on how many numbers are "hit" by the players.
Paytable: This is the list of payouts set by each casino for their keno game. They can vary from casino to casino so make sure you check the paytable before you play keno.
Rabbit Ears: A V-shaped tube that the balls drawn go into. Ten go on one side, ten on another. Nothing like symmetry to keep those with OCD happy.
Runner: A person who will go around the casino taking keno wagers for a player. They will take the player's slip and wager to the keno booth, put the bet on for them and return with their ticket. This means players can continue gambling without having to leave to put their keno bets on.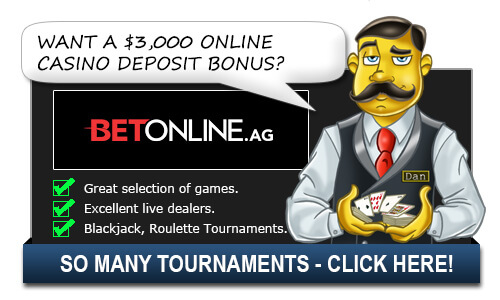 Spot(s): The individual numbers on a keno card, which are marked off by the player when choosing their numbers.
Ticket: A slip with the player's numbers on it, which is needed to claim any winnings.
Verifier: This person works with the caller to check all 20 numbers drawn and will ensure that everything is correct, hence the name "verifier".
A lot of these terms don't actually apply to online casino, as it's an even simpler affair than live keno, where you simply pick your numbers, start the draw and that's it. If you'd like to try it, check out Bovada and try a casino game you probably never even thought of.
Top Keno Casinos for Americans

| # | Online Casino | Reason | Visit |
| --- | --- | --- | --- |
| 1 | WinADay Casino | Amazing Multi Card Keno Game | |
| 2 | Slots.LV | $22 No Deposit Bonus just for registering, Fun Keno Game | |
Additional Keno Terminology Questions:
(None Yet)
Related Questions:
Alternative Ways to Ask/Incoming Search Traffic:
The answer to the question Keno Terminology is also applicable for the following questions:
What is a Keno Ticket? What is Rabbit Ear in Casino Terms? What is a Combination Keno?
Top Keno Casinos for Americans

| # | Online Casino | Reason | Visit |
| --- | --- | --- | --- |
| 1 | WinADay Casino | Amazing Multi Card Keno Game | |
| 2 | Slots.LV | $22 No Deposit Bonus just for registering, Fun Keno Game | |